Rakhis honour artistic greening of trees at lighthouse hill on world environment day, other programm
Mangalore Today News Network
Mangaluru, June 6,2017: In a simple and admirable honour and awareness of World envioronment day June 5, Mangaluru witnessed a fitting celebration of nature at lighthouse hill, a focal point of the city. A big 'rakhi' with the words 'Save Trees' was tied to an ancient peepul tree here. It must be noted that Rev.Agustus Muller SJ, a German, who resided in St. Aloysius, started serving the people of Mangalore in the 1890s, under the very tree before he started the pioneer hospital at Kankanady it is said. Service to humanity through nature is God like and this awareness happening put together in a power packed way by 'Sahyadri Sanchaya' is admired by and large by knowing public and will hopefully get results.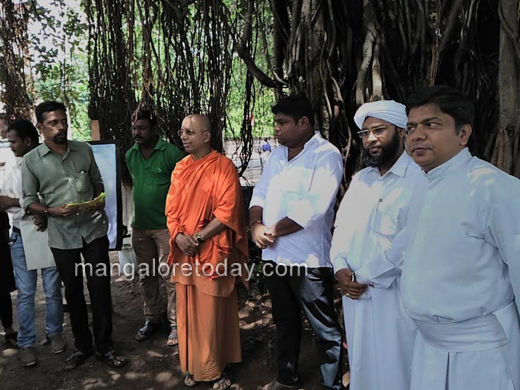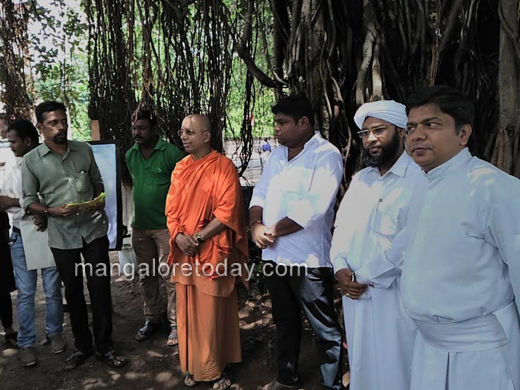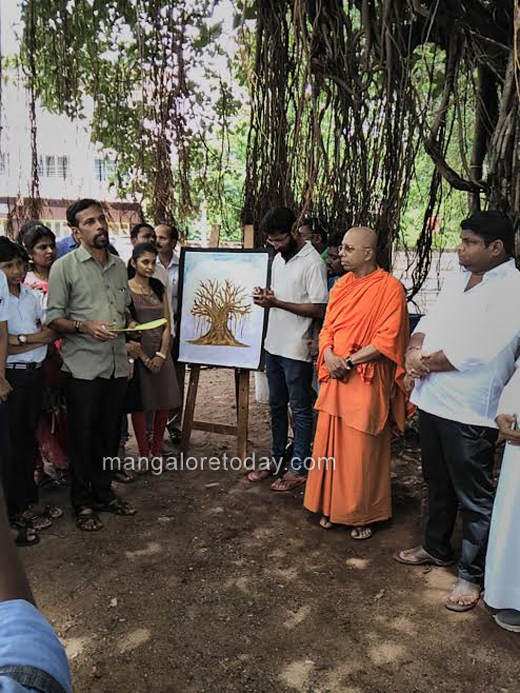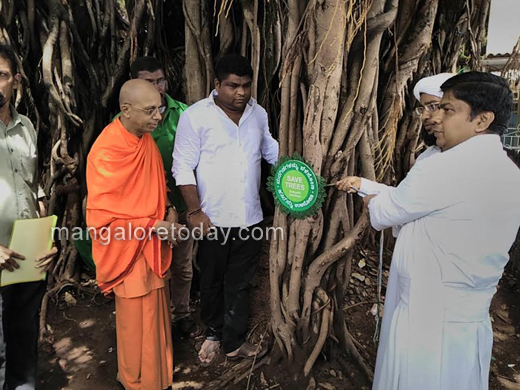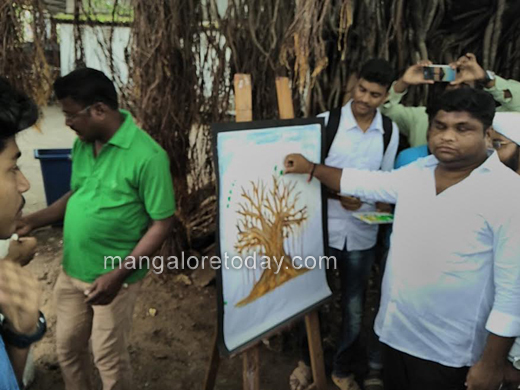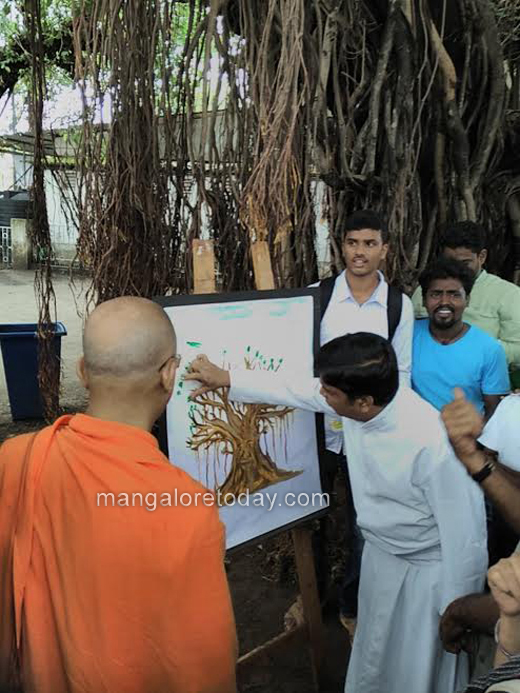 An art pallet was created by Niranjan and Navin Holla of Aditatva group, it projected he importance of nature. Participants in the programme left their thumb impressions in green paint on the canvas to depict and create leaves completing the painting of a tree.

Ramakrishna Mutt president Swami Jithakamananda, Abu Shahir Isac Sakhafi of Siddhik Juma Masjid Marakada and Rev Gerald Furtado SJ of St Aloysius High School, inaugurated the campaign by tying Rakshabandhan to the famed historical near the idgah on Bavutagudda.

Jithakamanandaji positively pointed to the loss of biodiversity in our immediate surroundings today. Gone are the days when we walked to school amid nature and trees and ate fruit and berries from trees at will. before it is even more late we have to improve tree care and planting, not the Acacia trees which are dome only for commercial exploitation. Planting and sustained care must go hand in hand.

Rev Gerald Furtado SJ in chaste Kannada explained the importance of World Environment Day and said that it is important to nurture a tree after planting it. He called upon his students who were present and all concerned to plant saplings and importantly care consistently. He elaborated that all religions teach the importance and value of nature and gave quotes to exhort care.
Abu Shahir Isak Sakhafi said planting trees and vegetation is a blessing on nature, it brings joy and blessings to our fellow men according to the preachings of Prophets. Trees give shade to people, house birds, animals providing food too. He indicated that the Quoran gave wise advise on this fact.


Sahyadri Sanchaya convener Dinesh Holla said nature is in distruction mode by the very one who are appointed to protect it. The rivers and forests in the Western Ghats are vanishing and deserts were being formed in a big way. We are alraedy facing the negative fall out and future generations will not be able to survive, at this rate human lives will be misery, he said.


A memorandum was submitted to the Deputy Mayor Rajaneesh Kapikad who was present on the occasion.

The memorandum said that while issuing construction license by MCC, it must be stipulated to plant specific number of trees on the premises, depending on the area of the house and cared for; this rule is always breached as of now. Steps must be taken to ensure that the plants are planted. Plants should be marked with registration numbers after conducting a survey in city limits. In the city, sewage flowing in open drains is joining the rivers. Proper measures should be taken to stop the river pollution. indicators of air and sound pollution must be visible to citizens.
Spitting any where and everywhere must be strictly curtailed and prevented suitably.

A memorandum to the forest department's principal secretary sought measures to douse wildfire in the forests, to grow trees in deemed forest areas and do away with road works or hydro power projects in forests. Another letter to the Ministry of Environment and Forests read that the Union Government should form Society for Protection of Forest at national, state and district levels to ensure effective implementation of the Forest Laws.
Other awareness acts : World Environment Day was observed across the district with messages highlighting the need to preserve the environment. While Sahyadri Sanchaya organised the Vruksha Rakshe programme, the zilla panchayat (ZP), in association with Ramakrishna Mission and gram panchayats, cleared garbage on highways.

The ZP organised a cleanliness campaign to clear the flanks of State and National Highways of garbage in Mangaluru and Bantwala taluks. Meenakshi Shanthigodu, president, ZP, launched the campaign at Pudu village of Bantwal taluk.

Garbage was lifted from Talapady, Someshwara, Munnur, Belma, Konaje, Manjanady, Malavoor, Adyar, Neermarga, Bajpe, Gurupura, Kandavara, Puttige, Paduperara, Ganjimutt, Yedapadavu, Badaga Yedapadavu, Tenkamijar, Kuppepadavu, Kurnad, Golthamajal, Kallige, Pudu and Thumbe villages and transported to Pachchanadi dumping yard through tippers.

M.R. Ravi, CEO, ZP, and Swamy Ekagamyanandaji of Ramakrishna Mutt planted saplings at a site cleared of garbage in Talapady. More than 2,500 volunteers took part in the drive while 10 earth movers and 35 tippers were used to remove about 65 loads of garbage.

At Pilkula, K.G. Jagadeesha, Deputy Commissioner, inaugurated the celebrations. About 350 B.Ed. students, high school students and teachers participated. The students planted saplings at the tree park of Nisarga Dhama.


Write Comment
|

E-Mail
|
Facebook
|

Twitter
|

Print