Rain deluge in coastal districts - a catastrophic situation for people
Mangalore Today News Network
Mangalore/Udupi, Aug 02, 2014: Dakshina Kannada and Udupi districts have been deluged with non-stop rains since July 31 which increased on Aug.1 Friday, there seems a bit of a break on the morning of Aug 2, with signs and forecasts that rain will continue. The heavy rains in a wide spread area has caused havoc with power outages and Kumaradhara bridge submerged. Rivers Netravathi and Kumaradhara are in spate.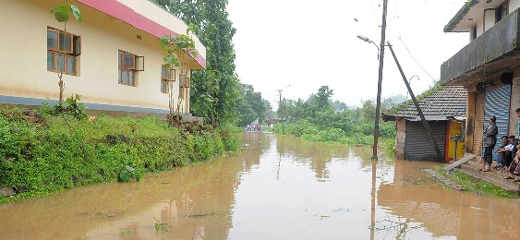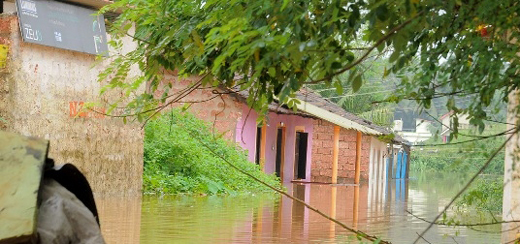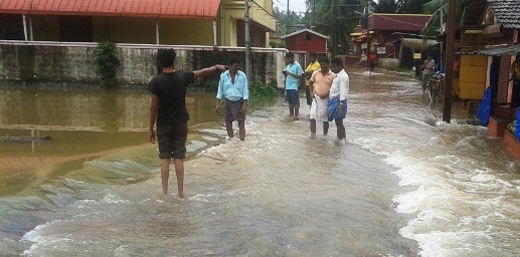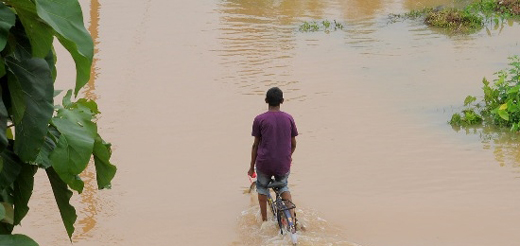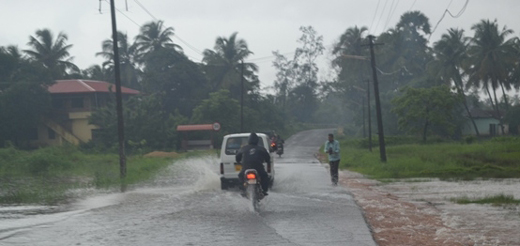 The bridge connecting Kukke Subrahmanya temple across Kumaradhara has been inundated and water is flowing over the bridge disrupting movement of vehicles on Subrahmanya-Mangalore State Highway. The water overflowing on the road also affected devotees from different parts of the district visiting the temple for Nagara Panchami. Vehicles remained stranded on either side of the road. Reports of disaster are coming in with the situation grave.


Schools and colleges declared holidays. As heavy rain is forecast to lash the coast for the next 24 hours, the district administrations of Dakshina Kannada as well as Udupi have declared holiday for educational institutions on Saturday August 2 please see our news item on this.

Police and Home Guards have been deployed on either side of the road to ensure that no vehicles pass through the flooded road. The inflow of water to Kumaradhara river has increased with Western Ghats receiving copious rainfall. With rivers overflowing, the bathing ghat at Subrahmanya is submerged .
Shops in and around 'snanaghatta', the bathing ghat have also been flooded. The movement of vehicles on Dharmasthala-Subrahmanya, Uppinangady-Subrahmanya, Bangalore-Subrahmanya is seriously disturbed. Devotee trying to cross the bridges were warned by police.

Low-lying areas in and around Subrahmanya like Hariharapallathadka, Kalmakaru, Guthigaru, Panja, Balpa, Yenekal, Ninthikal, Bilinele, Nettana have been submerged. Arecanut and other plantations are flooded. With Kallaje rivulet overflowing, the arecanut plantations situated on the banks of rivulet are being flooded.

With rivers overflowing, rains prevented devotees visiting Subrahmanya temple on account of Nagara panchami. Devotees were holding milk in containers to pour on the serpent god waiting on either side of the bridge. Residents of Kulkunda, Kaikamba and Kadaba had to take a circuitous detour to reach Subrahmanya temple. There was road block at Chelyadka in Puttur. Inmates of seven houses in Panemangalore were shifted to safer areas in Bantwal. Houses in Kallagudde are facing the threat of collapse in Bantwal TMC limits.

Heavy rains in the city led to traffic snarls in many vital poits. Water logged roads following inadequate storm water drains and choked drains caused inconvenience to the vehicle users and general public. With increase in inflow of water in river Netravathi, low lying areas in Harekala and Innoli have been inundated. River water is flowing parallel to road at Baithar in Harekala Kadav. Fishermen have been asked not to venture into sea as strong winds likely to lash the coast in the next 24 hours by authorities.

Meanwhile, due to wide spread heavy rains, the sanctum sanctorum of Lord Shiva located in Vydyanatheshwara Vishnumoorthi Temple premises in Dakshina Kannada district, is submerged in flood water. This ancient temple complex is situated in Kokkada Village, 17 kms away from famous Dharmasthala Temple and 2.5 Kms from Sowthadka Mahaganapathi Temple.

Udupi scenario : The incessant rains that have been lashing the district has left many low-lying areas in the district submerged in rainwater. The district has received 176.66 mm rainfall for the last 24 hours. Kundapur taluk recorded 180.6 mm rain, Karkala taluk registered highest of 213.6 mm rainfall and Udupi taluk recorded 135.8 mm rainfall respectively.

In Thirthattu village in Kadthala in Karkala, a motorbike parked on the bridge was washed way in the flowing river. Vehicular movement has been disrupted in the region as Seethanadhi is overflowing. A house in Iravatturu village was partially damaged owing to heavy rain it is reported . In Mudradi village also a house partially damaged and in Jarkala in Yerlpadi village in Karkala was partially damaged reports are coming in of several cases.

In Kundapur taluk, more than 50 persons in Kavradi village have been shifted owing to floods in the low lying areas. In Gangolli, a house was damaged when a coconut tree fell on it. The areas surrounding Uppur, Heroor and Barkur are widely flooded. Rivers Sauparnika and Varahi flowing above the danger levels.

River banks in Anegalli, Balkur, Hattinakudru, Haladi, Navunda, Kandlur, Maravanthe, Senapura, Badakere are under the threat of inundation. Many paddy fields and villages around railway tracks remain flooded. Waters have entered into the premises and inside Brahmi Durgaparameshwari temple in Kamalsheele. The low lying areas in Kollur and Vandse are submerged. The road stretching between Jadkal and Mudur was damaged resulting in the disruption of vehicular movement. The NH-66 passing across Koteshwara, Murukai, Beejadi, Tekkatte, Kumbashi is affected due to floods caused by incomplete road work and drains.

Udupi revenue officials have taken up rehabilitation work at Kavradigudde in Neelavara village in Brahmavar, as the water level is rising . The houses and paddy fields are damaged in the area. The walls of a houses collapsed in Perampalli village. In Irodi village, the roofs of houses belonging to locals are damaged owing to heavy rain and wind. A house collapsed following gusty wind which are blowing with force from time to time . Meanwhile, the sea erosion menace has been intensified in Kodi, Padukere, Manur, Maravanthe, Dombi, Shiroor and Kalihithlu and several other areas.

As the gates of Varahi dam were opened, Hattikudru island in Basrur Panchayat limits were submerged making the people anxious.The dam is in danger and the road is full of debris. Loca people complain about matters to the officials but they get no responses, state local people businessman. Police and authorities seem to be present at the spots to control matters. Locals expressed anguish at the apathy of the officials. Reports are still awaited as rain and over cast skies with strong spells of wind still prevailing.

Write Comment
|

E-Mail
|
Facebook
|

Twitter
|

Print