RAGING BULL – Tumour trouble in Panambur
Mangalore Today News Network
By Mahesh Nayak

Mangaluru, September 3, 2018: A huge stray bull loitering about the national highway in Panambur with a massive tumour on its head has been drawing pitiful reactions from passersby since few weeks.


Vijay Ganesh, staff of a local TV channel says that he has been regularly sighting the bull while on the way to his studio. "I heard that some six months back it got into a fight with another bull and broke its horn. Nobody was able to help it and now I am told that the animal has got a cancer in its horn," he says, adding that though the locals had complained to the authorities, the New Mangalore Trust office and the state Veterinary Department to no avail.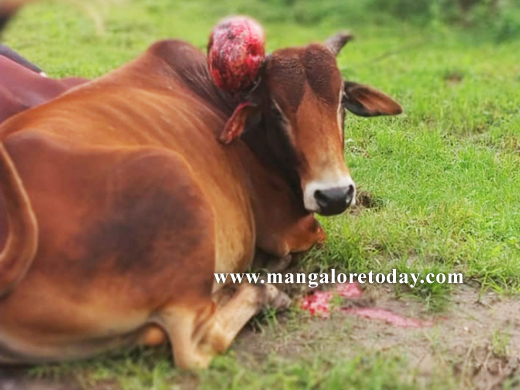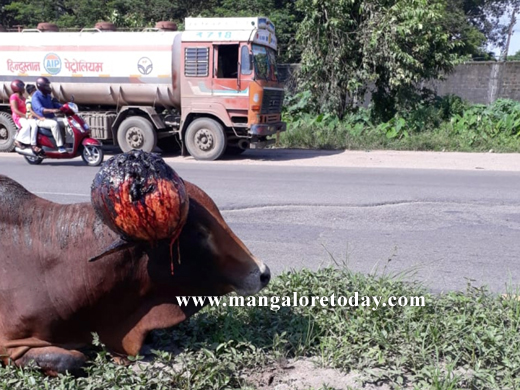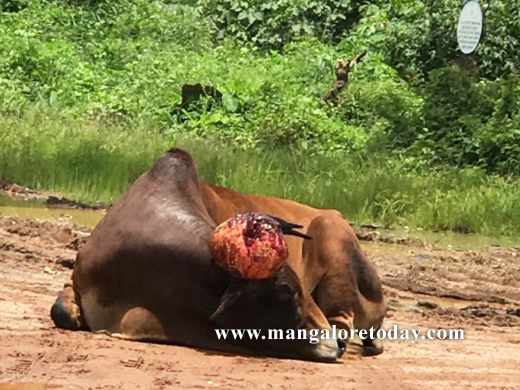 Blood dripping from the tumour because of crows pecking at it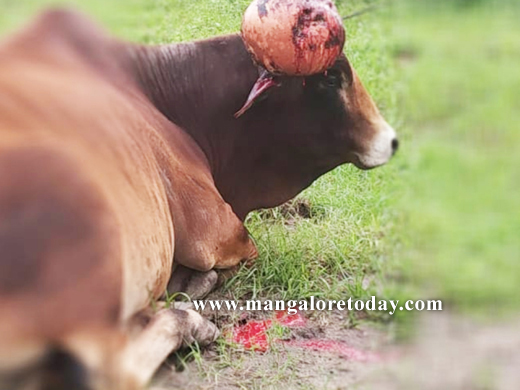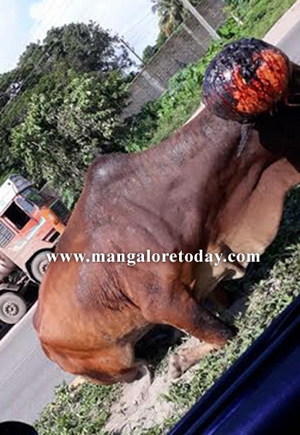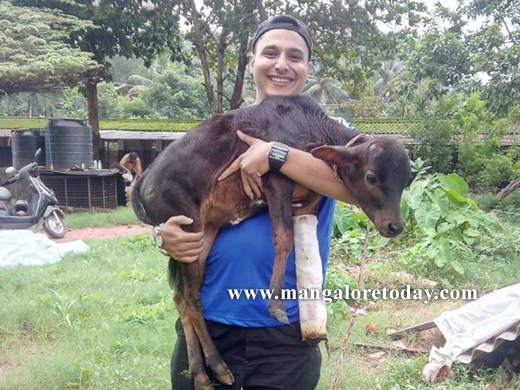 Tauseef Ahmed, the Rescue In-charge at Animal Care Trust

The huge bull has a menacing physique and has been resisting attempts to approach it. Locals are gravely upset that no one has shown any mercy to the suffering animal. They suggest that if it's difficult to approach the bull, it can be tranquilized and taken to a veterinary facility. They accuse the authorities of neglect and apathy for the animal and accuse them of letting it suffer a miserable death.

'Even Kambala bull handlers tried to catch it, but failed.'

The problem may not be as simplistic as it appears to the lay people. Tauseef Ahmed, the Rescue In-charge at Animal Care Trust (ACT) says he has been following the case since June and without any success. "We are working on this, but sadly the bull is not friendly. He's got horn cancer and needs to undergo surgery," he says, "Every weekend almost 30 people have been trying to catch it. Our volunteer Nischal and his team from Suratkal have been trying endlessly to catch the bull since day one with nets and ropes. Even some Kambala bull handlers tried to catch it. He's extremely aggressive and he runs like mad into the highway...it's dangerous for him and other people driving as well."

According to Tauseef, horn injuries are common in bulls in the area and he has treated about six such cases round about Panambur. "The story of the broken horn concerns another bull, not this one. The story of its cancer goes back about three months. Its tumour has grown outward. So we have to amputate it. The tumour shouldn't be allowed to go inside its skull," he says.
Tranquilizing is an option for capturing aggressive animals, but Tauseef rules it out in the case of the bull. He says it is too weak and extremely anaemic due to the condition. Hence administering sedatives can be lethal. "We had asked for dart guns from different sources, but none agreed to undertake this job," he says.

'Once we get hold of him we really hope we can do something."

Tauseef says that as of now lot of people are coming forward to help and even the government veterinary department has assured support. The only problem is catching in the bull without causing the animal more stress. "This is extremely important as most cattle die of cardiac arrest when you forcibly catch them." He further adds that if an attempt to capture the bull succeeds and surgery is performed on it, then the next challenge would be to arrange for blood transfusion, which would likely be needed. "For now catching him is the only challenge. Once we get hold of him we really hope we can do something."
As for the locals, he says there's nothing to worry as the bull is calm and won't harm anyone if left alone. "This is a powerfully built bull and not a puppy for us to pick up. People are not aware of how to deal with animals sensitively. Though they feel they should do something, when we actually ask them for help, people back out in such situations."

Meanwhile Tauseef show photos of the bull with blood red patches on the ground. Is that not blood dripping from the tumour? "Yes," he says, "The tumour has been attracting crows who think it's a chunk of meat and take a peck at it. Then the blood and puss ooze out."


It's a bad scene out there. One hope's the bull will soon be put out of its misery with timely veterinary treatment.


Write Comment
|

E-Mail
|
Facebook
|

Twitter
|

Print