Quarry pits secured to provide better security for children
Mangalore Today News Network
Udupi, May 24, 2018: Serious hazards, especially of children, at abandoned or unfenced quarry pits and percolation pits has been a cause for concern especially during the monsoon in Udupi district.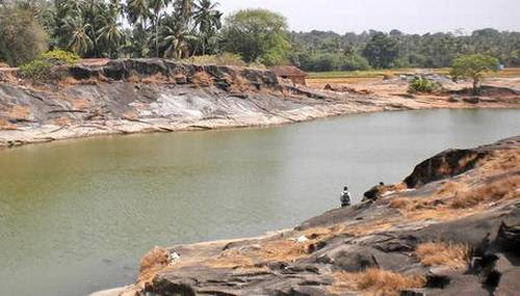 In 2012, 14 children lost their life by accidentally slipping or falling into either percolation pits or into pits created by stone, laterite or clay quarrying during monsoon in the district.

The administration subsequently issued orders to install boards near such quarries and percolation pits to prevent accidental deaths of children and people from falling into such pits. Despite these steps, there have been deaths almost every year, though their number has declined.

In April 2017, five-year-old Hanumanth accidentally slipped and drowned in a stone quarry pit at Alevoor village near here. His 30-year-old mother Neelavva also drowned trying to save him. This happened though a board had been installed near the 40-feet-deep pit prohibiting diving and swimming there.

Taking a serious view of such incidents, the administration has taken precautionary measures this year. Udupi DC Priyanka Mary Francis told media that the Department of Mines and Geology had been directed to issue notices to all licensed quarries to fence their pits in the district at their own cost.

The gram panchayats and school headmasters had been told to identify unfenced abandoned quarries near residential areas and inform the administration immediately. Already, the administration has completed fencing in 10 such unfenced abandoned quarries in the district through funds released from the Department of Mines and Geology. "If such abandoned quarries are identified, we can seek funds and get them fenced," said the DC.

The district administration has directed the gram panchayats to install warning boards near such quarries and pits, which get filled with rainwater during the monsoon. The Block Education Officers have been directed to urge headmasters to advise parents and children not to go near these quarries/pits to play or for any other reason.

However, Damodar Acharya, Executive Director, Concerned for the Working Children, a non-government organisation, said that mere putting up of boards outside the quarries/pits was not enough. The boards should also inform people about the depth of the quarries.

"Fencing of such quarries should be taken up immediately as mostly children are victims as they are prone to playing in water, without realising the depth of such pits," he said.
The count of pits 6 months ago : According to a study by Concerned for the Working Children in Kundapur Taluk of Udupi district, there were 27 unfenced quarry pits in 14 gram panchayats of the taluk six months ago, while the number of small ponds without fencing stood at 18 in 11 gram panchayats.

There were 30 small lakes in 15 gram panchayats, while there were four open wells in three gram panchayats. There were three percolation pits in three gram panchayats, according to the study. There was a clay percolation pit in one gram panchayat. As many as 16 small streams did not have small footbridges in 13 gram panchayats and in some places, which had them, these footbridges had broken away.

"We conducted this study six months ago. Some gram panchayats may have taken action on this matter now," said Kripa M.M., coordinator of the Concerned for the Working Children.

Write Comment
|

E-Mail
|
Facebook
|

Twitter
|

Print