Pumpwell-Padil Road opening Apr 10, Sunday
Mangalore Today News Network
Mangaluru, April 7, 2016: As per reports, Pumpwell-Padil Road will be opened for two-way traffic from April 10, according to the MCC, Mangaluru City Corporation. But, the road will remain uneven for a length of 150 metres from Pumpwell Junction with one side having concrete at higher level and another side having a tar road at lower level exposing the lack of planning of the Mangaluru City Corporation in taking up the widening of the stretch, and inviting accidents.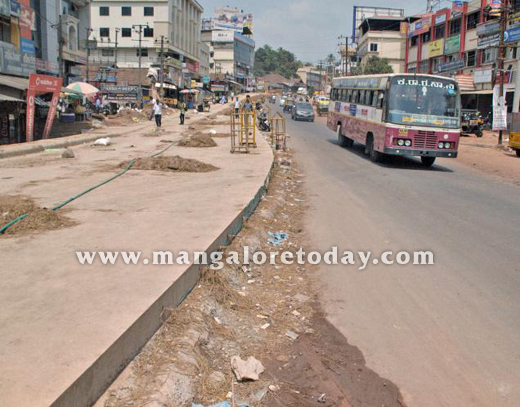 The corporation took up the widening of the 150-metre stretch a month ago to end frequent traffic jam at the mouth of the junction to Padil Road. Accordingly, Padil-bound traffic was closed for building a 150-metres long concrete road and one-way traffic from Padil to Pumpwell was allowed.

According to H.N. Gopalakrishna, Commissioner of the corporation, the tar road stretch would remain so for now as the corporation has not prepared any estimation to upgrade it parallel to the other stretch.

"It would definitely lead to many accidents," said many people. "It shows the lack of planning on the part of the corporation. What if vehicles rolled down from the edge of concrete road?"

Commissioner Gopalakrishna said that barricades would be laid in between as a precautionary measure. "But laying kerbs on the edge is safer than putting up barricades. Vehicles can roll down by pushing barricades," he said.

Gururaj Maralihalli, Executive Engineer, said that the concrete road laid is 6.5 metres wide at the mouth of the junction and it was three metres wide at the other end. It has a drain and a footpath. The project has cost Rs. 50 lakh. The tar road on the other side is about 5 metres wide, he said.

He said that the funds had not been made available to upgrade the tar road stretch. Hence there is no sign of taking up the balance works before monsoon. Once the road is opened, Padil-bound traffic need not have to reach Padil Junction on National Highway 75 via Nanthoor Circle and the Bikarnakatte flyover.

Write Comment
|

E-Mail
|
Facebook
|

Twitter
|

Print