Prof. Narendra Nayak expose the false propaganda of the power of Gaumutra (Cow Urine)
Mangalore Today News Network
Mangaluru, July 13: A video has been doing rounds on whatsapp and has been posted even to medical groups. You could ask some doctors about it like Dr. Kakkilaya or Dr. Sai Giridhar kamath. Prof. Narendra Nayak suggests that you watch the videos fully to get the implications of this sort of stupidity done to sell Gaumutra (Cow Urine).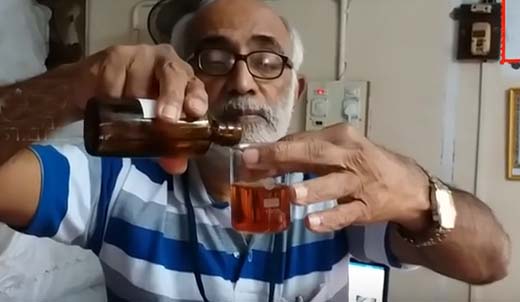 A video has been going viral about the power of Patanjali Gaumutra arka in purifying 'poisons' from the body.It has been shown by adding it to a solution of povidone iodine( one of the brand names being betadine) and decolorising it and this is claimed as because of the purifying power of the panacea. The proponent also claims that its regular consumption will remove 'poisons' from the body! The anchor also advises people that the effect of this is for quite long and that they consume Gaumutra for good health!

Watch Video:

The proponent of the video who has extolled the virtues of the panacea is careful enough as not to drink the 'purified water'! How is it done? Solutions of elemental iodine have a brown color. The same when oxidised or reduced to elemental iodine have no color. The so called gaumutra arka is a solution of sodium thiosulfate in water. This is commonly called as hypo and was used is developing photographs in the good old days. Sodium thiosulfate reduces I2 to its ionised form which is colorless! This is touted as a process of removal of poison!
Doing a little bit of 'research' into the topic of where these peddlers of panaceas got their high school chemistry from led us to this! A video on you tube used by some evangelical groups to show the power of Jesus!

Here is he link to it:- https://www.youtube.com/watch?feature=youtu.be&v=sc3-Vmnt9w0&app=desktop .


Watch Video demonstarion:
In Kannada

Write Comment
|

E-Mail
|
Facebook
|

Twitter
|

Print