Prof. Narendra Nayak Debunks Ramdev's claim of Tulasi leaves' protection from radiations
Mangalore Today News Network / Yahoo
Mangaluru, Nov 18: Prof. Narendra Nayak debunks the claims of a Yoga guru Ramkishen Yadav alias Baba Ramdev and markets all sorts of products under the brand name Patanjali. He has made a claim in Udupi recently that his products containing Tulasi leaves can protect the body against harmful radiations emitted be cell phones. While cell phones generally work in the range of say 450 to 3800 Mhz and these radiations are called an non ionising radiations and do not cause any harm which has been proved by many studies. In fact the FTC of USA has issued this warning to those who market devices claiming protection from cell phone radiations: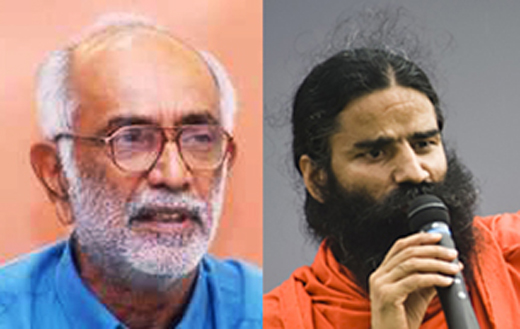 According to Wikipedia:

Bogus products have been advertised that claim to shield people from EM radiation from cell phones; in the US the Federal Trade Commission published a warning that "Scam artists follow the headlines to promote products that play off the news – and prey on concerned people."According to the FTC, "there is no scientific proof that so-called shields significantly reduce exposure from electromagnetic emissions. Products that block only the earpiece – or another small portion of the phone – are totally ineffective because the entire phone emits electromagnetic waves." Such shields "may interfere with the phone's signal, cause it to draw even more power to communicate with the base station, and possibly emit more radiation."The FTC has enforced false advertising claims against companies that sell such products.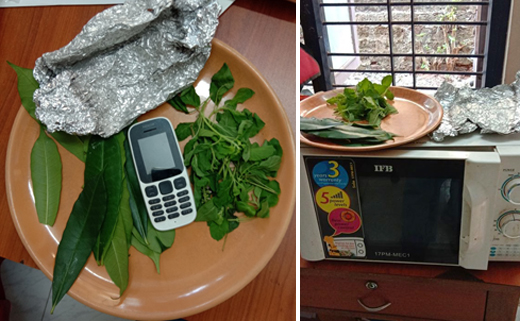 So for the media at Mangalore trials where shown with an ordinary cell phone to check these claims since anything which protects the body from allegedly harmful radiations should also insulate it from them a simple experiment was shown with the cell phone kept inside a microwave oven and it worked though the microwave oven is supposed to shield the radiations from coming out! The same was tried with the cell phone covered with tulasi leaves and it still worked. Some other leaves were tried and the phone still worked. Then the phone was tightly wrapped in aluminium foil and it stopped working which means aluminium foil of a few paisa is much more effective than the expensive devices shown in the ad!

It is sad that the so called yoga guru should not take people for a ride through such false and misleading claims. Since he is supposed to be at Udupi for a week hope he will clarify on the claims. At least, people should ask him to prove his claims.
Watch Video:


Write Comment
|

E-Mail
|
Facebook
|

Twitter
|

Print