Police book case against Sadhvi Saraswathi for hate speech at Badiyadka
Mangalore Today News Network
Kasargod, April 30, 2018 (PTI): The Badiadka police have registered a case against the controversial Viswa Hindu Parishad leader Sadhvi Saraswati, under IPC sections 153 (A) - hate speech- and 295 (A) - outraging the religious feelings - over the controversial statement she made at Badiyadka in Kasargod.

In the inaugural speech of a VHP programme at Badiyadka in Kasargod on Friday, she reportedly asked the people of Kerala to behead the 'proponents of love jihad' and killers of 'mother cow'.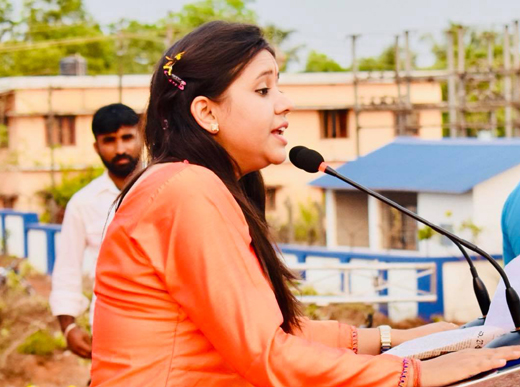 The 21-year-old firebrand Hindutva leader reportedly said: "We spend one lakh for mobile phone. Buy a 1,000 rupee sword too for our girls to kill the love jihadis."

Saraswati, who is also the president of Sanatan Dharma Prachar Seva Samiti, also said that 'Gau Mata' (cows) was killed and beef party organised in Kerala, those she is respected the world over. "Such slaughterers have no right to live in India...," she had said.

Then she went on to say: "Now I would say something which might sound bitter or wrong... You all consider cow as your mother. If your mother is standing in junction and goons are teasing her, what would you do? But in Kerala, cows are publicly slaughtered in front of your eyes... Those who slaughter cow, they should also be slaughtered in public square," she said.

The convention was presided over by Congress's Badiadka panchayat president K N Krishna Bhat.
Last year, the preacher had said in Goa that "beef eating is like eating mother's meat, and therefore, such people should be hanged in a public square and when their bodies are hung publicly, no one will dare to eat beef".

Write Comment
|

E-Mail
|
Facebook
|

Twitter
|

Print