Police Commissioner responds to citizen woes at city phone in
Mangalore Today News Network
Mangaluru, Nov 10, 2018: Majority of grievances during the phone-in programme pertains to traffic woes as we see, on November 9, Friday, a caller who complained of corruption in the Moodbidri Town Municipal Council.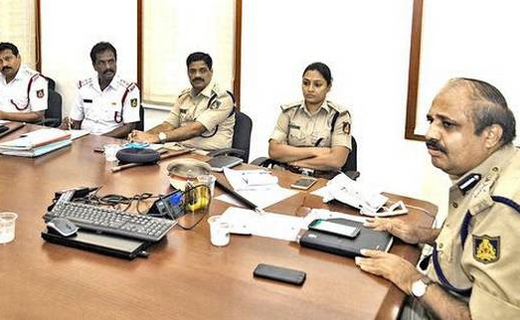 He said that nothing moves in the municipal council unless one paid bribe to officials. To this, Commissioner Suresh suggested the caller to approach the Superintendent of Police, Anti-Corruption Bureau, and provided the officer's number.

Then a caller, who complained about inadequate footpath in front of Rambhavan Complex at Navabharath Circle, regretted having to call in the police even for civic problems. He suggested Mangaluru City Corporation (MCC) should also have a mechanism to address these issues; but we are forced to call police he stated.

Tinted glasses in cars : Booking cases is having no desired results, the Mangaluru City Traffic Police have decided to resort to direct action against tinted glasses in cars wherein police personnel will peel off tint sheets from such vehicles on the spot.

Police Commissioner T.R. Suresh issued a direction to this effect to the police after the weekly phone-in programme. Responding to a complaint over phone, the Commissioner said that the police have taken serious note of the violation of Supreme Court order on tinted glasses and would act tough.

Later, Commissioner Suresh told media that the police booked 6,348 cases in 2016, 12,102 cases in 2017 and 9,115 cases till last month, against vehicle drivers/owners using tints for glasses in their vehicles. However, mere collection of fine appears not to be deterring people from using tints and hence, the need for direct action, he said.

An elderly resident from Ashoknagar thanked the Commissioner for responding positively on two earlier occasions, while bringing to his notice another grievance this time. A milk booth is located close to his apartment and the residents feel disturbed during sleep at the dead of the night, when milk crates are off-loaded from the van. They make much noise, the caller said and added that the booth operator begins his work at 3 a.m. again making loud noises.

Commissioner Suresh promised to ensure the least disturbance to residents from these activities.

Children playing on the streets : There was a complaint during this Friday's phone-in programme of Mangaluru City Police Commissioner wherein the caller urged the police to prevent children from playing on the streets.

Speaking from Car Street in the city, the caller explained how dangerous it was for children to play on the streets amid moving vehicles. Later, she also said that the elderly as well as patients in the locality are disturbed by such activities of the children.

While Police Commissioner T.R. Suresh replied that children would be discouraged from playing on the streets, those present were left wondering where will children play in the absence of adequate playgrounds.

Write Comment
|

E-Mail
|
Facebook
|

Twitter
|

Print