Pictorial cancellation draw attention at philatelic expo
Mangalore Today News Network
Mangalore, Oct 15, 2014: A mail article stamped with a picture seal of Udupi Shri Krishna, could easily reveal the place of the sender, and could create an interest as well as surprise.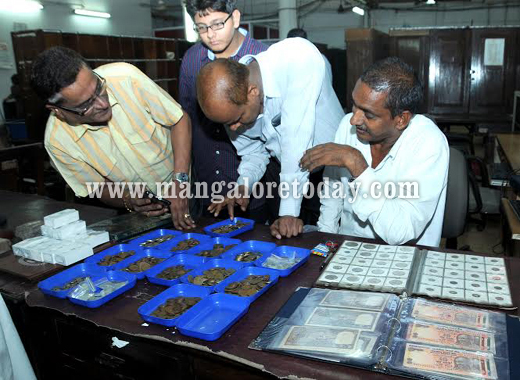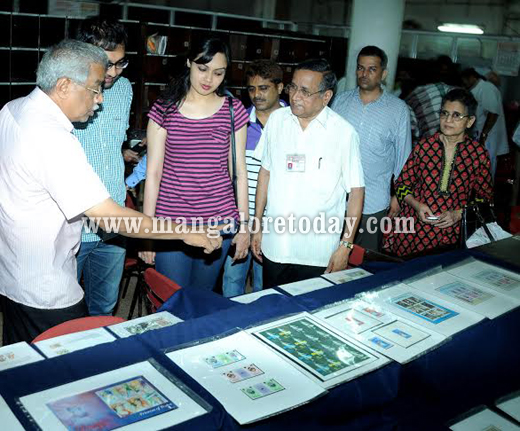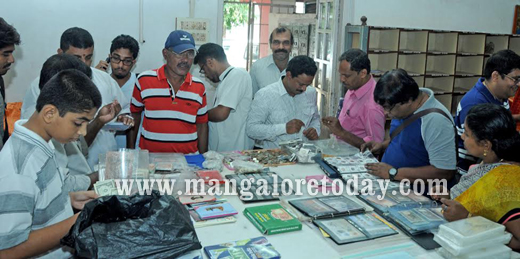 Permanent pictorial cancellation on mail articles are different from normal cancellation seal stamps. The pictorial representation of a place, used in the postal seals is one of the accepted methods of cancellation at post offices in many coumtries. However, the pictorial cancellation seal is applied at post offices only on the request of senders, said philatelist M K Krishnaiah.

He was speaking to media at a philatelic and numismatic exhibition organised by Dakshina Kannada Philatelic and Numismatic Association at Head Post Office in Pandeshwar in Mangalore. On the day, he displayed his philatelic collection on primates.

Primates, ape like mammals belonging to families of Daubentoniidae, Lemuridae and Cebidae. There are 13 families of primates and various countries, including India, have released stamps on these animals. An Indian stamp on such primate, Slow Loris was also exhibited at the expo.

The exhibition of around 250 stamps on the theme 'primates saw miniature sheets, postal sheets and magazine cards. The collection of permanent pictorial cancellations, also a part of philately added colour to the expo.

Cancellations : In Permanent pictorial cancellation, an ancient landmark of the region is depicted in the form of a picture as the cancellation seal, said Krishnaiah. For instance, the pictorial cancellation of Kalakad region is a primate - Lion tailed macaque. The normal official cancellation seal at the Post office of the famed tourist town south of Chennai is a depiction of the famous pallava shore temple.

However, the regular features of the cancellation, the 6 digit pin code and date will be included in the seal of India Post. The sender can have his mail sealed pictorially by postal staff by placing an oral request, provided proper value of stamps are affixed on the mail. The pictorial cancellation can also be imprinted on post cards and inland letters. Once the pictorial cancellation is made, no normal cancellation is needed, he said.

The pictorial cancellation is recognised by the Philatelic Bureau of the postal department and is available at all local post offices. For instance, in Mangalore, the representing image for the permanent pictorial cancellation is Tagore Park. Some of the pictorial cancellations in Dakshina Kannada and Udupi are: Shri Krishna Temple - Udupi, Sri Manjunatheshwara Temple - Dharmasthala, Five hooded Serpent -Subrahmanya, Sri Durgaparameshwari Temple - Kateel, Sri Mookambika Temple - Kollur and Sri Durgaparameshwari Temple - Mandarthi.
Krishnaiah further said that a request has been sent by the DK Philatelic and Numismatic Association to the Department of Posts to consider four other places for picture cancellation. They are Thousand pillar Basadi - Moodbidri, Monolithic statue of GommateshwaraVenoor, St Marys Island Malpe, and Kattalu Basadi Barkur.

When a postal mail with the pictorial cancellation is sent by aperson to another, the landmark will indicate the sender's place, which gives a feel of interest. Also, the pictorial cancellation are a collector's delight and is included in the philately, holding a significance, which is equal to that of postal stamps, said Krishnaiah. He said he has been collecting stamps for the last 53 years.

Jayaprakash Rao Kaup, in his display of numismatic collection exhibited coins from USSR, Jamaica, Vietnam and Philippines. This expo is a regular feature at the Mangalore Pandeshwar Head Post Office

Special drive by postal dept : Mangalore postal division is conducting a special drive to promote and popularise small saving accounts, postal life insurance, rural postal life insurance and philately and mail operations, as apart of National Postal Week (October 9 to 15).

Interested persons may approach the nearest post office to avail the services. School authorities may also utilise the occasion to acquaint the students by arranging visits to nearest post office. For information, contact: 0824- 2218400, a press release has informed.

Write Comment
|

E-Mail
|
Facebook
|

Twitter
|

Print