Pejawar seer to go on fast if activists storm temple
Mangalore Today News Network
Udupi, Oct 14, 2016: Pejawar Mutt seer Sri Vishwesha Theertha Swami has threatened to go on an indefinite hunger strike, if at all the activists and the "so called" intellectuals lay siege to the temple protesting against the practice of Pankthi Bheda tradition. At a media meet on Oct 13, Thursday, the seer said that agitators, who were part of 'Udupi Chalo' programme held recently in the temple town, had no business to raise their voice against the ritual of Pankthi Bheda.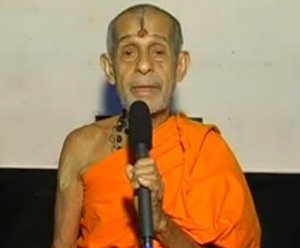 The protest rally was held to condemn the brutality of violence in the name of cow vigilance. Sadly, the activists targeted the temple and him, which diverted the cause of holding the agitation. He said the "so called thinkers" are creating a rift between various castes and creed within Hinduism. He said the activists had only one aim to widen the gap between the upper castes and lower castes, as they have forgotten the fact that the strength lies in unity. Claiming himself to be the first one to embrace Dalits and opening doors to them way back in 1970s, the seer added that the activists have forgotten the sayings of Basavanna who stresses on 'Linga Deekshe'.

The seer said he would not prefer retorting against the allegations made by the activists who gathered at the concluding ceremony of 'Udupi Chalo.' He said the land is polluted because of offensive remarks made by the speakers in the convention rally. The Swacchata Abhiyan to be held on October 23 by the members of Namo Brigade makes sense as the 'Udupi Chalo' activists dared to utter derogatory and offensive remarks against the temple and the seer. He added he would not condemn the purpose of organising 'Udupi Chalo,' but he disagrees with the turn that rally took targeting the temple and ritual of Pankthi Bheda.

He said it is the responsibility of the government to extend protection to the temple. He also invited the activists for peaceful talks. He added he is ready for bilateral talks, which would help to arrive at agreeable solution. Stating that discrimination existed even before the arrival of Brahmins in the country, he said let the intellectuals understand the caste system and the origin of discrimination imbibed in the social fabric of the country and later make allegations against Brahmins.

The seer added that the Dalits are treated in an unbiased manner and they are offered food in the mass dining hall like other members of the public. When Dalits and minorities have no problems with him and the temple ritual, why are the activists are provoking them to create a rift, he questioned. It is not the idea of communal harmony as being claimed by the activists, it is "communal disharmony" and the differences that are being created in the society, he stressed.

Write Comment
|

E-Mail
|
Facebook
|

Twitter
|

Print