Pejawar seer exhorts peace, will fast for harmony : Ayodhya verdict
Mangalore Today News Network
Udupi, Nov 08 2019 : The nonagenarian Pejawar seer Vishweshatheertha Swami, November 7, Thursday, called for peace and harmony in all circumstances and promised on staging an indefinite hunger strike if communities, groups held victory procession or resorted to violence post-Ayodhya verdict.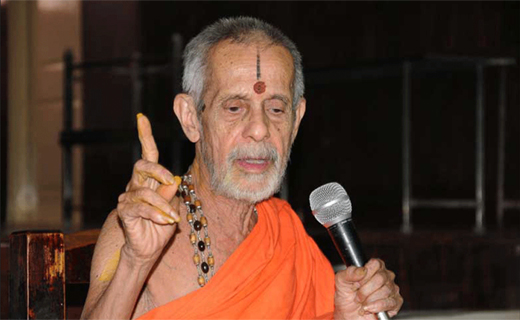 The seer in Udupi, appealed to members from both Hindu and Muslim communities to maintain peace after the Supreme Court's verdict in the Ayodhya dispute. He said the sants, Sangh Parivar and Vishwa Hindu Parishat (VHP) had decided not to celebrate the verdict.

"Instead, welcome the apex court's verdict by offering poojas and bhajans in temples," he stressed. The pontiff appealed to all to abide by the Constitution and not indulge in violence. He quoted Sri Sri Ravishankar, who had assured him that the negotiation with leaders from the Muslim community was fruitful and they had not opposed the construction of Ram Mandir on the disputed land.

He recollected that the then government led by V P Singh had arranged a meeting in New Delhi. Prominent leaders from both communities present in the meeting had decided on the construction of the temple. But all efforts turned futile when BJP leader L K Advani was arrested in Bihar and BJP withdrew its support to the Singh government.

The seer said even if the apex court's verdict was not in favour of Hindus, they would work out other possibilities to fulfill the dream of constructing the Ram Mandir. The plan to construct the Mandir would be chalked out after the SC verdict, he said.
'Both sides of Tipu should be shown in books'

Vishwesha Tirtha Swami of Pejawar Mutt said on Thursday that lessons on historical figures such as Tipu Sultan should show both sides of their personalities and deeds.

Replying to queries of presspersons on the State government's move to remove Tipu Sultan from textbooks, he said Tipu Sultan was a controversial person whom the people of Kodagu district and Christians blame for massacres. He said Tipu did good work while also showing cruelty. He said Tipu had stated that his sword was meant to kill the "kafirs". But his administration was good and he helped the poor during his rule. "There were many kings who did both good and bad. They should not be overly glorified. There should be truth in history," he said.

The Pejawar seer said that freedom fighter Vinayak Damodar Savarkar, popularly known as Veer Savarkar, made a lot of sacrifices for the freedom struggle and served 10 years of rigorous imprisonment in Andaman and Nicobar Islands, which was good. But he submitted a plea for clemency to the British government, which was wrong. "But Savarkar had to face a lot of torture in the cellular jail and would simply have had to rot in prison. Hence, he submitted the plea for clemency. After coming from the jail, he organised the Hindu community and also participated in the freedom struggle in his own way as the leader of the Hindu Mahasabha. Hence, saying that Savarkar should not be given the Bharat Ratna just because he sought clemency is wrong," the seer said


Write Comment
|

E-Mail
|
Facebook
|

Twitter
|

Print