Paulo Coelho's 'The Alchemist' released in Kannada
Mangalore Today News Network
Mangaluru, May 3, 2015: Speaking at the release of the Kannada translation of Paulo Coelho's 'The Alchemist' here on May 2, Saturday, Writer Na D'Souza has said that 'The Alchemist' by Paulo Coelho and its Kannada translation "Rasavadi" by Abdul Raheem Teekay should be given to those children do not dreams of future life. The book tells one the importance of following one's dreams and scripting one's destiny. He added that It is an inspiring book. Through the story of young shepherd 'Santiago' and his quest for treasure, the story helps to learn something new. It points towards goals and dreams in life.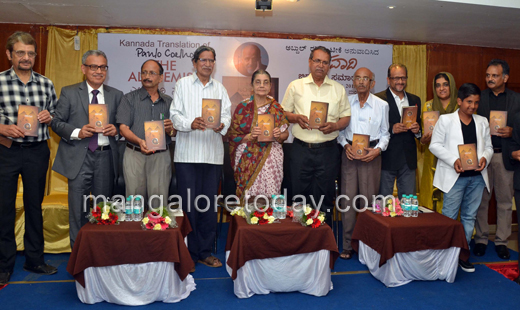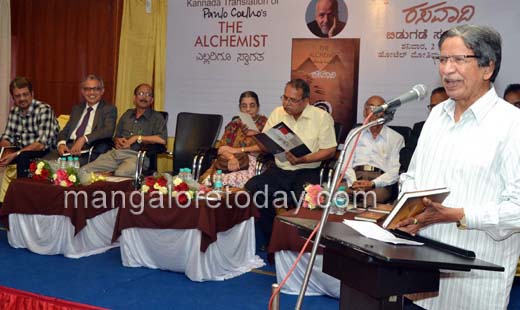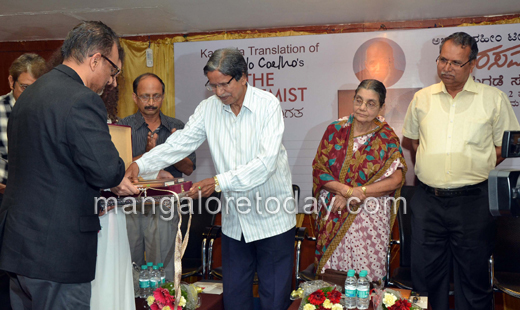 The book combines detective story, novel, travelogue and can be read from historical and social perspectives too. In the Sahara desert, the protagonist takes the shell and feels the waves from the sea and says the desert would have been a sea in the past. Every detail gives an experience unimaginable.

At a time when people don't depend on books, Na D'Souza said that reading 'The Alchemist' will help to know what we have missed by not cultivating the habit of reading books. It will help one to expand the knowledge of experience. To translate a book from one language to another, the author should have command over both the languages, and should know the richness of the language. He said, "After reading the translation, I never felt it was a translated book. The work has deep feelings and experiences."

Writer/ Translator, Abdul Raheem Teekay said that though he had so many dreams in his life, he never dreamt of becoming a writer. "There are no writer in our family. I studied in rural schools by understating the values of life. If God wants, we can achieve anything in life. All children have talents. But what the children lack are dreams to follow in life. The Alchemist will help children to have dreams in life."

On what made him to translate The Alchemist, he said that he had been to Goa. While interacting with children of ragpickers, I asked a child what is his dream. The child in turn asked me what is it? The rag picker children should be our concern not problems. We should sow the seeds of goodness in them.

Abdul Raheem Teekay said: "When I sent an email to Paulo Coelho seeking permission to translate The Alchemist, he gave open permission through Twitter within three hours of sending mail. He has not taken royalty for the copyright for translating the work. I am planning to hand over the copies of the book to at least 1000 persons in the next six months," he said.

Write Comment
|

E-Mail
|
Facebook
|

Twitter
|

Print