Patient with 'Flesh eating' condition of scalp saved at Srinivas Medical College
Mangalore Today News Network
Mangaluru, April 12, 2019: In a life saving breakthrough, surgeons of Srinivas Institute of Medical Science & Research Centre (SIMS& RC), Mukka were able to completely reverse a flesh eating scalp condition in a middle aged patient after a month long treatment regimen which concluded last week.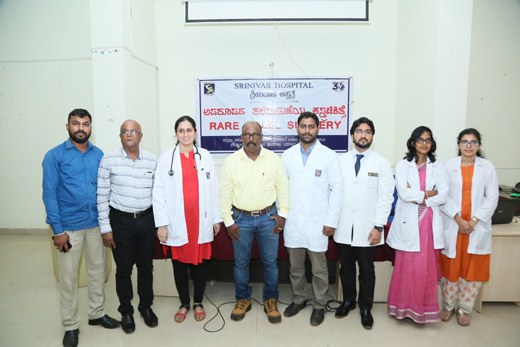 Announcing this at a press meet organized at the hospital, Dr. Aravind Naik of Department of Surgery, said the patient was Luke Richard, a 45 year old man from Surathkal.
He had initially presented with a minor injury to the scalp. However this innocent condition soon degenerated and progressed rapidly into necrotizing fasciitis with spreading cellulites. This is a severe and potentially life threatening gangrenous condition, commonly known as flesh-eating disease, this infection results in the death of parts of the body's soft tissue with septicemia. As the infection was located on the scalp it posed added risks and difficulties.
The patient was also newly diagnosed to have uncontrolled Diabetes Mellitus, which is one of the known risk factors for the disease exacerbation. He was managed initially by surgical team of SIMS& RC, headed by Dr. Aravind Naik. The severity of the condition required intervention from Dr. Adil Ali, Head of the Plastic and Reconstructive Surgery, SIMS &RC.

The infected portion was surgically debrided and VAC Veroflow ® negative pressure wound therapy was applied. The infection was controlled and healthy granulation tissue was achieved within 10 days of treatment. Finally split thickness skin grafting was done. The will power of the patient, his trust in the treating doctors and compliance to the treatment and diet protocol helped in hastening the wound healing. The patient who was worried that he may not survive the ordeal was discharged within a month of hospital stay. Now he is leading a normal life and has thanked the medical team for treating him with sensitivity and empathy. The patient Luke Richard was presented to the media during the press briefing.

The success of the treatment called for multidisciplinary team work and included valuable contribution from Dr. P. Sathyamoorthy Aithal (Head Of The Department Of Surgery), Dr. Amar D.N (Associate Professor Of Surgery), Dr. Sathyajith Karanth, Dr. Prashanth Kumar (department of Anesthesia), Dr. Deepak (Neurosurgeon), Dr. Anitha Sequeira (Associate prof. Department of Medicine) Dr. Vijetha (Department Of Dermatology) and Dr. Sangeetha (Department Of Ophthalmology), Dr. Aravind Naik said.

Srinivas Institute of Medical Science & Research Centre is a premier professional college sponsored by Shama Rao Foundation which has three decades of track record in the field of education. The Foundation has well diversified presence with a string of 14 reputed educational institutions. The activities of Shama Rao Foundation are spearheaded by Founder and Chancellor CA A. Raghavendra Rao, ably supported by his son Vice President Dr. A. Srinivas Rao.

Dr. Adil Ali, Head of the Plastic and Reconstructive Surgery, Dr. Anitha Sequeira, Department of Medicine, and Bhaskar Aras, Chief Marketing Consultant were present on the occasion.



Write Comment
|

E-Mail
|
Facebook
|

Twitter
|

Print