Passengers seek timely departure of Karwar express from Bengaluru
mangaloretoday network
Mangaluru, Jan 05, 2019: Passengers travelling by the Bengaluru City-Karwar/ Kannur night express to the coast have urged South Western Railway to delay its departure by about 45 minutes from Bengaluru, from the present 7.15 p.m.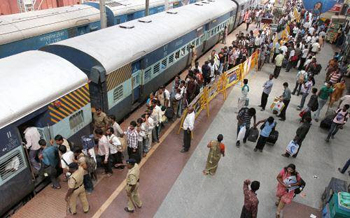 Train No. 16513/ 16511 reaches Mangaluru Central at 6 a.m., a duration of 10 hours and 45 minutes, despite it running via Kunigal, the shorter route, said a member of National Railway Users' Consultative Council, in his letter to the General Manager of SWR.

The train, is kept idle for 45 minutes at Donigal Station [between Sakleshpur and Subrahmanya Road] to allow the crossing of the Karwar/Kannur-Bengaluru Express.

This crossing could be arranged at Sakleshpur itself if the Bengaluru-Karwar train is allowed to have a late departure, he noted. Despite the delayed departure, the train will still arrive at Mangaluru Junction at 5.38 a.m., the current timing of its handing over to Southern Railway.

The train can still traverse the distance quickly, said a rail fan from Bengaluru.

It departed 20 minutes late from Bengaluru and 30 minutes from Yeshwanthpur on Thursday. Yet, it reached Hassan 10 minutes early and Mangaluru Junction 28 minutes early. SWR should ensure this train takes just nine hours from Bengaluru to Mangaluru, he said.

Passengers also noted that the Kannur/Karwar-Bengaluru City Express could have an early start from Mangaluru Central to avoid longer idling time of the Kannur-Bengaluru portion at Mangaluru.

The Karwar portion could leave Karwar at 2.20 p.m. instead of 2.40 p.m. to reach Mangaluru Central at 7.45 p.m.

The combined express then could leave Mangaluru Central at 8.30 p.m. instead of 8.55 p.m. Thus, the via-Kunigal service could reach Bengaluru City at 5.45 a.m. instead of 6.40 a.m. and the via-Mysuru service could reach Bengaluru at 7.30 a.m. instead of 8 a.m.

The NRUCC member also informed the GM that the Southern Railway has agreed for uniform departure timing of Bengaluru-Karwar (16513/16523) Express from Mangaluru Central at 6.20 a.m. For this, he demanded an early start for Train 16523 (via Mysuru) from Bengaluru at 6.45 p.m. instead of the present 8.30 p.m. The uniform timing would be of much benefit to passengers, he said.

Write Comment
|

E-Mail
|
Facebook
|

Twitter
|

Print