Palanquins and vehicles ferry Udupi seers
Mangalore Today News Network
Udupi, Jan 19, 2018: Four seers of the Ashta mutts sat on palanquins mounted atop vehicles during the Paryaya procession on Jan 18, Thursday, while two sat on palanquins carried by devotees.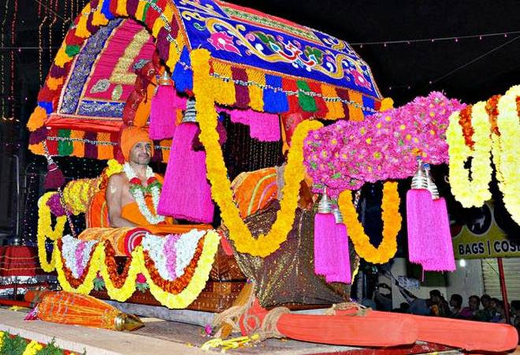 Vishwesha Tirtha Swami of Pejawar Mutt had started the system of having the seers of the Ashta mutts carried on palanquins mounted atop vehicles in 2014. This was in response to criticism for using people to carry the palanquins.

But two seers — Vishwavallabha Tirtha of Sode Mutt and Ishapriya Tirtha, junior seer of Admar Mutt — sat on palanquins that were carried by devotees instead of vehicles during the procession.

Fifteen tableaux and about 50 cultural troupes, led by an elephant, in the procession added colour to the Paryaya festival. Since there was a huge crowd to watch the procession at Jodu Katte, the starting point, the police struggled to keep things under control. The procession started after a 40-minute delay.

The Paryaya Durbar was held at the newly renovated Rajangana Hall, which has a stately look and is more airy now. Seating and other arrangements were made inside the hall. There were four LED screens installed for the benefit of devotees in the hall. The stage of the Paryaya Durbar was decorated with flowers and named Ananda Tirtha Mantapa.

Seers absent : The two notable absentees at the Paryaya Durbar function were Sugunendra Tirtha Swami of Puttige Mutt and Vishwapriya Tirtha Swami of Admar Mutt. The Puttige seer does not attend the Paryaya Durbar function because other seers object to his foreign trips (a taboo among most of the seers of the Ashta mutts), crossing the sea (Sagarolanghana). Both the seers were absent in the Paryaya procession as well.

A large number of devotees participated in the Maha Anna Santharpane held from 11 a.m. to 4 p.m. Meals were served to the devotees at the Bhojane Shale, Anna Brahma Hall, Anna Dharma Hall, Madhwangana Hall and Rajangana. There was also a buffet lunch facility for the devotees at the Rajangana parking space.

When Kasturiamma Tantri, mother of 61-year-old Vidyadheesha Tirtha of Paryaya Palimar Mutt, came on to the stage at the Paryaya Durbar Hall, the seer fell at her feet. Ms. Tantri wanted to leave to her village, Shibaruru, early because she still milked the cows at the house and offered it as 'abhisheka' while offering prayers daily.

Write Comment
|

E-Mail
|
Facebook
|

Twitter
|

Print