Palakkad Railway Division wins three efficiency shields
Mangalore Today News Network
Mangaluru, April 14, 2017: Southern Railway celebrated its 62nd Railway Week at Rajah Annamalai Mandram, Esplanade, Chennai today (12th April, 2017). Shri Vashishta Johri, General Manager of Southern Railway was the Chief Guest of the function and distributed Shields to various Divisions / Departments / Workshops and awards to officers and staff for their meritorious performance.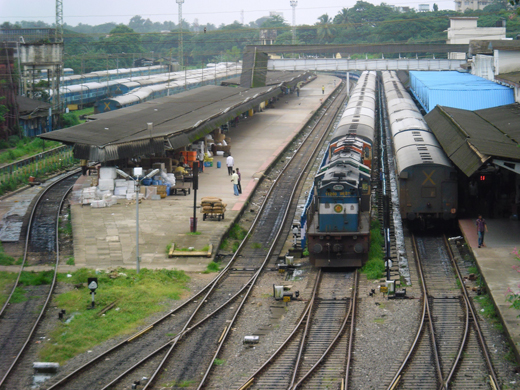 At the Railway Week Celebrations of Southern Railway held at Chennai, Dr. H. Srinivas, Chief Personnel Officer, Industrial Relations welcomed the gathering. Shri. Vashishta Johri, General Manager, Southern Railway addressed the Staff and Officers of Southern Railway. Shri P. K. Mishra, Additional General Manager, Shri N. Swaminathan, Chief Personnel Officer and other Principal Heads of Departments, Divisional Railway Managers, Officers and Staff of Southern Railway participated in the function.


At the zonal level, 25 officers, 152 staff and 2 students were honoured with 'Individual Awards' and 9 'Group Awards' were presented to 54 employees. Further, 33 Efficiency Shields for outstanding performance during the year 2016-17 in different areas of railway working were awarded to the Divisions/Workshops/Units. In addition to these, five Officers/Staff of Southern Railway will be honoured with Individual Awards at the Railway Board level.


The General Manager's Inter Divisional overall Efficiency Shield was bagged by Tiruchchirappalli Division; Madurai Division was the Runner in the same category.


Palakkad Division won three efficiency shields- for Mechanical, Signal & Telecommunication and for Cleanliness The shields were received by Shri Naresh Lalwani Divisional Railway Manager along with the Divisional head of the respective department.


Mechanical Department

Rated as the best Division in coach maintenance, for Improvement in punctuality of Trains for bringing down passenger complaints, for taking effective steps to curb Pest and rodents in coaches, for improved cleanliness in coaches, for optimum utilisation of coaches.& wagons and for zero en-route detachment of coaches.

Shri B. Venugopal, Senior Divisional Mechanical Engineer accompanied the Divisional Railway Manager to receive the Award from General Manager, for the Division


Signal and Telecommunication department

Signal & Telecom department of Palakkad Division has been adjudged as the best in Southern Railway in view of its Increased reliability, Professional approach to failure management,100% Utilisation of funds for maintenance, Improvement to Road safety by closure of Level Crossings and Opening Limited Use Subways, Improvements to Passenger amenities, Improvements to networks, Accelerating Replacement works, Enhancement of reliability and safety other passengers related exercises.

Shri N. Ramachandran, Senior Divisional Signal & Telecom Engineer accompanied the Divisional Railway Manager to receive the Award from General Manager, for the Division


Efforts in the field of ensuring cleanliness at stations

Palakkad Division has been granted General Manager's Award for cleanliness during the year 2016-17. Cleanliness is being undertaken at fourteen A1, A and B category Railway station in the Division through contracts, which also includes mechanised cleaning, pest control and rag picking. This is being strictly monitored by the Chief Medical Superintendent(CMS) of the Division, assisted by the ACMS-health, Assistant Health Officer and a team of Health Inspectors. The Station Masters are conducting the cleanliness drives at all other stations.
Dr. V. Kalarani, Chief Medical Superintendent accompanied the Divisional Railway Manager to receive the Award from General Manager, for the Division



Write Comment
|

E-Mail
|
Facebook
|

Twitter
|

Print