Paddy cultivation under MGNREGS to improve crop in State
Mangalore Today News Network
Mangaluru, May 3, 2015: Speaking at an interaction with paddy farmers and officials of Agriculture Department and Krishi Vigyan Kendra, on May 2, Saturday, Karnataka Agriculture Price Commission Chairman T N Prakash Kammaradi has said the Commission will recommend to government to include paddy in Mahatma Gandhi National Rural Employment Guarantee Scheme (MGNREGS), to encourage cultivation of paddy in the State, which was on the decline. He said if the government approves the proposal, it will ensure wages to agriculture labourers engaged in paddy under MGNREGS. This will help increase the area under paddy cultivation in the district.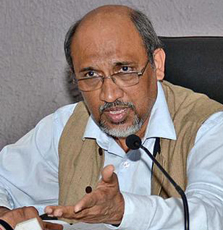 The area under paddy cultivation in the last one decade has declined by 10 lakh hectare in Karnataka. About five to six lakh hectare of agriculture land has been switched over to horticulture crops. The inclusion of paddy in MGNREGS will help in solving the problem of shortage of labourers.

The work on ploughing, removing weeds and soil conservation can be taken up by the labourers who have job cards under MGNREGS. "I will speak to the MGNREGS Commissioner shortly and will also write to the Centre in this regard."

Stating that the State government is looking into pros and cons of Kerala model package for promoting paddy cultivation especially for rain fed areas, the Commission Chairman said that a delegation of officials with farmers will visit Kerala to make a study the package shortly.

He also directed Assistant Agriculture officer Basheer to provide complete details on the farmers who have formed groups and are promoting paddy grown following organic method, through a website at Kuttanadu in Kerala, within a week. The Commission will also recommend to the government to improve the seeds and upgrade the technology to increase the productivity.

Farm groups : Commission Chairman urged the farmers to form farmers groups and avail subsidies from the government to purchase farm equipment and sell the crop through a brand name. There is demand for organically grown paddy all over. Once the farmers form groups and are ready to supply paddy, then the a platform for marketing of the produce can be created.

Labour unavailable : Farmers from Surathkal decried paddy growers are facing acute shortage of labourers to take up the cultivation. The labours charge Rs 500 per day. "We farmers grow paddy out of sheer interest and to make an effort to continue the tradition which our forefathers have laid. Normally, paddy grown by the farmers in small holdings are used for self consumption." Another farmer Chittaranjan said government should announce insurance for the agriculture labourers. This will help in saving agriculture and paddy. The farmers also said that for small holdings, there is a need for modified harvester.

The farm equipment on rent are available at cheaper rate from the private individuals than at the centre opened by the department of agriculture in association with SKDRDP. Machineries should be made available at subsidised rate, said the farmers.

Write Comment
|

E-Mail
|
Facebook
|

Twitter
|

Print