PUCL to mark 'World Human Rights Day' on Dec 10
Mangalore Today News Network
Mangaluru, Dec 10, 2016 : According to a communication from Mangalore unit of People's Union for Civil Liberties (PUCL), it has organised a meet to mark the World human rights day on December 10, today Saturday at 4.30 pm at Sahodaya Hall Balmatta. A meet with the key note address "Human Rights and Judicial reforms" by Prof. P L Dharma, Chair and HOD Political Science, Mangaluru University as Chief guest will be delivered. Presiding will be P B D'Sa National Vice President. The local PUCL office bearers are M Kabeer President and A Rodrigues, Hon. Secretary.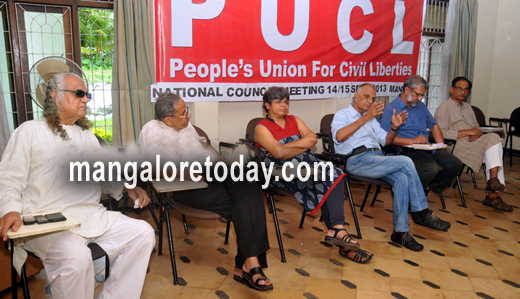 Human Rights Day is observed every year on 10 December. It commemorates the day on which, in 1948, the United Nations General Assembly adopted the Universal Declaration of Human Rights. In 1950, the Assembly passed resolution 423 (V), inviting all States and interested organizations to observe 10 December of each year as Human Rights Day.


This year, Human Rights Day calls on everyone to stand up for someone's rights! Disrespect for basic human rights continues to be wide-spread in all parts of the globe. Extremist movements subject people to horrific violence. Messages of intolerance and hatred prey on our fears. Humane values are under attack.

We must reaffirm our common humanity. Wherever we are, we can make a real difference. In the street, in school, at work, in public transport; in the voting booth, on social media.

The time for this is now. "We the peoples" can take a stand for rights. And together, we can take a stand for more humanity.

It starts with each of us. Step forward and defend the rights of a refugee or migrant, a person with disabilities, an LGBT person, a woman, a child, indigenous peoples, a minority group, or anyone else at risk of discrimination or violence.

Human Rights Day in India

Human Rights Day is commemorated every year all over the world on 10th of December. It was first announced to be celebrated every year by the United Nations General Assembly on 10th of December in the year 1948. It is celebrated at this particular date annually to honor the United Nations General Assembly for declaring the human rights universally. Human rights day was officially established in the meeting of United Nations General Assembly on 4th of December in 1950.
All the member states and interested organizations were invited to celebrate this day. The High Commissioner office of the Human Rights was awarded by the Guinness World Record for the collection, translation (around 380 languages) and distribution of the worldwide announcement of the Human Rights. At this event celebration, a global discussion on the human rights is also hosted by the High Commissioner through the social media websites.
How it is Celebrated

The day is celebrated by organizing the political conferences, meetings, exhibitions, cultural events, debates and many more programs to discuss all the issues of human rights. Several governmental, civil and nongovernmental associations actively take part in the human rights event celebration.

Human rights day is celebrated by deciding a particular theme to make this celebration more effective and successful. Human poverty in any country is the greatest human rights challenge. One of the major goals of celebrating the human rights day is to eradicate the poverty from the life of human being and help them in getting the well being life. Various other programs including music, drama, dance, fine art and etc are held focusing to help people to learn their rights.

Most of the events held at this day are aimed to instruct people, children as well as teenagers about their human right. Some of the protest activities are also held in order to aware the people from areas where the human rights are unrecognized or disrespected.
Why Do We Celebrate and Objectives of Human Rights Day

Human rights day is the worldwide observance celebrated by the people all across the world to get the real rights for the human beings. This day is celebrated to improve the physical, social, cultural and spiritual well being and welfare of the vulnerable group of people globally. Some of the important reasons of why do we celebrate and objectives are:

To promote the awareness about human rights among the people all around the world.
To emphasize the endeavors of the United Nations General Assembly in order to progress the overall human rights conditions.
To get together and celebrate in cooperation to discuss and highlight the specific issues of the human rights.

To encourage the vulnerable group of people like women, minorities, youth, poor, disabled person, indigenous people and etc to take part in this event celebration and political decision-making.

Human Rights Day Quotes

"The real struggle for us is for the citizen to cease to be the property of the state."
"Many of us persons of the tinted persuasion care about human rights and artistic freedom too."

"To deny people their human rights is to challenge their very humanity."
"The rights of every man are diminished when the rights of one man are threatened."
"Laws are silent in times of war."

"Knowledge makes a man unfit to be a slave."
"Wherever men and women are persecuted because of their race, religion, or political views, that place must — at that moment — become the center of the universe."
"Until justice rolls down like water and righteousness like a mighty stream."
"We are just two people. Not that much separates us. Not nearly as much as I'd thought."
"No matter how pathetic or pitiful, every human is fated to have one moment in their lives in which they can change their own destiny."
"Please use your freedom to promote ours."
"The only way to make sure people you agree with can speak is to support the rights of people you don't agree with."
"Today's human rights violations are the causes of tomorrow's conflicts."
"We believe that human rights transcend boundaries and must prevail over state sovereignty."
"An injustice committed against anyone is a threat to everyone."
"Together we can prevent genocide from happening again. Together we can make a better future for our children."
"You are a human being. You have rights inherent in that reality. You have dignity and worth that exist prior to law."
"Remember, the change you want to see in the world, and in your school, begins with you."
"If the prisoner is beaten, it is an arrogant expression of fear."
"It is hard to talk about a middle ground for something that is a fundamental right."
"Health is a human necessity; health is a human right".


Write Comment
|

E-Mail
|
Facebook
|

Twitter
|

Print