PUCL DK marks Constitution and Human Rights Day
Mangalore Today News Network
Mangaluru, Dec 10, 2019: Speaking at a seminar organised by People's Union for Civil Liberties South Kanara (PUCL DK) on the occasion of 'Constitution and Human Rights Day' at Maria Jayanthi Hall, Jeppu Church compound, Justice M F Saldanha, former judge of Karnataka and Bombay high court was erudite in presenting all facets of information he said that our country and its citizens are in a precarious danger. Economy is in taters and limping along. Day in and day out all facets of the media are exposing human rights violations. Even the judiciary, which was the citizens only hope, is collapsing rapidly. Prior to the session, case studies handled by PUCL were presented by affected parties.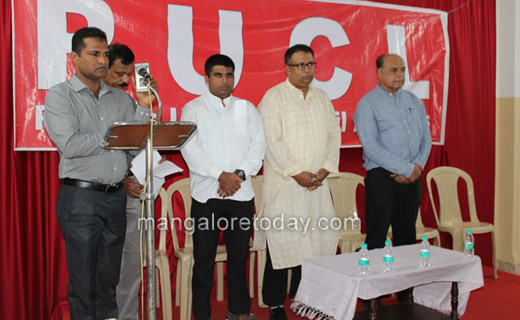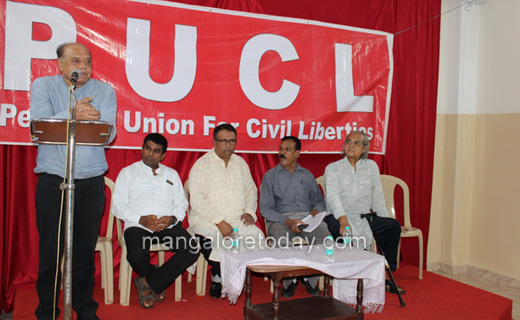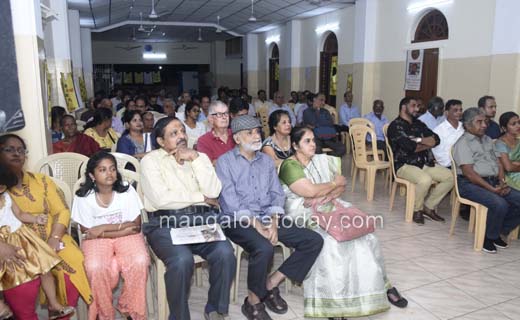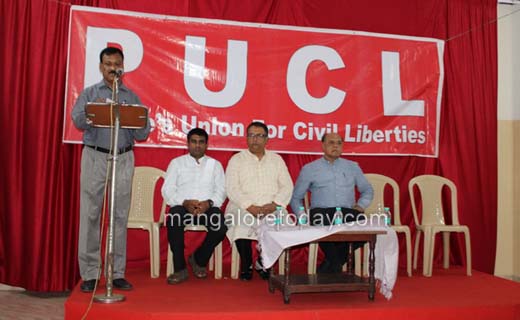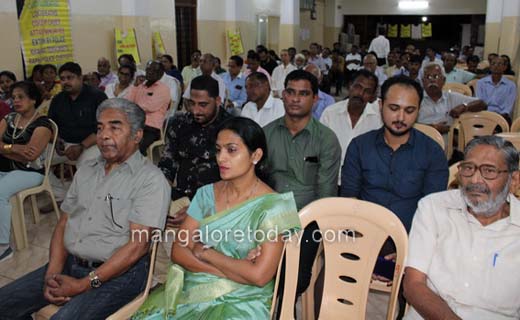 Also, High Court advocate Dilraj Rohit Sequeira and human rights activist Rev Dr Ozmond Roshan D'Souza presented their views on the subject. Advocate Dilraj, inceisively spoke about different types of democracies practiced in various countries of the world. He detailed that implementation of English / British mode of democracy by Nehru in India was a failure. English democracy will not suit a country like India with different cultures and multi languages. He further said that People Representatives Act should be amended with minimum educational qualification for people to contest elections. Free and fair election process and environment awareness, several measures are needed immediately to help in saving Indian democracy.

Human rights activists Rev Dr Ozmond Roshan D'Souza said, "Human rights come to us by nature - it is a natural instinct of preservation. Unfortunately, today we are struggling and fighting for this basic right." Citing an example of students' agitation at a University Dr Ozmond said, "Even research scholars do not listen to intellectual professors. But they run away when policemen come wielding Lathis. By imposing fear, we cannot restore democracy. mutual respect and tolerance is the essence of human rights"


Justice M F Saldanha touched upon the fresh Hyderabad encounter and pointed out, lorry drivers and cleaners are trapped and killed in an encounter with the sole intention to save the faces of high profile people and pacify public outrage. They fabricate stories that the accused tried to escape from custody, snatched weapons from the police, fired at police etc. But in most encounters, there are one or two bullet wounds on the police jeep and the windscreens of the police vehicle are hardly damaged. Not a single policeman gets injured in cross fire and no evidence of a fight or struggle of any kind is seen."

Referring specifically to the Hyderabad encounter, Justice Saldanha questioned, "Where is the need for the police to recreate the crime scene at 3 am in the morning? What prevented the police from taking the accused to the scene of crime during day time? If police force all over the country takes this as a model to eliminate accused, what will happen to nation and democracy? "

All are aware at this point of time that to save democracy the citizens should take active initiative and safe guard the rights of individuals. Unless all right thinking citizens takes up matters around him/her and raises their voices democracy is all set to crash. It is enough for the good citizens to keep quiet and ignore peoples rights to cause human rights to collapse in silence. It is seen that the event drew serious concern and participation by the people aware.

Write Comment
|

E-Mail
|
Facebook
|

Twitter
|

Print