PM Modi halts for a night in Mangaluru
Mangalore Today News Network
Mangaluru, Dec 19, 2017: Post BJP's win in Gujarat and Himachal, it was a thrill to see the PM BJP leader Narendra Modi arrive in Mangaluru late night December 19, to spend the night before departure for Lakshadweep early morning.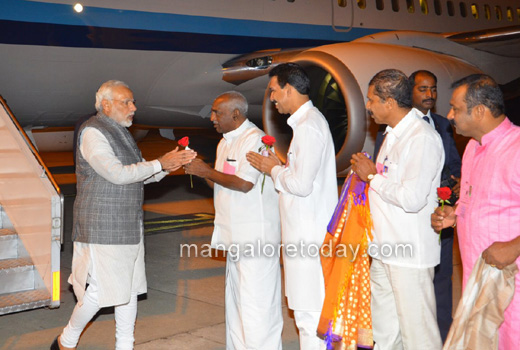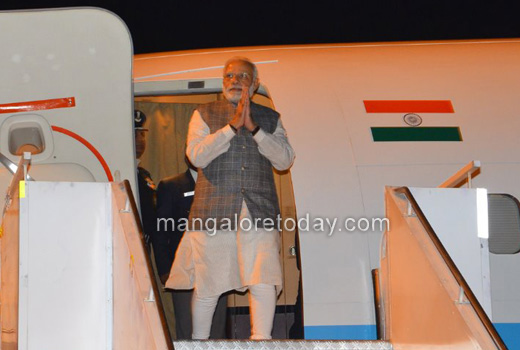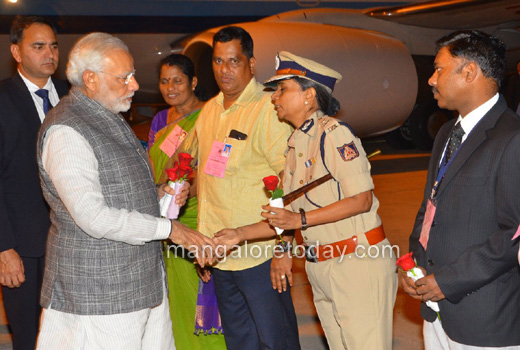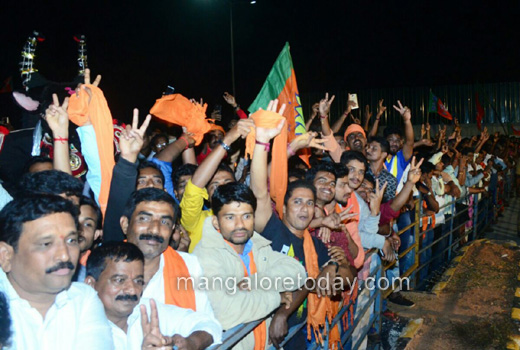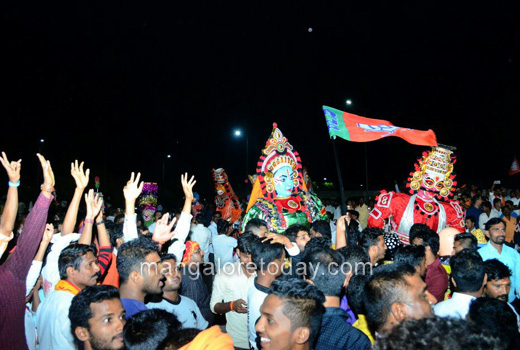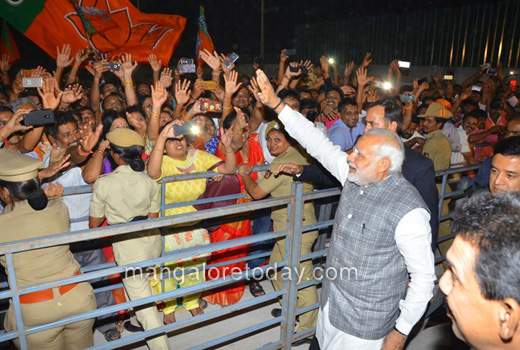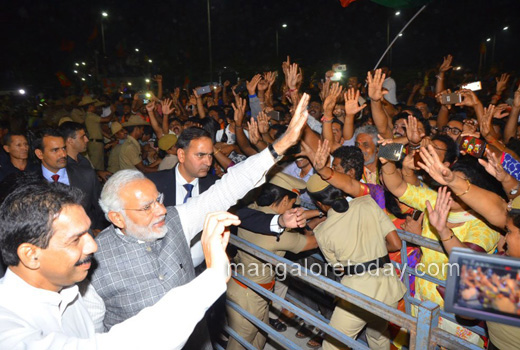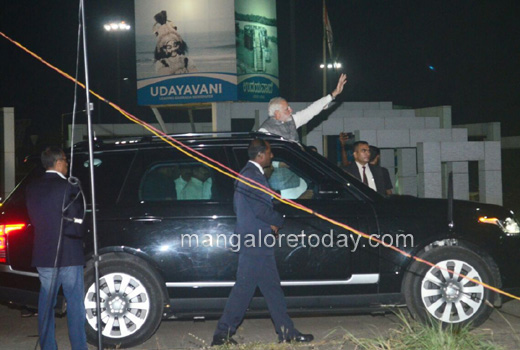 PM Narendra Modi arrived to a rousing welcome and reception at Mangaluru International Airport. PM Modi landed past midnight. The unprecedented crowd present took the authorities by surprise at that part of the night - BJP leaders, members, supporters admirers gathered at the airport and cheered lustily. Bands, drums and chende were also brought to the airport to celebrate. The excited crowds waved party flags and shouted cheers.

Union minister of state for shipping Pon Radhakrishnan, Karnataka DG-IGP Neelamani Raju, Nalin Kumar Kateel, MLA S Angara, DK DC Sasikanth Senthil, ZP president Meenakshi Shantigodu, vice-president Kasturi Panja and other leaders received the PM. PM Modi went directly to the Circuit House.

The district BJP leaders DK MP Nalin Kumar Kateel, Vedavyas Kamath and others joyously and the PM reciprocated with enthusiasm. Earlier in this monthe PM Modi visited Dakshina Kannada Dharmasthala.

Lakshadweep :

The PM's visit to Lakshadweep is significant, a group of islands in the Laccadive Sea, 200 to 440 km (120 to 270 mi) off the south western coast of India. The archipelago is a Union Territory and is governed by the Union Government of India. Lakshadweep comes from Lakshadwipa, which means "one hundred thousand islands" in Sanskrit. The islands form the smallest Union Territory of India: their total surface area is just 32 km2 (12 sq mi). The lagoon area covers about 4,200 km2 (1,600 sq mi), the territorial waters area 20,000 km2 (7,700 sq mi) and the exclusive economic zone area 400,000 km2 (150,000 sq mi). The region forms a single Indian district with 10 subdivisions. Kavaratti serves as the capital of the Union Territory and the region comes under the jurisdiction of Kerala High Court. The islands are the northernmost of the Lakshadweep-Maldives-Chagos group of islands, which are the tops of a vast undersea mountain range, the Chagos-Laccadive Ridge.[5] The first PM to step in the Lakshadweep ws Indira Gandhi in 1969.

Ten of the islands are inhabited. At the 2011 Indian census, the population of the Union Territory was 64,473. The majority of the indigenous population is Muslim and most of them belong to the Shafi school of the Sunni sect. The islanders are ethnically similar to the Malayali people of the nearest Indian state of Kerala. Most of the population speaks Malayalam with Mahi (or Mahl) being the most spoken language in Minicoy island. The islands are served by an airport on the Agatti island. The main occupation of the people is fishing and coconut cultivation, with tuna being the main item of export.


Write Comment
|

E-Mail
|
Facebook
|

Twitter
|

Print