Overwhelming Response for Goat Farming in Dakshina Kannada
Mangalore Today News Network
Mangaluru, Jan 25 , 2016: Overwhelming enthusiasm shown for goat farming by farmers of Dakshina Kannada district for surprised the officials of Mangaluru Krishi Vijnana Kendra (KVK), who organised two consecutive training programs within a week attended by more than 105 enterprising farmers.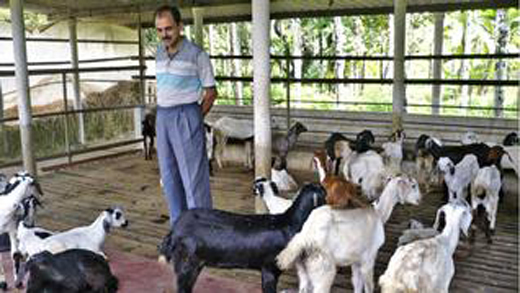 During the financial years 2012-13 the district-level bankers' committee initiated financing for goat farming in the district only few farmers came up and only three units were set up that year. Now, stall fed scientific goat farming fast catching up in the district after a gap three years.

Mangaluru KVK's first batch of training 40 farmers attended and many more showed willingness to participate in the training session. For the surprise of officials and resource persons more than 65 farmers including women attended second training camp held on January 25 Monday in the Mangaluru KVK inside the Fisheries College campus.

Mr. Lohithaksha Rai, former president of district unit of Rajya Raith Sangha, has said that while the prices of all the commodities skyrocketing rate of farm produces falling day by day. Goat farming best alternative and supportive option for farmers as goat farming enterprise has been known as business of barkath (prosperity), he said after inaugurating the training programme.

Dr.Ashok Kumar, retired veterinary doctor and professor in the Fisheries college said that the Land and irrigation facility for growing fodder is the main requirement and our district is ideal place for goat farming as marketing is not an issue at all in the district. Grass cultivated in one acre of irrigated land is sufficient to meet the green fodder requirement of a unit consisting of 40 to 50 goats. Under the silage system one acre of grass enough for 50 goats, he added.

Silage is fermented and stored in a process called ensilage or ensiling, and is usually made from grass crops, including maize, sorghum or other cereals, using the entire green plant. Silage is high-moisture stored fodder which can be fed to cattle, goats etc.

Sirohi breed of goat famous in Mangaluru, while the preferred goat breeds that adapt well in DK district are Malabari(also known as Tellichery), Barbari, Osmanabadi and Jamanapari, he said.

Now the government agencies propagating stall fed goat farming with economically and scientifically erected goat sheds and advised to shun old practice for better profitability.

Dr. Ashok Kumar and Dr. Vasanth Kumar Shetty were resource persons for the sessions.

Some of the farmers raised concern over non cooperation of Bank officials in lending for goat farming and other farming activities, even though goat farming is a high yielding venture with lesser risk of diseases and loss of animal.

Mangaluru KVK Director Dr.H.Hanumanthappa, KVK resource persons Annappa Swamy and Harish Shenoy were present in the function.



Write Comment
|

E-Mail
|
Facebook
|

Twitter
|

Print