Ordinance on Kambala to be contested by PETA
Mangalore Today News Network
Mangaluru, July 06, 2017: In a statement, People for the Ethical Treatment to Animals (PETA) has said that the organisation will challenge the new Ordinance that allows the conduct of Kambala — slush track buffalo race — in an appropriate court.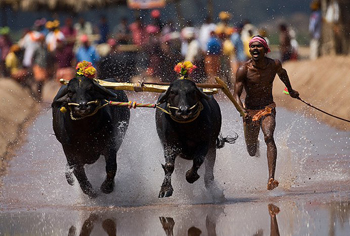 PETA said that legalising Kambala by the State government is a "bizarre use of power". The High Court of Karnataka banned Kambala in 2016 referring to a Supreme Court judgment of 2014 that barred bull races and the use of bulls for performances.

The statement quoted PETA CEO Manilal Valliyate as saying, "At a time when the rest of the world is banning bullfights, with the use of animals in circuses and other cruelty to animals for so-called entertainment — India is moving backwards, embracing once-western concepts such as abuse of cattle through the legalisation of cruelty to bulls through spectacles such as Kambala and Jallikattu. PETA is committed to helping spare buffaloes and other bulls from this cruelty because compassion for cattle, not cruelty, is our true culture and Constitutional duty."

It further said that inspections carried out by the government body, Animal Welfare Board of India (AWBI), proved beyond doubt that without physically and mentally torturing bulls, they cannot be forced to run in races.

PETA said that AWBI's reports contain photographic evidence and a description of different forms of cruelty inflicted on buffaloes, including hitting them with hands, slapping on their face, violent pulling of the thick nose ropes, rough handling by pushing and pulling the animals, overpowering, tail pulling, and restricting the movements of the head using a wooden pole tied to their horns during Kambala events.

Many of the buffaloes frothed at the mouth, salivated heavily, and displayed increased respiration rates upon finishing the race, demonstrating that they are anatomically unfit for racing, as was recognised by the Supreme Court. It said the cruelty stands in contravention of the intention of the Prevention of Cruelty to Animals Act 1960.

Write Comment
|

E-Mail
|
Facebook
|

Twitter
|

Print