Only Rs 2,000 notes from ATM's in Mangaluru
Mangalore Today News Network
Mangaluru, Dec 08, 2016: It is a month now since Prime Minister Narendra Modi announced demonetisation of Rs 500 and Rs 1,000 currency notes and the cash withdrawal limit at ATMs has been increased to Rs 2,500 per day by the RBI.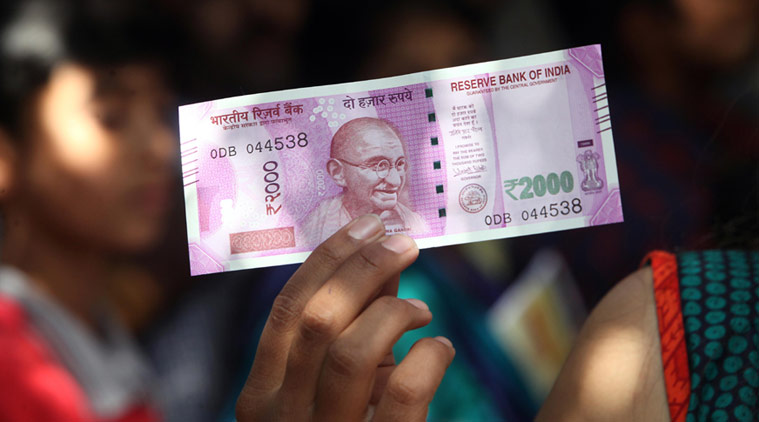 However, majority of the ATMs in Dakshina Kannada district are still dispensing only Rs 2,000. On the other hand, on Wednesday too, many ATMs did not function. The district is yet to receive the new currency of Rs 500 denomination in the required quantity. "The supply of currency to the district in the form of Rs 100, Rs 500 are not as per expectations or needs. The situation is likely to ease in the next 10 days," said highly placed source in the banks.

"Even banks are dispensing whatever small denomination notes they have, so that money is put into circulation in the district," the official said. A random check at a few banks revealed that they have only Rs 2,000 denomination notes and no other small denomination currency - either Rs 100, Rs 50, Rs 20 or even Rs 10.

The queues in front of banks continue to this day. Many shopkeepers have started accepting cheques. If the customer is known to them, they give either some time to pay or, in some cases, a 'chit' mentioning the amount the customer is due to pay. Debit or credit cards are being widely used in shops, hotels, restaurants, multiplexes and some vegetable vendors who have installed POS.

Meanwhile, seven autorickshaw drivers in Mangaluru have installed mobile wallet Paytm in their vehicles. Kudla Souharda Sahakari, a cooperative of autorickshaw drivers, has started this initiative.

In Udupi : The demonetisation process has already affected the lives of people in the past one month and the impact is found till date as long queues are seen in front of banks and ATMs, especially in rural areas. ATMs, including those of nationalised banks, are found with the tag hanging outside, 'Sorry, I am out of service'.

Praveen, a librarian at a private college, said that she suffered a lot initially. However, after realising the situation, she started planning her time table accordingly. She would visit the bank when there was no rush. At the same time, it is difficult many a time to adjust the professional timings and go to the banks. She added, if the ATMs function regularly and the Rs 100 and Rs 500 denomination currencies are released in large numbers, the people may find a solution. "The retailers do not accept Rs 2,000 note, if I purchase for the amount of Rs 300 to 400. It is a problem one is finding hard to manage," she said.

Poojary, who owns a shop, adds that after demonetisation his business has come down. He had lucrative business but now the trade is not good. "Demonetisation has affected everyone, right from the poor to middle class to rich. People blame us for not offering the change for Rs 2000," he said.

Banks in the rural areas like Byndoor, Navunda, Vaddarse, Ajekaru, Sanoor and Padubidri are witnessing long queues and people reach the banks early in the day. Most of the branches in rural banks consist of one counter for transaction.

In Kodagu : Post demonetisation, the situation in Kodagu is grim as plantation labourers have failed to receive their wages in cash. The growers are finding it extremely difficult to pay workers due to scrapping of Rs 1,000 and Rs 500 denomination notes and a ceiling imposed on cash withdrawals. The Plantations Labour Act and the Payment of Wages Act mandate that planters pay labourers in cash.

RBI considers Kodagu district sensitive and has imposed restrictions on the transportation of cash. Even after two to three meetings to lift the restriction on transportation of huge amount of currency, no final decision has been taken yet. As a result, the currency that reaches Kushalnagar is not being able to transport it to Madikeri and Virajpet taluks. Although the district received Rs 136 crore in the form of Rs 2,000 currency, it is not sufficient. Even the new Rs 500 notes are yet to reach the district.

In Chikkamagaluru : Even in Chikkamagaluru district, the plantation owners are not able to pay wages for the workers owing to limitation imposed by the RBI on cash withdrawals. The business is dull in petrol bunks, hotels, restaurants. Even black pepper growers are not able to pluck pepper and process it owing to shortage of money to pay the labourers in the district.

Meanwhile, property registration has come down to one or two in a day when compared to 10 to 12 in a day pre-demonetisation. With the banks issuing only Rs 2,000 currency, customers find it difficult to get change for high denomination notes.

Write Comment
|

E-Mail
|
Facebook
|

Twitter
|

Print