Onion Prices Skyrocket in Udupi, Bring tears to consumers' eyes
Mangalore Today News Network
Udupi: August 27, 2015: Onions, the most essential ingredient in almost all our food items, from breakfast to lunch to dinner and even snacks, has suddenly become a precious object in the kitchen.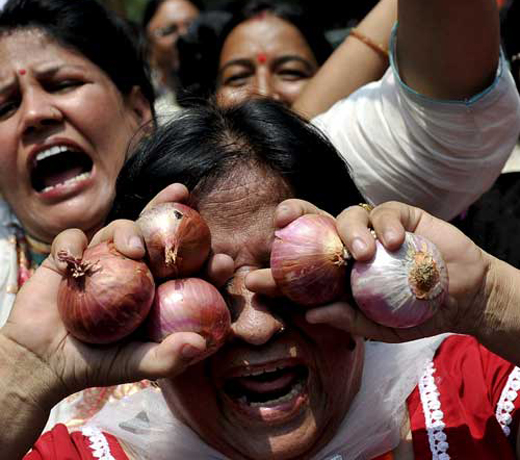 With onion prices going through the roof,people are buying them less and retailers too are reluctant to store them because of market fluctuations.

Onions were selling at Rs. 70 per kg at the weekly market held at the APMC yard here on Wednesday forcing homemakers and others either to purchase them in lesser quantities or to buy more of other vegetables. The prices of onion have shot up by Rs. 15 since last Wednesday.

V. Budya, a retired LIC employee said that consumers were feeling the pinch due to a spurt in the price of onions.

"Onion is used in making upma and sambar. It is difficult to do without onions. Last week, I purchased 2 kg of onions. After looking at the prices today, I have purchased only 1 kg of onions. We may have to do without onions in upma. What other alternative do we have?" he said. But Indira Vaman, homemaker from Sampige Nagar, said that she had decided to buy other vegetables as asubstitute for onions. "I will use other vegetables for curries in place of onions. But when it comes to preparation of chicken-related dishes, there is no alternative. I have purchased 2 kg of onions now," she said.

Some others have decided to do without them.

Sachidananda Hegde, a senior citizen, said that he had purchased 1 kg of onion last week. "Onions are an essential item. But, after looking at the prices, I decided not to purchase onions today," he said.

The onions are purchased by wholesale traders here from Hubballi, who then sell it to the retail merchants in the city. Mukhtar, a wholesale merchant at the yard, said that as the market was fluctuating he was buying only as much was required. "If both demand and supply are steady, it is beneficial for all – wholesalers, retailers and consumers. But fluctuations can lead to losses," he said.

The retail sellers have their own problems with onions. Haridas Kini, a retail merchant, said that he did not purchase onions in large quantities from wholesalers. "It is a perishable commodity. Small merchants cannot afford losses," he said.

Subaraya A., another retail merchant, said that customers were keeping away due to the high prices. "But I expect the prices of onions to come down in next four days," he said.

Write Comment
|

E-Mail
|
Facebook
|

Twitter
|

Print