On going Rosario Centenary Grand Finale on Sunday, April 12
Mangalore Today News Network
Mangaluru, April 11, 2015: The grand finale of the on going centenary celebrations of Rosario Cathedral, Mangalore, will be held on April 12, Sunday. The 100-year celebration highlights of completion the present edufice/building opened in 1915; the parish is much older with rich history dating back to 1568. It's location before 1874 would not have been the same spot as per historians.

In 1799, Canara Christians returned to Mangalore after release from 15 year captivity. A small church was raised not far from the British HQ with the help from the British, that church would have under gone several expansions, in 1850 it was declared a Cathedral. In 1910, under the guidance of Father Henry Buzzoni and Brother Divo, the old church was demolished and the present church edifice was constructed. Paul Perrini, the then Bishop, blessed the church in 1915, but some works were still going on.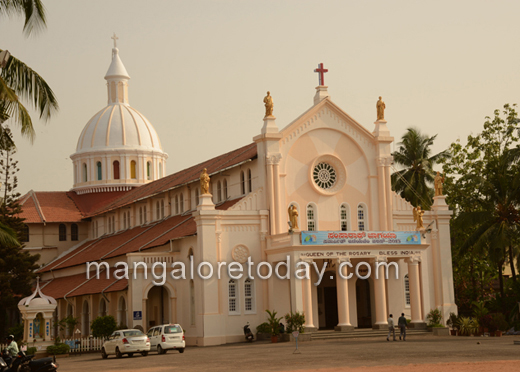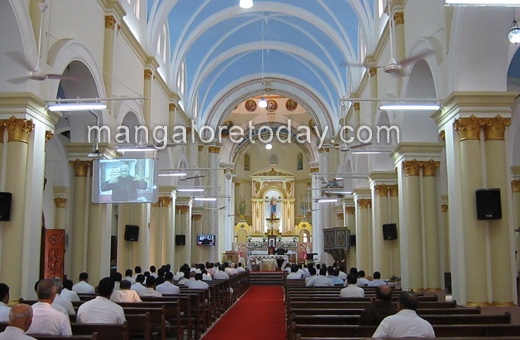 This huge church is not only the Centre of the Diocese of Mangalore but also the Bishop's official seat. Many annual rituals are held here under the Bishops authority. Deceased Bishops' are buried here and their tombs are found inside the church around the high alter.

The Konkani Catholics refer to the patroness of the church as 'Ruzar Mai' derived from 'Mother of the Holy Rosary',

On April 9 and 10, solemn masses were celebrated by Mangalore Bishop Rev Dr Aloysius P D'Souza. On April 10, Friday all religious associated with the Cathedral in the past years were facilitated; i e : Parish Priests, Asst PPs, Headmasters/Principals, heads of all institutions of the Parish, all religious who originally hailed from the parish and so on.......... On April 11, the Parish Day is being observed, all lay people who have contributed and served this Cathedral Church will be felicitated after the Holy Eucharust. The Final Programme is as follows:

April 11, 2015. Saturday. Parish Day:
Holy Eucharist : 4.30 pm. Main Celebrant : Rev. Dr. Ignatius D'Souza, Bishop of Barielly.
Felicitatiob Prigramme: Rev Dr.Aloysius Paul D'Souza, Bishop of Mangalore.

April 12, 2015. Sunday: CENTENARY CELEBRATIONS GRAND FINALE:
Holy Eucharist : 4.30 pm. Main Celebrant : Rev Dr.Aloysius Paul D'Souza, Bishop of Mangalore.

Homily: Rev Dr. Gerald Isaac Lobo, Bishop of Udupi.

Concelebrants: Bishops: Rev. Lawrence Mukkuzhy (Belthangady), Rev.Peter Machado (Belgaum)),Rev. Robert Miranda (Gulbarga), Rev. Henry D'Souza (Bellary) ,Rev. Francis D'Souza (Shimoga), Rev. Ignatius D'Souza (Bareilly).

FELICITATIONS, RELEASE of SOUVENIR, SOUND and LIGHT PROGRAMME: 6. PM:
President: Rev Dr.Aloysius Paul D'Souza, Bishop of Mangalore.

Chief Guests: Rev.Msgr. Denis Moras Prabhu, Vicar General, Rev. Fr. Stanislaus D'Souza S.J. (Jesuit Provincial), Rev. Sr. Mary Susheela AC (Superior General, ACs), Rev Sr. Doreen D'Souza UFS (Superior General.UFC), Octavia Albuquerque, Ex MLC,

Guests of Honour: Ramanath Rai, Minister for Forest, Environment & Ecology, Govt Karnataka Minister, U T Khader, Minister for Health & Family Welfare, Oscar Fernandes MP (RS), Nalin Kumar Kateel MP (DK), J R Lobo MLA, Ivan D'Souza MLC, Capt. Ganesh Karnik, MLC, Roy Castelino, President of Konkani Sahitya Academy, M P Noronha, Secretary, Pastoral Parishad, Diocese of Mangalore.

Write Comment
|

E-Mail
|
Facebook
|

Twitter
|

Print