Nun of Ursuline congregation celebrates 100th Birthday in city
Mangalore Today News Network
Mangaluru, Mar 14, 2018: The life span world over is on the rise and there is no doubt of it, with medical sciences developing fast, the city of Mangaluru and vicinity is seeing many who spring past the 100th mile stone these days as per reports. A note received from the HQ of indigenous Catholic nuns founded in the 1880s marks the details of one of their lucky nuns celebrating her 100th birthday.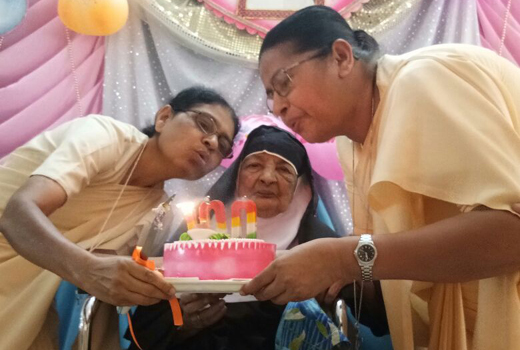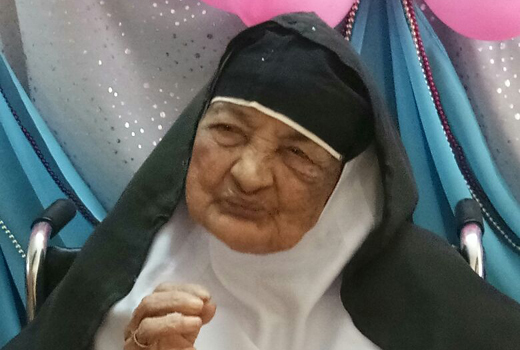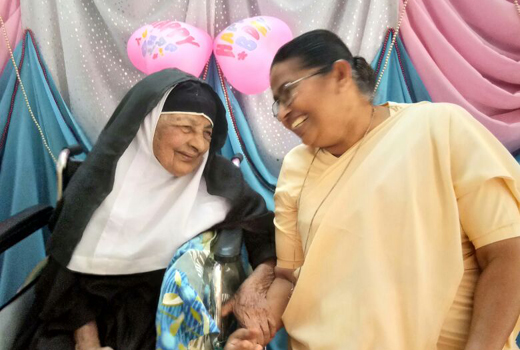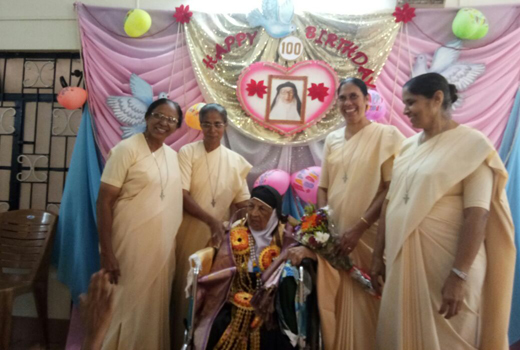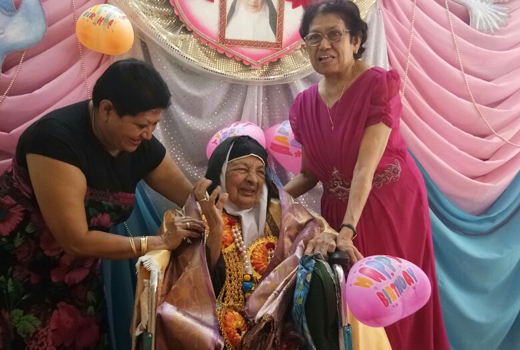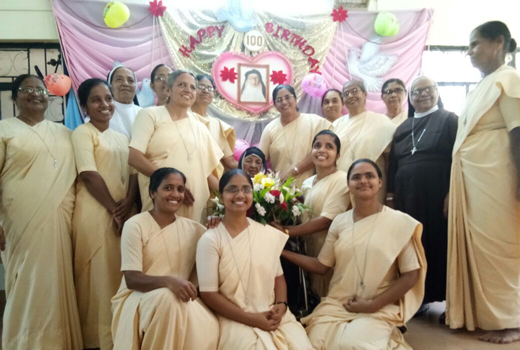 Sr Speciosa Alvares a person great and rare, a person for common people, always positive in mind and heart, generous and with a deep spirit of sharing and caring. She has in recent years used her time, talents, and energy to create wonders out of waste, her love for children and the young is phenomenal and has developed her sense of service.

In the Ursuline Congregation indigenous to Bunder in Mangaluru, she has played the pioneering role of establishing from scratch institutions around the region. Even in her recent advanced years her memory never failed, she often shares her experiences of the past and inspires young while recounting the various events of her life, in a manner that motivates extraordinarily. Her forte is to be positive, always remain contented in any situation of life, prayerful and grateful to God.

Though her birthday was on February 24 it was celebrated March 12. Rev. Sr Susheela Sequeira the Superior General and her council, Provincial Superior Sr Rita Vas and her council, former Superior General Sr Doreen D'Souza and her Council were all present amidst a huge gathering of nuns, well wishers and admirers.

Rev Sr Susheela Sequeira the general in her address appreciated Sr Speciosa for the service rendered by her to Ursuline Congregation and to the society; also appreciated her many good qualities, like hard work, respect, , prayer, wit and humor and a flexibility to life unmatched.


Rev Sr. Speciosa Alvares is of Goan origin, born on February 24, 1919. Her parents are Late Santhan Alvares and Late Carmalin D'Lima. Of the eight children in Alvares family she was sixth one. She was brought up in an environment of prayer, faith, and love that enabled her to be aware of the need to serve God and human. that inclined her toward religious life, she joined the Ursuline Franciscan Congregation on November 20, 1938, she took her first vows on May 20,1940 and she made her final profession may 20, in 1943. Ever since she has worked generously in many places and her contribution is difficult to surpass now.

The Ursuline Congregation of Mangalore :

In January 1887, the Vicariate of Mangalore became a Diocese, Rev. Urban Stein SJ,(1845-188), an able German Priest was the first resident Vicar (1879-1888) of Rosario at Bolar, this church was named a Cathedral in 1850. He envisioned the immediate need for the pastoral care and education of children and women and the care of suffering in the Bundar (Old Port) area - the prime part of the town then. Rev. Urban Stein motivated a few young refined ladies of the vicinity to come forward and help in the vital task. In the fore-front was Nympha Fernandez, daughter of the local Deputy Collector, who became a natural leader of this informal band of about a dozen members and later the formal first Superior of the order. The role model that Fr Stein chose for this band of religious caring women which continues to be relevant today is St.Angela Merici an Italian lady who served the poorest of the poor in the tradition of St.Francis of Assisi, widening their charism for the good of all people. This small dedicated band of local Catholic maidens did exemplary work among the down trodden / underprivileged for their uplift - were often called the 'Angels of Bundar'. These were the forerunners of the Ursuline Congregation in Mangalore. The Ursuline Franciscan Congregation (UFS) of Mangalore is now 130 years old.

A few decades after the Ursuline Congregation was given first life, it was named as the 'Catechist Sisters of St Ursula'. There is sufficient reason to claim that the Ursuline Congregation-UFS has purely Mangalorean religious origins. It can be focused that the mother house has always been in Mangalore and the pioneer nuns and successors and majority of the members through 130 years have mostly been from surroundings. The 'Foundation House' at the original mother house at Bolar near Bunder, constructed in 1901. This was a formation house that even our centenarian Sr. Speciosa Alvares passed through. The Post Centenary Silver Jubilee Celebrations on April 12, 2012. All events have served to enhance the value of this service. Today this institution has become a world wide congregation and proceeding to becoming a multi service pioneer.

Write Comment
|

E-Mail
|
Facebook
|

Twitter
|

Print