Norbert Pereira's 'MOGA UTAR' Konkani CD set for release today
Mangalore Today News Network
Mangaluru, Sep 18, 2015: The Konkani music world is waiting the new star CD on the Mangaluru horizon which is set to shine on September 8, also a traditional feast day for the Konkani Catholics. On September 11, it will hit the music scene of Dubai and the Gulf..... Norbert Pereira, needs no introduction to the Konkani music admirer. He has created a niche for himself in Konkani music world through his unique, innovative and creative compositions. Despite being away from Mangalore for long, has remained in the hearts of Konkani people. This singer and musician known for popular hits like 'Dees Ami Axelo', ' 'Rita Mojha Moga', 'Bara saron tera', 'Xetkar', 'Prathver Kallok Mandtana', 'Mira','Maria', 'Paavs', 'Kazar' 'Do Re Me Fa' etc is making headlines with this forthcoming release 'Moga Utar'.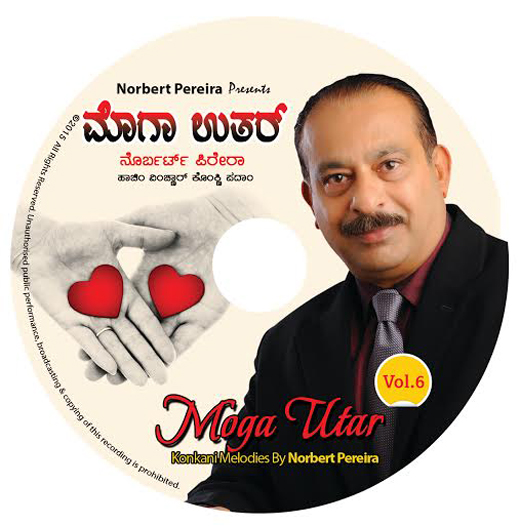 The album comprises of 11 melodious numbers with Nobby's gold mark. Norbert has blended melodious ballads, slow rock with his favourite pop and jazz. There's a neat and equal blend of baila, folk and tradition. Two stand-out songs of this album for me are of two different genres. The first one is a solo number 'Tuje Sobit Dolle' sung by young popular Prajoth D'Sa, fondly known as the Sonu Nigam of Coastal belt, setting him apart is his soul in songs.The more you listen to this song, the more you fall in love....that's music power. Then there's the title number 'Moga Utar', a soul-touching duet sung by Norbert and Ivy. This song is sure to be at wedding parties and surely competitions. Ivy D'Souza has been around for long and has made a name for herself rendering hundreds of memorable solo and duet numbers in the last decade. Again Norbert has come up with a perfect duet number. Ivy's mellifluous voice is in perfect match with Nobby's deep, sonorous voice.

Konkani's Dream Boy Rony D'Cunha, whose golden voice is unparalleled, has lent his voice to three numbers here. His solo Senorita is a foot-tapping dance number. Young, up and coming singers must listen to Rony if they would like to become good singers.

Young singing couple Robin and Carol Sequeira are amongst the popular singers in Konkani for the last few years. Robin, who was recently crowned Rai Kogull at SOAD 4 has lent his voice to number of Konkani albums in the last few years. His sonorous voice and his solo number 'Axem Kityak Bognnam' gives ample proof of his precious talent. Though it is a simple composition with light lyrics, Robin has enlivened the song making it his own. It's a song that would keep haunting the listeners with its simplicity. Carol's solo number Sopnnantlo Cholo, has rich lyrics and a catchy tune and has Carol's special mark. Raja-Rani, a duet by Robin and Carol is captivating.

Nobby's life partner Nancy to whom he credits his success has been Nobby's strength during his musical journey through all these years. She is in her own right a talented singer and her rendering of solo 'Sangeeta' gives ample proof of her talent. 'Dudu', a duet by Nobby and Rony is a blend of meaningful lyrics with tune to match. The last number Bharat Desh, sung by Nobby is a song set to make hearts throb for long. 'Moga Utar' is mirror to Norbert's rich talent and his deep love for Konkani. Roshan Angelore, a most sought-after young musician has set the background score. He is a self-made achiever who has climbed the ladder of success with hard work and his dedication to music. Roshan's perfection and being different sets him apart. Moga Utar is a super fusion of traditional melodies with modern styles and a must for the Konkani music lover.

Norbert Pereira : Originally from Angelore Parish presently belongs to Milagrese Parish Mangalore. Norbert has performed several shows in Mangalore, Mysore,Doha and Kuwait. In addition to his solo performers Norbert has performed with famous singers& composers like Wilfy Rebimbus, Henry D'Souza and with many other younger singers too. Norbert feels that singing is such a beautiful thing that he wishes everyone could sing and be happy in this world.

Write Comment
|

E-Mail
|
Facebook
|

Twitter
|

Print