Nitte university organizes international workshop
Mangalore Today News Network
Mangaluru, Oct 6, 2017: An International Workshop on "Non-Mammalian models in Biomedical Research: Current status and future perspectives" is being organized by Nitte University on 5th and 6th October, 2017 at the Nitte University auditorium, Deralakatte, Mangaluru.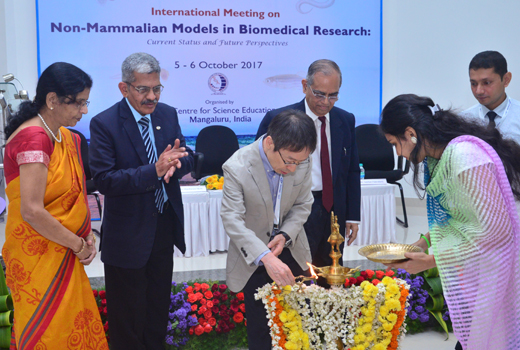 This event is jointly funded by the Department of Science and Technology (DST), Government of India and the Japan Society for the Promotion of Science (JSPS). Conventionally, mammalian models such as rats, mice, guinea pigs, rabbits and monkeys are used in biomedical research to test drug efficacy, investigate signalling pathways and other experiments. However, ethical concerns with the use of mammalian model animals has prompted the need for the use of alternative animal models such as zebrafish, fruit fly , leeches and nematode worms by scientists and researchers. Experts from India and Japan are meeting in this workshop to explore the use of simpler models in biomedical research but with the accuracy of large animals used.

Japanese scientists from Miyazaki University, University of Tsukuba, National Institute of Basic Biology, Okazaki, Hirosaki University, Japan and Brain Research Institute, and Niigata University along with scientists working in premier Indian research institutes such as Indian Institute of Science, Bangalore, Indian Institute of toxicology research, CSIR, Lucknow, Institute of genomics and Integrative biology , CSIR, New Delhi and Agharkar Research Institute, Pune will be presenting and discussing on various topics on the use of alternative models for disease modelling, identification of novel peptides for drug development, toxicology, decoding human genetic disorders, organ regeneration, functional genomics , studies of age related neurodegenerative diseases and cell signalling. To listen to and interact with the International speakers from reputed Institutions from Japan and India, more than 150 participants from various institutions across India have registered. The Nitte University Centre for Science Education and Research offers teaching programmes and is a centre of excellence in advanced research in infectious diseases, antimicrobial resistance, cancer biology, molecular genetics, food safety, environmental toxicants and marine biotechnology .

Prof. Dr. Indrani Karunasagar welcomed the gathering and the scientists of eminence who are the resource persons from Japan and India. She expressed her heartfelt thanks to the DST and JSPS for their generous support in making this event possible. She lauded the efforts of the coordinator from Japan, Prof.Kenmochi in bringing an illustrious delegation of eminent scientists from Japan and the Indian coordinator, Prof. Anirban Chakraborty for handpicking some of the best scientists in the field from Institutions in India. The presence of the cream of experts has brought about the much needed brainpower and flavour to this meeting. She expressed her gratitude to the Chancellor, Shri Vinay Hegde for providing the necessary infrastructure, talented faculty, student resource and environment for research enquiry by setting up the Centre for Science research and education and Vice Chancellor , Prof.Ramananda Shetty for giving the much needed impetus to all by instilling the science temper at the centre. She said that it was a welcome move to to see the recent Nobel prize in Physiology and medicine being awarded for biological clock discovery in humans using the fruit fly model where the three important genes were studied.


The conference was inaugurated by Prof. Dr. C.V Raghuveer ,Vice Chancellor and Professor of Pathology, Devaraj Urs Academy of higher education and research, Kolar who enlightened the audience on various models and the history of their discovery. In this molecular biology era, the move is to use small models as large animal models are gradually phased out throughout the world for ethical reasons. The commonality in human and animal models such as fruit fly, nematode worm and zebrafish has been the result of genome sequencing which showed nearly 75% similarity in their genomes with humans. Hence these models could be used for many disease conditions, and physiological studies like aging . He spoke of the unique facilities created in Nitte University and lauded the efforts of motivated faculty like Dr. Anirban Chakraborty in securing this project from the Ministry of Science and Technology , Govt of India to conduct this workshop.

Presiding over the function, Pro Chancellor Prof.Dr.Shantaram Shetty, emphasized the need for international collaboration in making rapid advances in research and mentioned the MoU signed between Nitte University and the University of Miyazaki as our first step. Several programs and exchange visits have been happening in the University over the last few years with several institutions both within and outside the country keen to collaborate with Nitte University but this workshop assumes significance with the involvement of Government funding agencies in India and Japan. In setting up 'state of the art' centre for Biomedical and Stem Cell research, we envisage world class research through collaboration, he said .Nitte University is proud to host luminaries from India and Japan and is happy to see all the young participants from different institutions taking advantage of this unique opportunity to listen and interact . He urged all the young researchers to carve a niche in their chosen fields through interaction with the best scientists assembled in this gathering.

Dr. Naoya Kenmochi, Professor, Frontier Science Research Center, University of Miyazaki, Japan expressed happiness on securing this project that has given an opportunity to travel to India and develop further collaboration with Nitte University.He expressed desire to continue his research in Diamond Blackfan anaemia,a rare ribosomal disorder with his former post doc, Anirban Chankraborty.

Dr. Anirban Chakraborty proposed a warm vote of thanks to all especially the young enthusiastic participants from different parts of the country and hoped they would find the experience very rewarding.


Write Comment
|

E-Mail
|
Facebook
|

Twitter
|

Print