Nitte HR Conclave held in Justice K S Hegde Institute of Management
Mangalore Today News Network
Nitte, Feb 25, 2020: Two-day Nitte HR Conclave on 'Managing Human Resources in a Disruptive Business World - Key Challenges and smart solutions' was held in Justice K S Hegde Institute of Management in Nitte on February 21st and 22nd 2020.

Prof. (Dr) Satheesh Kumar Bhandary, Vice Chancellor, Nitte DU inaugurating conclave said, "change, is the only constant and change by its very nature brings disruption. Change and disruption go hand in hand. It is very difficult to quantify disruption. Change in technology also brings disruption if we fail to manage it. Disruption has become the order of the day. The medical sector is also affected by change and therefore disruption. AI, Internet of Things, Robots have started ruling the world. Managing these disruptions require new age skills. Acquiring new age skills and cutting edge education sharpens our mind and helps handle disruption better. The only way to manage these changes is to have in place a strong value system, lifelong learning and training".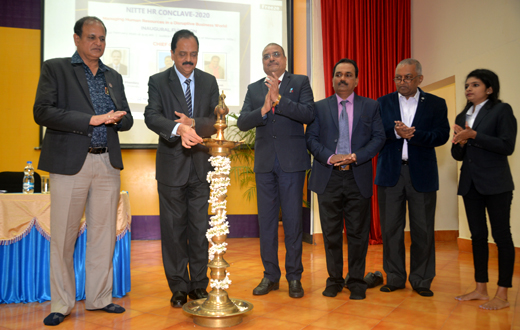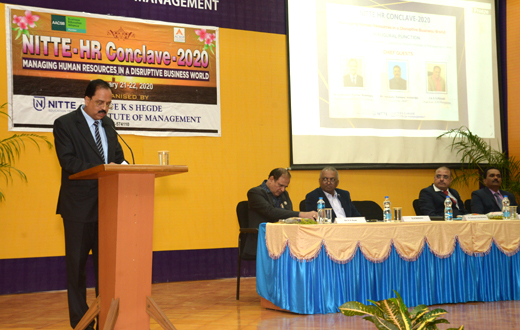 Mr. Venkata Ramana Akkaraju, Chairman, New Mangalore Port Trust, was the Chief Guest. Speaking on the occasion, he said that we are indeed living in exciting times. Our youth are witness to these exciting times. Capability and sharpness of the younger generation should be properly used for nation building activities, he added. Disruption should first be identified and then managed well.

Another Chief Guest CA SS Nayak, Chairman, ICAI, Mangaluru said that human resources are the greatest asset of the nation. Proper education and developing a bent of mind for continuous learning, automatically develops a newer mind frame for problem solving. Dean (Corporate Programs) of the Institute Dr. A.P. Achar, who was also one of the co-ordinators of the Conclave welcomed the gathering and spoke on the overall objectives and possible outcomes of the Conclave. Dr. K Sankaran, Director of the Institute stressed the need for continuous dialogue in management education, especially in the context of changing times. Ms.Prasanna, student of JKSHIM, invoked the blessings of the Almighty. Dr. Sudhir Raj K, Professor and Mr. Guruprashanth Bhat K, Manager, Corporate Relations of the Institute coordinated the event. Deliberations were held on the causes, new dimensions and outcomes of business disruption and contemporary HR practices. HR CEO's and Practitioners presented their views on the theme of the Conclave. Around 100 delegates, including students from other colleges, management students, faculty and Professors from different colleges along with JKSHIM alumni participated in the Conclave.

Write Comment
|

E-Mail
|
Facebook
|

Twitter
|

Print