Nitte (Deemed to be University) organizes International Workshop on "Vibrios in one health"
Mangalore Today News Network
Mangaluru, Jan 15, 2018: Nitte (Deemed to be University) is one of the Higher Education institutions in India to be selected by the Department of Science and Technology (DST), Government of India for support under bilateral cooperation with Ghent University, Belgium, within the framework of DST-BELSPO (Belgian Federal Science Policy Office) Indo-Belgian Research and Technology Cooperation. Taking advantage of presence of scientists from University of Gothenburg, Sweden (Prof. Anna Godhe); University of Plymouth, UK (Dr. Lucy Turner); University of Sabaragamua, Sri Lanka (Dr. DharshaneRuwandeepika) during the visit of Prof Peter Bossier from University of Ghent, Nitte (Deemed to be University) has organized an International workshop on "Vibrios in one health" on January 12, 2018 at Nitte University Center for Science Education and Research (NUCSER).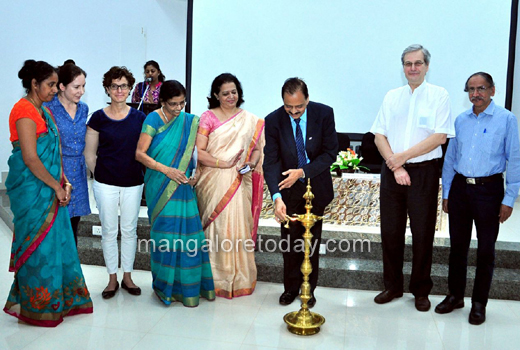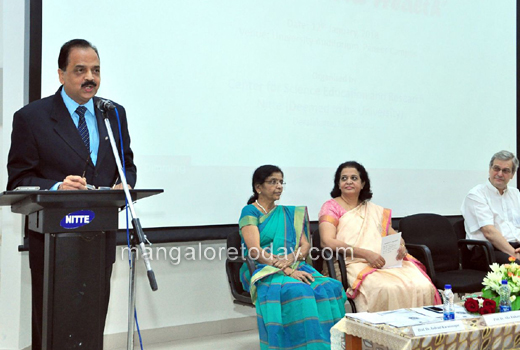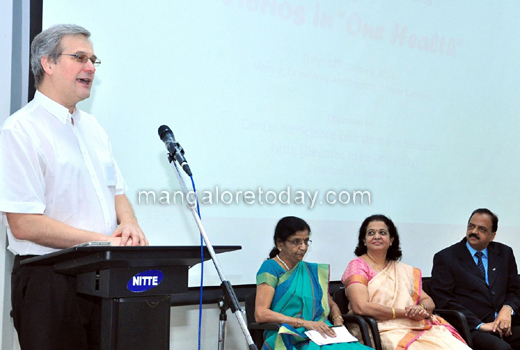 Human diseases caused by Vibriospp include cholera, gastroenteritis, septicaemia, cellulitis and other extra-intestinal infections are a public health problem globally. Vibrio spp are also involved as pathogens of aquatic animals like fish and shrimp causing serious losses in aquaculture industry.
There are concerns that such bacterial infections in aquaculture might lead to misuse and overuse of antibiotics leading to the selection and spread of antibiotic resistant bacteria. But Vibrio spparecmmon aquatic bacteria found in a range of ecological niches ranging from fresh water to estuarine and marine environments including deep sea. Thus, Vibriospp are one of the best models to be studied in "one health" context.

The International Worshop was inaugurated by Prof. Dr. SatheeshBhandary, Vice Chancellor. He highlighted the importance of Vibrio spp from human health and alluded to his own experience of handling cases of cholera and diarrheal diseases in his medical career. Prof. Bhandary explained the ongoing international collaborations in Nitte (Deemed to be University) and called for greater multidisciplinary research in dealing with public health and food safety issues. Dr. AlkaKulkarni, Registrar emphasized the need for international collaboration for dealing with complex issues such as "one health" dealing with human, animal health and environment.
Prof. Peter Bossier from Ghent University gave an account of previous collaboration with Nitte and the mutual benefits in terms of student and faculty exchange programme. Dr. Indrani Karunasagar, Director (R&D), Nitte, welcomed the gathering.

Scientific talks were given by Dr. Iddya Karunasagar, Senior Director (International Relations), Nitte, Dr. Peter Bossier, Ghent University, Dr. Anna Godhe from Gothenburg University, Sweden; Dr. Lucy Turner, Plymouth University, UK; Dr. DharshaneeRuwandeepika, Sabaragama University, Sri Lanka, Dr. Krishna Kumar, Dr. Praveen Rai and Mrs Juliet Mohanraj from Nitte. The programme was coordinated by Dr. AnirbanChakrabarty, Deputy Director (NUCSER).


Write Comment
|

E-Mail
|
Facebook
|

Twitter
|

Print