Ninth Graduation Ceremony of St Aloysius College (Autonomous)
Mangalore Today News Network
Mangaluru, Jun 01, 2019 : The Ninth Graduation Ceremony of St Aloysius College (Autonomous) was held on Saturday, 1 June 2019 at 3.00 pm in Loyola Hall, St Aloysius PU College Campus, Mangaluru.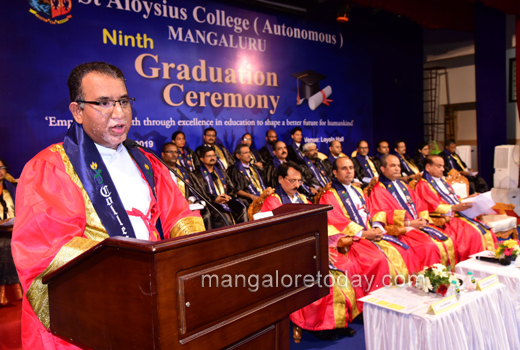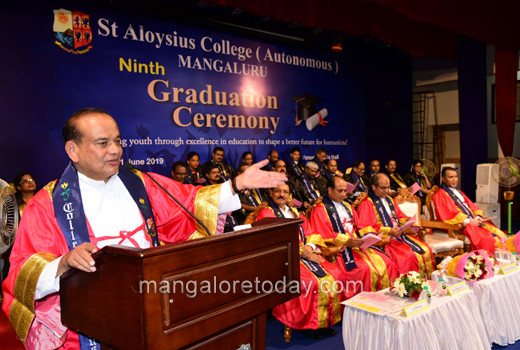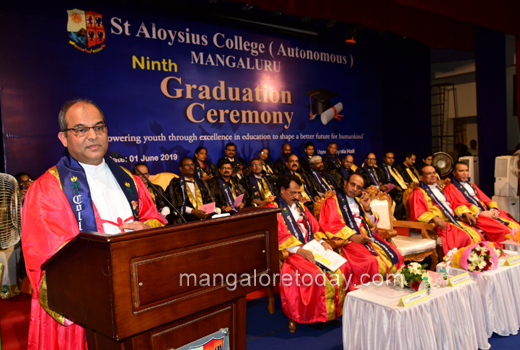 It was a time of celebration where students were lauded for the efforts they put in to obtain their degrees. A total of 1982 graduates received their degree certificates, medals and awards; 1101 UG, 756 PG and 125 Diploma graduates.

Rev. Dr Stanislaus D'Souza, SJ, President, Mangalore Jesuit Educational Society (MJES) and Provincial, Karnataka Jesuit Provincedeclared the Ninth Graduation Ceremony open. RegistrarDr A.M. Narahari handed over the list of graduates and rank holders to the provincial.

Rev. Fr Dionysius Vaz, SJ, Vice-President, Mangalore Jesuit Educational Society (MJES) and Rector, St Aloysius Institutions led the graduates' pledge.

A ship is safe in a harbor. But it is not designed to be in the harbor. Rev. Dr Thomas C Mathew, Former Vice Chancellor, Christ (Deemed-to-be-University), Bengaluru was invited as the Chief Guest and delivered the Graduation Day Address.

He advised students that they are graduating into not a brave new world but a disruptive world shaped by 1. The Age of Urbanization; 2. Accelerating Technological Changes; 3. Challenges of an Aging World; 4. Greater Global Connections. He encouraged them to nurture the values of integrity and democracy so that life becomes meaningful. He wished the graduates to Shine to Enkindle. Transform yourself; transforming others is your responsibility and support someone for their education, till your death.

Addressing the gathering Rev. Dr Stanislaus D'Souza, SJ, elucidated that behind the success of every student there are a lot of people involved. Education is a boon; a passport for an individual student towards the future and on the other hand a nation's health and wealth. It is the most powerful mechanism to transform the country and so developing countries invest on education. He shed light on the 4 essential E's - Expansion, Equity, Excellence and Employability.

He advised graduates to continue to be an advertisement to the college. He explained what is life in three Kannada words 'Smriti', Vismriti' and 'Marusmriti' which translate as 'Memory', 'Forgetfulness' and 'Remembrance'.

The Rector Rev. Fr Dionysius Vaz, SJ, conveyed to the graduates, "Education is a journey within and a journey without. Go into the world with the stamp of being an Aloysianenriched with academic excellence, character formation and social concern.Remember that giving to others is a gift you give to yourself. Give joy to others to experience joy within. Uplift the status of others and your own status will ascend. Discover yourselves, become great leaders and give others joy."

Members of the Governing Body, Academic Council, Directors, deans and the Staff were present. Principal, Rev. Dr (Fr) Praveen Martis SJ, welcomed the gathering; Mr. Harsha Paul, Convener of the Ninth Graduation Day programme proposed the vote of thanks; Ms. Rowena K, Department of English compered the programme.


Write Comment
|

E-Mail
|
Facebook
|

Twitter
|

Print