New generation insensitive, says Mander
Mangalore Today News Network
Mangaluru, Feb 19, 2015: Social worker and writer Harsh Mander, who is also the director of Centre for Equity Studies, New Delhi, expressed concern over the present generation, whose aspirational values were bordering on stark materialism. Mander was interacting with people in a programme organised by the city-based Samadarshi Vedike.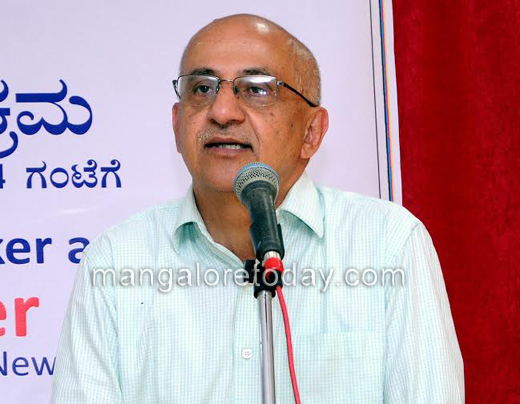 He stated that, we have to question how we have raise our children. Our dreams were to make the world a better place. The present generation's dreams are about themselves and they are confined to a dream about themselves. They are insensitive to the human and moral ethos and underprivileged.

The fact that human values and fellow feelings have disappeared, he said this problem was not unique to India. He said the two major challenges to any nation are inequality and diversity. While India had done reasonably well in terms of addressing diversity, inequality has been its bane, since religion had inequality embedded in them by way of caste system.

He said inequality of caste inherent to many religions, rendered faiths like Islam and Christianity to the lowest rungs of majority social hierarchy. But, those who did go in search of equality in other faiths have failed to do so as they too have been pulled into this caste evil. "That's why 'ghar wapsi' is complicated. When they come back, where will they fit?" he said.

The former IAS officer said the Ghar Wapsi and the notion of 'being Indian' was built on narrow and intolerant interpretations of Indian culture, but unfortunately what was appalling is that the party, which could never defend core principles of the Constitution, was voted into power with a thumping majority.

Mander said nine months down the line his view about the party had not changed, which was, on the one hand, promoting business and not welfare of people, and, on the other hand, it is being blind to the statements of hatred mongering.

Write Comment
|

E-Mail
|
Facebook
|

Twitter
|

Print