New facilities commisioned at Justice K S Hedge Charitable Hospital
Mangalore Today News Network
Mangaluru, Mar 22, 2019 : Availability accessibility and affordability are said to be the major hurdles in health care delivery and the Nitte (Deemed to be University) has attempted to bridge these gaps by commissioning new medical facilities at Justice K.S. Hegde Charitable Hospital, Deralakatte, Mangalore addressing the long felt needs of the community. These include the 'Children's intensive care complex', 'Tissue Bank' and the 'Burns care Unit'. Keeping up with the values of the institution and its commitment to social responsibility, the services have been made available at affordable cost
The inauguration of the new facilities is scheduled on 24 March 2019 by Dr. B.N.Gangadhar, Director, NIMHANS and member, Board of Governors MCI.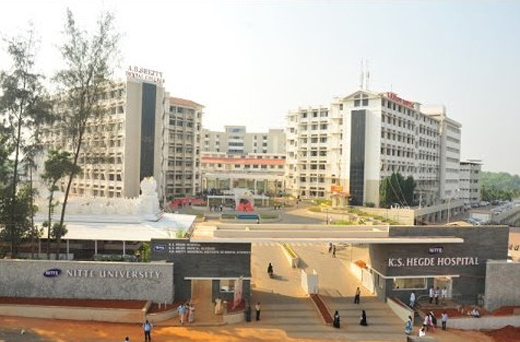 The Children's Intensive Care Complex is a state-of-the-art 13-bedded Neonatal Intensive Care Unit (NICU) and 10-bedded Pediatric Intensive Care Unit (PICU) with trained neonatal and paediatric intensive care specialists assisted 24x7 by a team of specialists, residents and nursing personnel. The unit is supported by multi-disciplinary super specialty services to provide 24x7 critical care, Level IIIb neonatal care and emergency services for all sick newborns and sick children including burns and trauma.
Few of the facilities in the complex include:

Non-invasive ventilation through bubble CPAP, High Flow Nasal Canula and BiPAP, advanced ventilation including High Frequency Oscillation, patient monitoring systems, incubators for preterm care, bedside ultrasonogram and echocardiogram.
Better treatment outcomes by the facilities for skilled procedures and interventions like central line insertion , umbilical catheterization, chest tube insertion peritoneal dialysis , hemodialysis plasmapheresis, patient isolation and Post-operative care are made possible.
HEPA filter, pressurized isolation rooms, dedicated procedure rooms, for infection control.
Tissue Bank is one of the very few specialized and comprehensive tissue banks that provide facility for donor screening, recovery, processing and distribution of the tissues for needy patients where banking facilities for the following tissues are available.
Bone
Skin
Amnion
Cornea

The tissues are a better and economical solutions for a variety of medical conditions when compared to other artificial alternatives or fillers. In the case of cornea, it is the only answer to treat corneal blindness which is one of the leading causes of blindness in India. Bone is used in various orthopaedic conditions like primary joint replacements, filling of bone defects following removal of bone tumors, various dental procedures. Skin and amnion are tissues that are very useful in various medical and surgical conditions like non healing ulcers, injuries, burns, post radiation injuries, chemical injuries. They are the cheapest alternative to costly artificial collagen tissue dressings. Amnion is an easily available tissue which in many cases discarded as a biomedical waste after delivery. The processing and storage techniques make the tissue biologically safe for use. The tissue bank has state of the art facility for processing the tissue by staff who have been trained at national and international centres of excellence in tissue banking. Apart from tissue banking this unique facility has taken steps for creating awareness about organ and tissue donation. The tissues and organs are harvested from brain dead persons, known as cadaveric transplants, some of them like cornea skin are also harvested after death.

Burns care Unit has state of the art ICU, critical care equipments and instruments coupled with the skill of expert doctors and nurses, aimed at providing the best possible care for burn injury patients . It is self-contained with a procedure room attached. Ventilation ,air conditioning HEPA Filters are available in the unit for infection control .

Write Comment
|

E-Mail
|
Facebook
|

Twitter
|

Print