National highway users pass by heaps of garbage
Mangalore Today News Network
Mangaluru, Dec 15, 2016: Every one travelling along the National Highway 66 from Thokkottu to Talapady and also at Kuthar, Deralakatte, Natekal, Assaigoli and other places on the outskirts of the city witness mounds of garbage dumped by the sides on the roads, a health hazard and sick sight.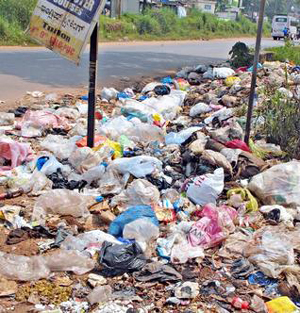 The absence of dustbins makes people residents dump waste, mainly plastic waste, on roads, and dogs, cattle and birds squatter upon the waste and also consume it. A board put up by concerned citizens near Kumpala Bypass beside te roadshe NH reads: "Dumping of garbage is prohibited along this road (highway). Violators will be penalised. Support to keep the surroundings clean." However, barely 20 to 30 metres away from the board lie the heaps of garbage.

Auto drivers who park their vehicles beside the road have shown ire at the apathy of the Someshwar Gram Panchayat. "It is not the citizens who reside in the vicinity of the road who dump the garbage indiscriminately. Those who come in vehicles dump the garbage and leave the venue. Unless the offenders are fined heavily, the garbage problem will continue," said an auto driver.

A former Zilla Panchayat CEO had directed the Someshwar Gram Panchayat to install CCTV cameras beside the highway and impose penalty on those who dump garbage indiscriminately. No action has been initiated in this regard so far.

"We are unable to bear the stench from the garbage dumped beside the road at Kuthar. You see flies rising and soon people will have lot of problem," pointed a shopkeeper at Kuthar. On the other hand, burning of garbage beside the road leaves the residents gasping. "Instead of ensuring the garbage reaches the dump yard, several people set afire the garbage including plastic carry bags and rubber footwear on roadside," said Abhilash, a resident of Talapady.

"Either bins should be placed or the garbage should be cleared regularly," said the residents beside the national highway at Talapady, Someshwar and Thokkottu.


The warning by the local authorities and the Mangaluru City Corporation not to dump construction debris does not seem to have had the desired effect.

Debris continues to be dumped along a stretch of the highway at Jeppinamogaru, Gorigudda and Ekkur and inside Mangaluru city as well. Green activists feel that the local body should identify a site only to dump construction debris. The absence of such sites makes people dump debris wherever they want.

Although the Mangaluru City Corporation had identified two sites – one at Kunjathbail and another at Kannur to dump debris, it is yet to get permission from the Karnataka State Pollution Control Board. Till the proposal becomes a reality, the dumping of debris will continue to be a problem in and around Mangaluru.

Write Comment
|

E-Mail
|
Facebook
|

Twitter
|

Print