National conference 'Catholic Psychologists of India' in Mangaluru opens, Sept 22
Mangalore Today News Network
Mangaluru, Sep 23,2017: Mangaluru is a hub of education and the Catholic influence is strong, Psychologists never cease to bring happiness to all people; with the theme "Positive psychology - pathway to well being," the 18th National Conference of Catholic Psychologists of India are holding a 3 day Conference of Catholic Psychologists of India (CCPI) and Psychologists of Karnataka – Mangalore Region. It was inaugurated on September 22, Friday at Shanthikiran, Bajjodi, Mangaluru. It is set to continue Sept 23 & 24.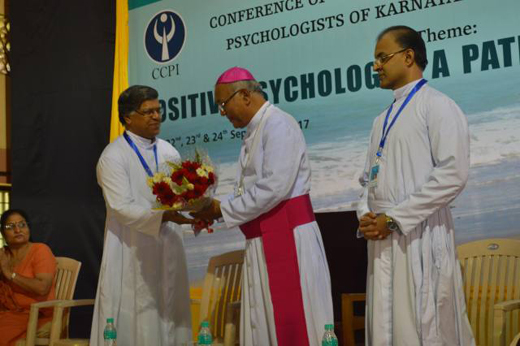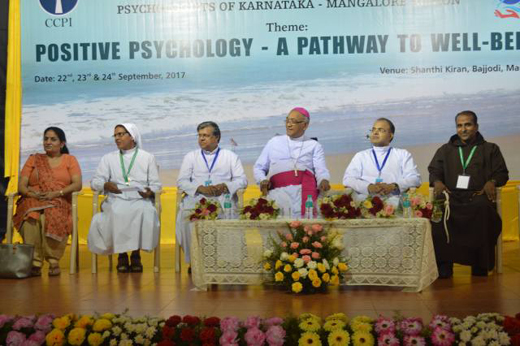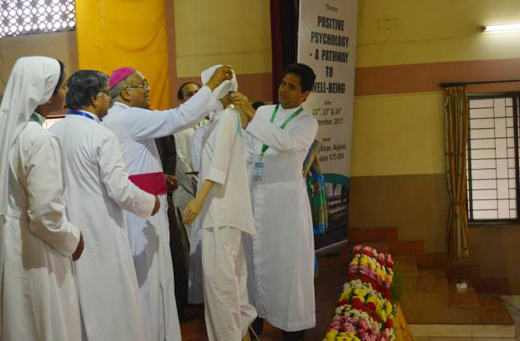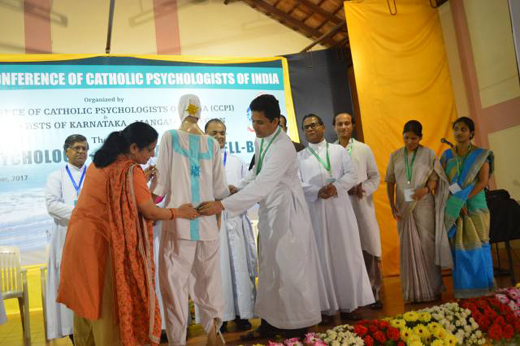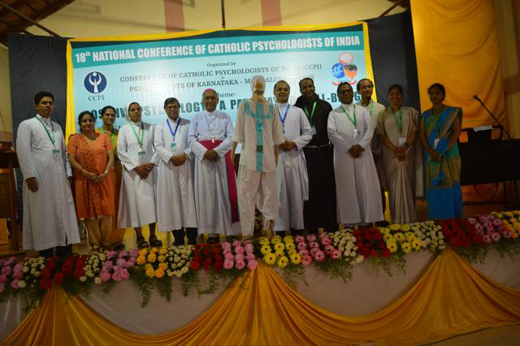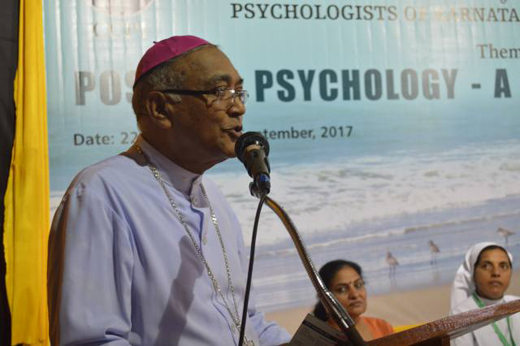 After a novel symbolic inauguration of the three day Conference Dr. Aloysius Paul D'Souza, Bishop of Mangalore the Chief guest, with a mannequin depicting the wellness of heart, mind and body. In his presidential address he stressed the fact with a Latin quote, translating as 'A healthy mind in a healthy body' as the bottom line of life on earth.


Sr.Sevrene Menezes, key person of the organisation in Karnataka, extended a warm welcome to the dignitaries and participants. The traditional get up of the entrance attracted one and all and the local custom of offering water, palm jaggery, betel nut and jasmines to guests impressed one and all. In the welcome the fact that Mangaluru was a heritage city, more a 'comfort zone than a conflict zone but definitely a Kudla zone' gave warmth to all present with cheer all around.


In his presidential address the Bishop of Mangaluru, stressed the fact that his role was one of benediction to the Conference; he exhorted the skilled psychologists participating to make sure that more reasons for a healthy mind are spread in addition to the many that are highlighted for a healthy body. Research has proved that people give higher importance to bodily health today, mental health which is equally important in the success of a person. Mastering of oneself through 'will power' helps the person to grow mentally. Some people appear to be good and normal but inside they are stressed. It's the duty of Catholic Psychologist to build the positive image of the broken selves by following the example of the scriptures. Psychologists have a role to play in the positive well being of humans across a wide divide. All are called to live in happiness by the Almighty, and psychologists have a role to create the reality and restore humans to live according to God's designs.


Dr. Fr.C.M.Joseph Cherukunel SDB the President of CCPI, said this is the 18th conference in 10 years. He went on to give a bird's eye view of three day conference and its themes. He said, Understanding of positive emotions is very important in the well being of the person. Positive subjective experiences, enhancing human potentials and creating positive institutions enable the well being of the person. The resource persons on the theme are well qualified and give lectures on different topics connected to 'positive psychology – a pathway to well-being'. He added that positives in this context are experience, traits and institutions which are subjective through altruism and gratitude.


On this occasion the website of CCPI was launched by Bishop Aloysius Paul D'Souza.


Most Rev.Dr. Aloysius Paul D'Souza, Bishop of Mangalore, Dr. Fr.C.M.Joseph Cherukunel SDB the President of CCPI, Fr. Thomas the Secretary of CCPI, Fr.Peter D'Souza, the Director of Pastoral Institute and Dr.Fr.Lawrence OFM(Cap) Director of Anugraha Counselling Centre Dindigal,Ms Kamalesh Singh, Dept of HUSS ITT, New Delhi , Msgr Denis Moras Prabhu the Vicar General of Diocese of Mangalore, Fr.Arun Lobo the local organizer of the conference were present for the inaugural programme. The members of Mangaluru acquitted them selves well in organizing a top class conference. An unexpectedly large gathering are participating all the 3 days.


Dr. Fr. Lawrence Soosai Nathan OFM (Cap), delivered the keynote address. There are 125 Catholic Psychologists from all over India registered their names for the conference which will held from 22- 24 September.

The themes of the lecture are;, "Strategies to improve well being; Positive psychology perspective by Dr(MS) Ms Kamalesh Singh Dept of HUSS ITT, New Delhi, "Enhancing Human Potentials through 24 characteristics, Strengths" – by Dr.Sr.Jenis Mary DHM, Vice Principal, Roshni Nilaya, Mangalore, "Enhancing the Human Potentials through Resilience" by Fr.A.R.John, Director of Family Apostolate, Latin Archdiocese of Thiruvananthapuram, "Creating positive institutions" by Ms Aswini N.V, Director MUKTHA Foundation Bangalore , "Creating Positive Institutions through Educational Institutions by Fr.Wilson Chakkyath CMI, Professor Dharmaram College, Bangalore. The valedictory function will be held September 24, tomorrow Sunday.




Write Comment
|

E-Mail
|
Facebook
|

Twitter
|

Print