Narasimha II of Vijayanagar inscriptions traced
Mangalore Today News Network
Udupi, Mar 08, 2018: Inscriptions of Tuluva Narasimha II of Vijayanagar Empire has been discovered in Kalavara. Narasimha II is considered the founder of Tuluva dynasty and ruled from 1505 to 1509 AD.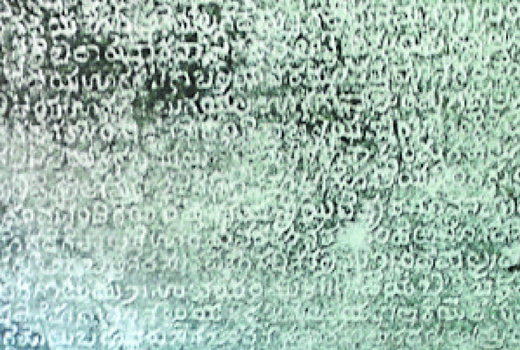 Prof T Murugeshi, head, Department of History and Archaeology, MSRS College, Shirva, said that the inscription begins with an invocation of Lord Ganesh and Lord Shiva. The script is Kannada and contains 68 lines.

It was dated Shalivahana Saka Varsha 1430 Vibhava Samvatsara, Marghashira Su 15 and Thursday. The intended date must be July 12, Thursday, 1508, not in Vibhava, but in Vyaya. The inscription extols that the king, as Sri Manmaharajadhiraja Raja Parameshswara Sri Veera Pratapa Veera Vasanta Immadi Narasimharaya Maharaya, was ruling Vijayanagar. His prime minister Vittamarasa Odeya was ruling Srimangala. With the consent of the emperor and the prime minister, Basavarasa Odeya was ruling Barahakanyapura (Barakuru) region.

The inscription records the land given for a religious activity conducted to Lord Mahadeva of the Serpent temple (Naga devaalayada Mahadevarige) of Kalavara and also feeding Brahmins. It is written with the consent of three trustees of the temple - Sthanika of Mabali temple (Mukaaladigalu), Udupa Bhatta of Kandavara and Mulavali Naayaru. Kalavara, is called Narayanapura elsewhere in the record, but the reason is not known.

It records Biru Baale Settiti, one Hegde of Kilaa Bali (non-Brahmin Gotra) and Kumbaaruti, a woman of potters' community, for the service of Lord Mahadeva. For Shasta, Maha Chaoolti Male Shakti, Kaadila (Kalinga) and feeding the Brahmins, the land was given and specified.

Write Comment
|

E-Mail
|
Facebook
|

Twitter
|

Print