Nanthoor accident victims recover in grief -aftermath
Mangalore Today News Network
Mangaluru, March 01, 2015: Krishna Naik, 45 and Nikthita, 10, Father and daughter critically injured in Friday's freak accident at Nanthoor Circle, are recouvering fairly said hospital sources. Sanjeev Naik thinks of how his brother-in-law Krishna Naik will bear the news of the death of his wife Veena (40) and son Nitish (13). Krishna Naik is in intensive care unit and yet to regain consciousness.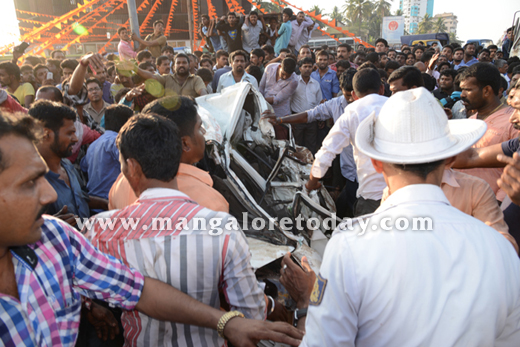 Krishna Nail suffered fracture of the left femur and chest injuries, was on ventilator, Doctors at the hospital said the patient was responding. Nikhita had many external open wounds all over the body and head, was in ICU. Theyhave not been told about their loss as yet. It was tough time on pacifying the child, that her mother was undergoing treatment. We made her see her father on ventilator. Krishna was the head master of Kendriya Vidyalaya, Panambur it is reported, and his wife Veena was teacher at Government Higher Primary School, Vidyanagar, Panjimogaru. The couple, along with their children, were on way to the Veena's house at Kanyana Karopady as the next day Saturday, was a holiday. Krishna couple was living at Thokkottu.

Krishna's wife Veena, 32, and son Nitish, 13, were killed on the spot in the accident wherein a tipper ran amok and rolled over a car and a two-wheeler, killing three persons on Feb 27 evening. "It will be impossible for the family to come out of this tragedy," stated Sanjeev Naik, with other family members at the Government Wenlock Hospital mortuary to collect the body of his younger sister and her son. "It's deeply painful we had to finish off cremation without showing the bodies to Krishna [Naik]," said his elder brother Eshwara Naik. Sanjeeva Naik said they would take care of the young Nikita (till her father recovers).

Friends Colleagues of Veena and Krishna Naik are emotional and in grief. They said that Veena as a good teacher well liked, she excelled in "Nali Kali" system making learning enjoyable. Her colleague Shobha said she was to accompany her on Monday for a training programme on caste census. Sunil, Computer Science teacher from Kendriya Vidyalaya, remembered Nitish who lost his life, as a well-mannered and silent boy.

After the post-mortem, family members took the bodies of Veena and her son Nitish to Anekal village near Manjeshwar in Kerala and cremation was done. Colleagues of Krishna Naik from Kendriya Vidyalaya and those of Veena from Government Primary School in Panjimogaru accompanied the family members.


The other deceased was the bike rider Preetham Pinto, 21 from Narampady, Kasaragod, was a line salesman for condiments. His parents are employed in Middle East. Pillion rider with Preetham, Shweta, 20, suffered a fracture in the incident. Shweta D'Souza was riding pillion with Pinto. Shweta, a paramedic student, has hurt her elbow. After gaining consciousness on Feb 28 she has been asking about Pinto, a sales representative from Kasaragod, whom she was to marry in a few weeks. Silvan D'Souza has still not revealed to his cousin Shweta Maria D'Souza that her fiancé Preetam Pinto has died.

Truck driver Rajkumar, 25, from Madhya Pradesh has been arrested late on Feb 27, night. He has been charged under IPC 304 A (Causing death by negligence by rash or negligent act not amounting to culpable homicide) and remanded to judicial custody. It i reported he claims that brakes of the truck had failed and he was helpless.

The deaths at the Nantoor Junction on Feb 27 evening in this accident has seriously raised the question of safety of motorists at this busy junction. Recently, 5 persons have died and 15 have been injured, some are still undergoing treatment for grievous injury, in three accidents reported since May 2014. "It's a shame the proposed underpass and flyover at this junction are yet to materialise ," said a regular motorist from Bikarnakatte. Traffic Police issued notice to the National Highways Authority of India seeking explanation on why they should not take action against the authority for not taking proper measures for correct traffic movement at the junction. It is hoped that corrective measures may result after the heavy price paid. Public should drive and move in a disciplined and careful manner in areas prone to accidents in the city of Mangaluru.

Write Comment
|

E-Mail
|
Facebook
|

Twitter
|

Print