Namm radio connects Karnataka across the globe
Mangalore Today News Network
Mangaluru, Aug 21,2017:Namm Radio, the state's first international digital radio station, which airs shows in different dialects of Kannada, Tulu, Konkani and other languages with the slogan 'Various languages, One Karnataka'.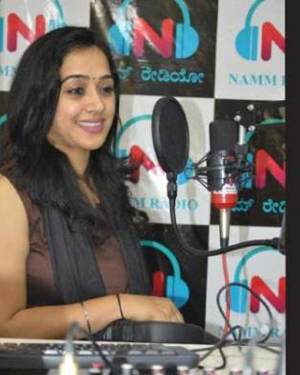 Based in Bengaluru, the radio station airs shows in Kundagannada, Havyaka Kannada, Arebhashe, Mangaluru Tulu, Madhwa Tulu, besides in various dialects of Konkani, Kodava, Beary and Sankethi languages. Namm Radio replenishes the hometown memories of Kannadigas living outside India and enables them to stay connected with their cultural roots through programmes in their mother tongues. The endeavour assumes significant at a times when regional dialects of several languages face extinction.

Trend leader:
"We are glad a trend has happened," Namm Radio Founder and CEO Avanidhar Jagirdar said. "The goal of Namm Radio is more to highlight the role of different languages and cultures that make up Karnataka. If people stay united, they form a better community. United communities form a better nation. We want to bring all communities together and let them know about each other's culture."

Namm Radio has higher listenership abroad, reaching 15 lakh listeners in 196 countries. 'Coffee with Kannan', the morning prime time show hosted by Kannada priest Hiremagaluru Kannan, has a listenership of 2.5 lakh.

Jagirdar sees a bright future for digital radio and feels the FM mode will eventually be replaced by digital radio transmission. Namm Radio Production Head R J Raaj recalls producing programmes for the Siddi community on the banks of River Kali. He talked about a similar programme in Sanskrit.Konkani too is aired and hopefully better particiption will be seen.

Raaj, Roopa, Pallavi and Pradyumna are some of the professional RJs working for the channel. NRI RJs such as Dr Ramya Mohan, Anuradha Kamath, Dhanush and others present radio shows in their mother tongue from London, Dubai, Singapore and South America.

Namm Radio connects with Kannadigas in various countries and encourages them to do programmes from their places. It has also been featuring cancer survivors, transgenders and physically challenged in its shows, Raj said.

Sachin Tantry, a media academician and RJ at Namm Radio, said he was trying to bring forth Madhwa Tulu, which is spoken by Shivalli Brahmins. "We are trying to take as many Madhwa Tulu speakers on board as possible," he said. During a recent visit to the US, he hosted a show from Columbia State University. "As I have known myself, programmes in their mother tongue help the NRIs undo the tyranny of distance," he added.

Namm Radio : Was launched on February 28, 2016, Namm Radio has separate streaming for India, West Asia and America. It is available at www.nammradio.com and on the Namm Radio app.

Write Comment
|

E-Mail
|
Facebook
|

Twitter
|

Print