NUCSER organises workshop on Antimicrobial Resistance and Aquatic Biosecurity
Mangalore Today News Network
Mangaluru, July 02, 2019: Nitte University Center for Science Education and Research (NUCSER) has been recognized by the Food and Agriculture Organisation of United Nations as "FAO Reference Center for Antimicrobial Resistance and Aquatic Biosecurity".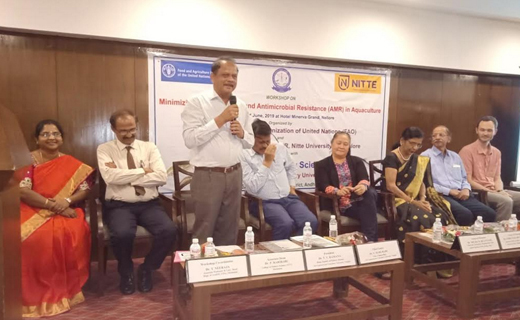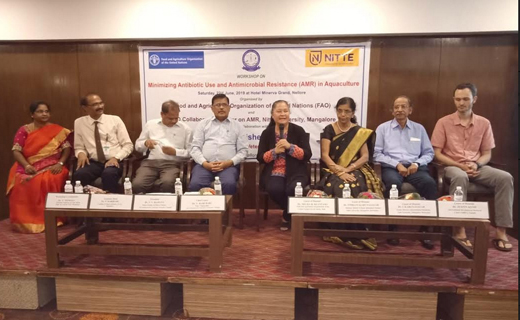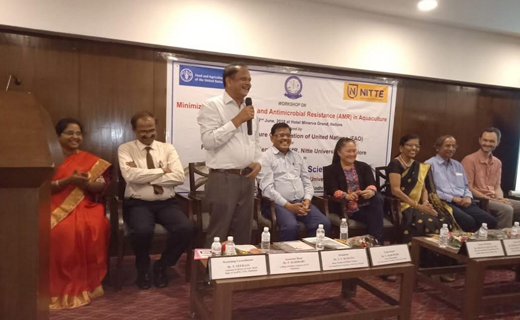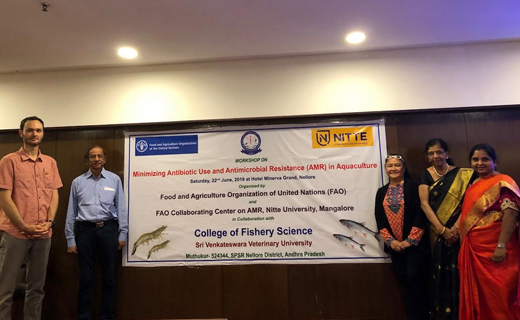 The Reference Center has the responsibility for disseminating scientific information that could support improving biosecurity in aquaculture and minimizing use of antimicrobial use and antimicrobial resistance. Towards this goal, NUCSER and FAO collaborated with Sri Venkateswara Veterinary University, Tirupati, College of Fishery Science to organize a workshop for aquaculture stakeholders in Nellore, Andhra Pradesh on June 22, 2019. About 100 stakeholders including operators of shrimp hatcheries, nurseries and farms attended the Workshop that was held at Hotel Minerva Grand, Nellore. FAO was represented by Dr. Melba Reantaso, Aquaculture Officer based in FAO Headquarters, Rome. Dr. Y. Hari Babu, Vice Chancellor of Sri Venkateswara Veterinary University was the Chief Guest. Dr T.V. Ramana, Dean, College of Fishery Science presided over the function. Dr. Melba Reantaso explained about forthcoming FAO book on bacterial diseases in aquaculture, in which Dr. Iddya Karunasagar and Dr. Indrani Karunasagar from Nitte University appear as contributors. She spoke about the Progressive Management Pathway, which is being promoted by FAO to improve aquatic biosecurity and minimize disease problems.

Dr. Iddya Karunasagar highlighted problems being faced by the seafood export industry due to rejections in the international market following detection of residues of banned antibiotics. He emphasized that antimicrobial use should re restricted to only diseases confirmed to be due to bacterial pathogens and where these pathogens are susceptible to approved antibiotics. Dr. Indrani Karunasagar spoke about to alternatives to antibiotics like good aquaculture practices, probiotics and phage therapy. Dr. Justin Kemp from International Development Research Center (IDRC) was also present. Dr. T. Neeraja, Head of Aquatic Animal Health Management Department at College of Fishery Science, SVVU translated the presentations and proposed the vote of thanks.


Write Comment
|

E-Mail
|
Facebook
|

Twitter
|

Print