NTIK Student begin School Engineering programme
Mangalore Today News Network
Mangalore, Oct 16, 2014: A six-member group of final year civil engineering students at the National Institute of Technology – Karnataka (NIT-K), Surathkal are on a mission mode and are visiting schools and colleges. Not to teach or sit back and learn. But to guide students on the right engineering stream for them and urge them not to repeat the "mistake" they did.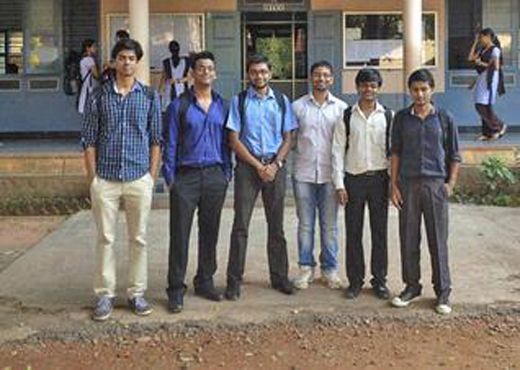 They are going to different corners of the country and even to the capital city of Nepal with their own money.

What was the "mistake" they did? Nikhil Sinha, a group member said, "Some of us lost interest in our own branch somewhere in the middle. While one of us felt that he would have fared better as a mechanical engineer, another felt that he could have become a mining engineer. This could have been avoided if we had received proper guidance in senior secondary school or pre-university."

"We felt that students should be better informed before making their choice. Then only can they have a better career," he said.

Follow your heart

The group feels this would enable students to follow their heart and avoid choosing a stream that may turn out to be wrong for them because of peer pressure or parental influence.

The other members of the group are Manish Kumar, Mukesh Jaiswal, Saket Bajpai, Pranav Krishna and Harsh Kumar. They call their mission as "SchoolEngineering" programme.

At a recent session here, this group, through audio-visual presentation, gave examples of some developments in different branches of science.

For example, they explained what optic fibre technology is all about and how it functioned in communications. Moving on to another topic, they asked the reason for placing of stones under railway tracks.

After allowing the students to make an effort towards articulating a scientific answer, they explained that it is meant to give a cushioning impact to make the journey more comfortable.

They would also discuss how four-stroke engine is based on concepts of rotational mechanics and thermodynamics or how AC coach would generate power from a dynamo attached to its axle.

Thus joining several dots between science and engineering, a more transparent picture of the world of engineering was painted in the minds of students, said Mr. Sinha.

At the end of each session there would be a quiz, prizes and the students can provide feedback in writing. All the expenses are shared among the members of the group.

Since October last year, they have covered some schools and colleges in Mangalore, Udupi and Yadgir, besides making presentations at South-Western State College, Kathmandu, Nepal; at St. Xavier's School, Jaipur; Vibrant Academy, Kota, Rajasthan, and Khagaria in Bihar.
Courtesy: The hindu

Write Comment
|

E-Mail
|
Facebook
|

Twitter
|

Print