Mumbai:The 'Lifetime Journey' of Louis and Janet to London flagged off
Mangalore Today
Mumbai, May 20: Mangaluru couple Louis D Souza and Janet D'Souza's 'The Lifetime Journey' flagged off at Mumbai today, May 20, 2016. Family, friends, relatives and colleagues of the couple arrived in large number at the right time to wish and see them off on their 'Lifetime Journey' –Mumbai –London –Mumbai.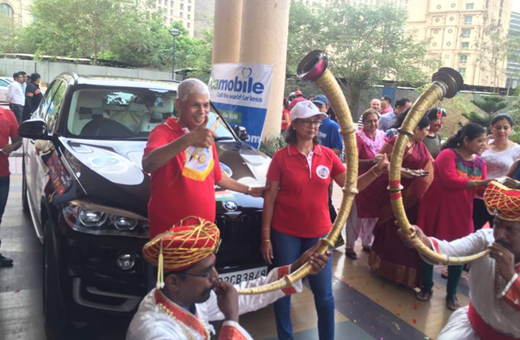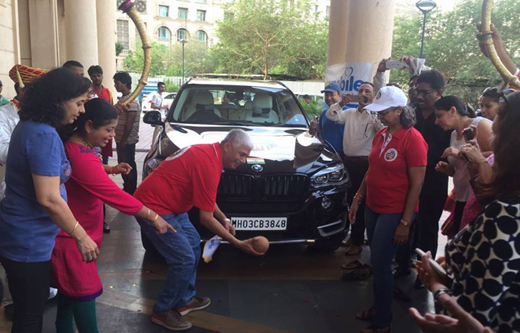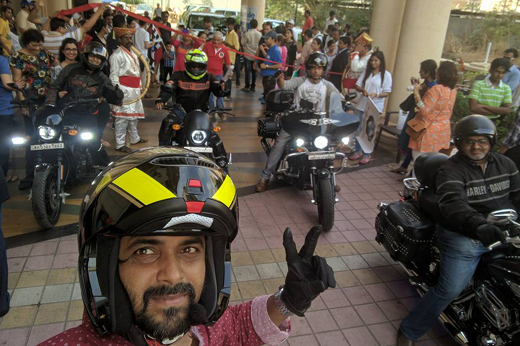 Louis D Souza and Janet D'Souza's 'The Lifetime Journey' to London through Central Asia, Europe and back to Mumbai covering more than 50,000 km and more than 40 countries, will take approximately six months. The rough route that they plan to follow is Mumbai-Imphal-Myanmar-China-Mongolia-Russia-Latvia, Lithuania, Estonia, Finland, Norway, Sweden, Denmark, Germany, Netherlands, Belgium, UK, France, Spain, Portugal, Switzerland, Austria, Slovenia, Czech Republic, Poland, Belarus, Slovakia, Hungary, Slovenia, Croatia, Italy, Malta, Greece,Bulgaria, Turkey, Georgia, Armenia, Azerbaijan, Iran, Turkmenistan,Uzbekistan, Kazakhstan, Kyrgyzstan, China, Tibet, Myanmar or Nepal (if the border opens), and then back to India. Mangaluru couple Louis, 61, and Janet D'Souza, 55, have began their drean journey today. And as they cover every kilometre, two NGOs working for the underprivileged will get Rs 10.

Road trips are the new mantra for liberation for everyone, a professional bogged down with work or a family trying to discover an adventure together. While all of them are trying to rediscover themselves before hitting the autumn of their lives but here is this couple who are breaking the myth that you should live an adventure before your golden days. Forty countries, six months and 50,000 kilometers. It's the call of the road and journey of a lifetime that they couldn't resist. Their only companion through the journey from Mumbai, covering 40 countries, will be their brand new BMW X5. "We will flag off the trip on May 20 on Louis' 62nd birthday. Age shouldn't be a hurdle for anything. I believe journeys can be undertaken at any age if you have the courage, confidence and love to explore. All these years, we've had an extremely busy life with our demanding jobs, bringing up children – daughter and son. Now it's time to rediscover ourselves together," said Janet, who was born and brought up in Mumbai.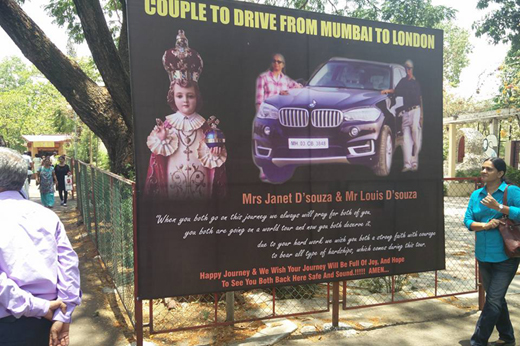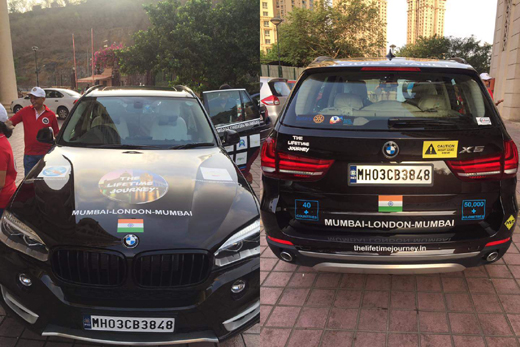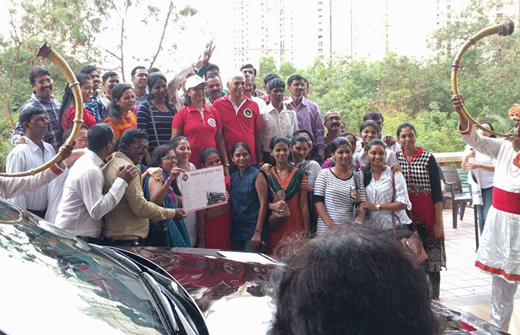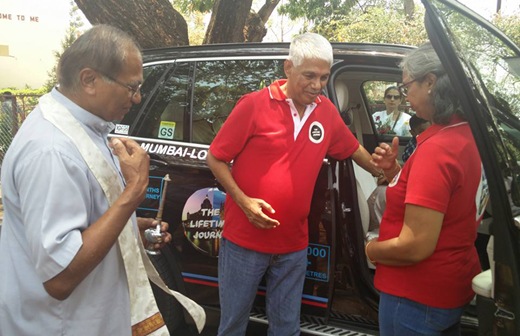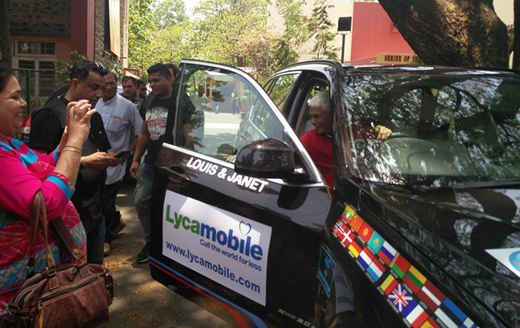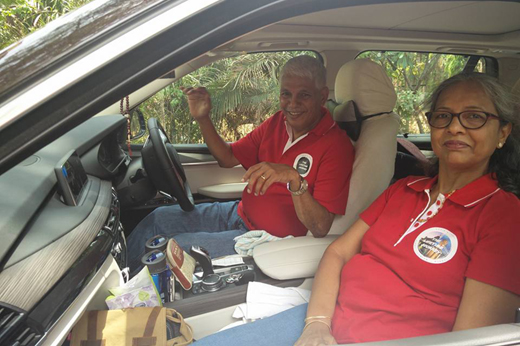 The duo, now settled in Mangaluru, was caught up with logistics business all these years. The life-changing decision came in 2015 when they stumbled upon an article about the road adventure of Anand Baid and family who travelled for 111 days from Bengaluru to Paris, covering 12 countries.

Let's hear from the Tough travelers

We, Louis & Janet – an Mangalorean couple aged 61 and 55 respectively, have decided to give up the rat race and a world ruled by consumerism for a life on the road less travelled. While Louis grew up in a village of Karnataka, Udupi, Janet grew up in Mumbai city. We first met in 1978 and got married in 1982. We have two children – our son, Lloyd aged 32 and daughter, Lynette aged 30 both well settled.

We have made several trips by road from Mumbai down South India, but never picked up courage to travel by road up North as there were lot of rumours of getting robbed, kidnapping, etc. But the desire to travel the world on road in our own car could not be resisted. Thus, the Lifetime Journey of Louis & Janet was conceived.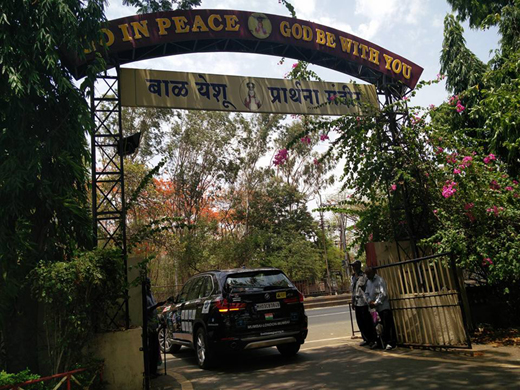 All these years we had extremely busy life with tremendously demanding jobs , bringing up children, settling them, in the early years. Later on from 1999 we got busy with setting up the logistics business. Life seemed to be very good after 2000, travelling to different parts of the world by flight two or three times a year until 2015 when we stumbled upon an article uploaded on facebook regarding a family of four who travelled for 111 days from Bangalore to Paris. That was a turning point as we fell in love with the idea of travelling the world in our own car. We contacted the Little Indian Family of Expolorers (L.I.F.E.) and took feedback from them and started with the research work for "The Lifetime Journey". Not for a moment did either of us hesitated or had second thoughts, nor did we see any obstacles. We did not take much time deciding to do it. The overland buddies who had done this, were also excited about this journey of ours as we were planning to drive back home, unlike others who had shipped
their car back home. After a few weeks of devouring all the information we could about the route, we took the gig. We couldn't focus too much on it though, with a full time involvement in the business and travels in between.

When friends and family were informed about the plan of driving from Mumbai to London by car, quite a few considered us insane and had several questions – "Is it possible to drive through the continents", "Isn't it dangerous?" "Are you planning to travel through Iran, Afghanistan and Pakistan, is it safe", etc. etc. At the same time some of them were even excited about our plans and wanted to know more about the journey. The world lived in fear, a destructive emotion largely stirred up on account of several uncertainties in various parts of the world. But those fears of the outside world didn't bother us; we were too excited about the journey.

Write Comment
|

E-Mail
|
Facebook
|

Twitter
|

Print