Mouth-watering dishes and cultural programmes mark 'Aatidonji Dina'
Mangalore Today News Network
Udupi, July 20, 2016: Organised by the Udupi Taluk Mahali Mandaligala Okkoota, the Department of Kannada and Culture, Lions and Lioness Clubs and Buntara Sangha here on Tuesday, focussed on the rich culture of Tulunadu. "Aatidonji Dina-Ponjovene Kuto" (A day in the month of Aashada-Women's meet) opened the new month of 'Aati' a month for folklore and culture renewal.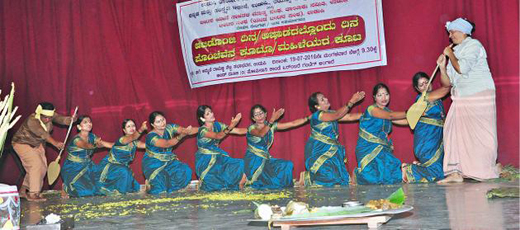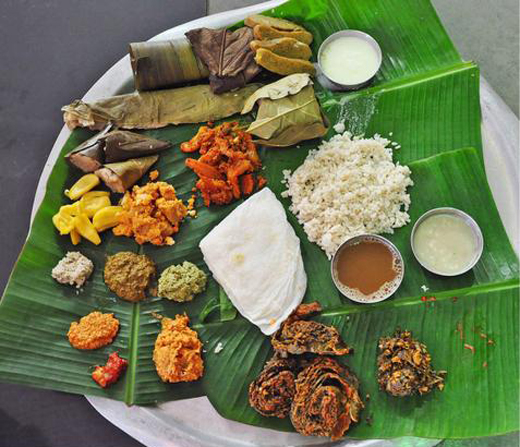 A stage programme, in which members of various Mahila Mandals performed folk songs and dances that were applauded by one and all. Among the cultural programmes held, including: "Madira", "Kangilu Nritya"and "Bedara Nritya" and so on. Mouth-watering dishes of Tulunadu, served for lunch, were a big draw. The dishes were prepared by the members of the various Mahila Mandals.

The dishes included: 'kudutsar', 'patrode', 'chilimbi adye', 'pelkayida gatatai', 'manjold irrita gatti', 'timerida chutney', 'neeruppadada kukuda chutney', 'kese chutney', 'pelkayida mulka', 'pundi gasi', 'mude gasi', 'uppad pachchir palla', 'tevu, padde, toute, ambade kodel', 'tojank palya', 'saarnadye', 'uppad', 'pejakayi, toute, padangi gasi', 'tarayida chutney', 'pelkayi pachchir', and 'kanile gasi'. Along with these items, 'neerdose', rice and buttermilk were served.

President of the Udupi Taluk Mahila Mandaligala Okkota, said that the months of "Aashada" and "Sravana" used to be regarded as tough in Tulunadu a few decades ago. Yet people used to collect nutritious vegetables found during that period, cook dishes from them and keep themselves healthy. But things had since improved and now these months were not regarded as tough.

"The aims are to make the GenY aware of the traditional dishes as they are slowly for getting them and going for pizza and burger. The cultural programmes comprising folk songs and dances too are being held for the same purpose," she said.

Earlier, inaugurating the programme, Meenakshi Bannanje, president of the Udupi CMC,City Municipal Council, said that besides different types of dishes prepared during 'Aati', indoor games such as 'Chennamane' were played. The younger generation should be made aware of it as they are mostly immersed in watching television serials or hooked onto their mobile telephones.

President of Tulukoota, lauded the fact that over 30 Mahila Mandals had come forward to conduct the 'Aatidonji Dina' programme. This programme was being held continuously for the last 17 years. Lioness District Convener, and a huge participating contingent and guests were present.

Write Comment
|

E-Mail
|
Facebook
|

Twitter
|

Print