Most Rev. Dr. Peter Paul Saldanha ordained 14th Bishop of Mangalore Diocese
Mangalore Today News Network
Mangaluru, Sep 15, 2018: The Episcopal Ordination and Solemn Installation of the 14th Bishop of Mangalore Diocese, Dr Peter Paul Saldanha was held at the Rosario Cathedral grounds on September 15, 2018. Apostolic Administrator of Mangalore Diocese Bishop Dr. Aloysius Paul D'Souza officiated the ceremony attended by around 26 bishops, 500 priests and 12000 plus faithful and well-wishers across the state.

The ceremony began with the Eucharistic Celebration starting with the introductory rites, followed by the liturgy of the Word. The Rite of Ordination of Bishop began with invoking of the Holy Spirit. Msgr. Javier D Fernandez, Nunciature, Delhi, read out the pontifical bull of Mangalore given by Pope Francis in Latin, Fr Joseph Martis read it in English and Fr Victor D Mello in Konkani and then presented the Bishop-elect to the congregation. Bishop Francis Serrao, Bishop of Shivmoga Diocese preached the Homily. The Bishop-elect then made promises before the principle consecrator Bishop Aloysius Paul D'Souza. The Litany of Supplication was sung invoking the intercession of all saints to aid the bishop in leading the Diocese.

Bishop Aloysius Paul D'Souza led the prayer of Consecration and anointed the new bishop with holy oil. The Book of the Gospels was handed over to the Bishop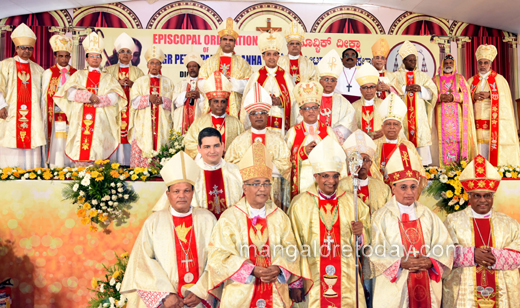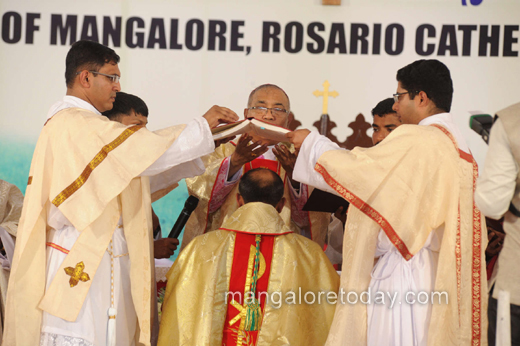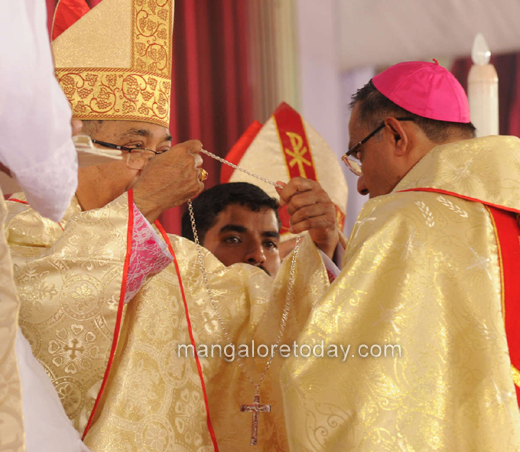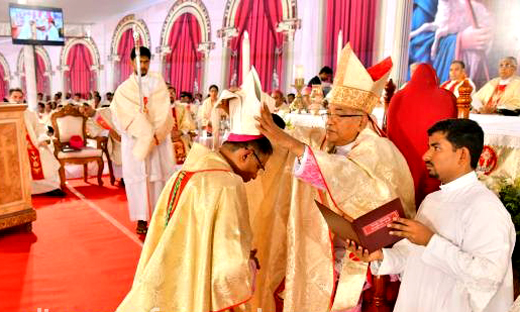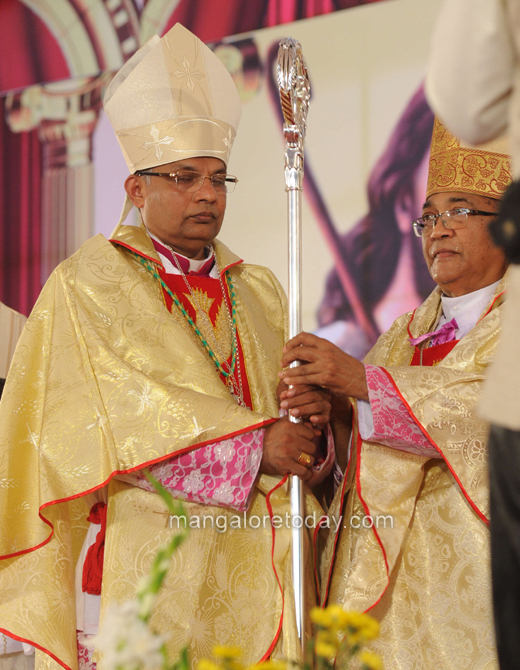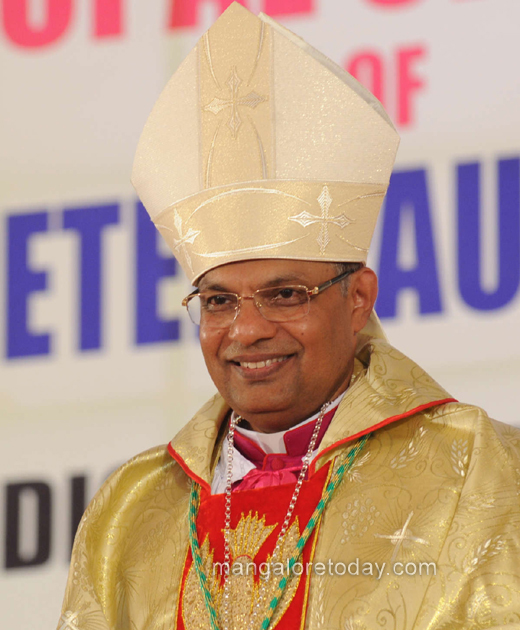 The sacred religious rituals were headed by Dr Aloysius Paul D Souza, then Apostolic Administrator and now Bishop emeritus of Mangaluru Diocese as main consecrator and Dr Peter Machado, Archbishop of Bengaluru, Dr Jerald Isaac Lobo, Bishop, Udupi Diocese as co-consecrators. Msgr Javier D Fernandez , deputed by Papal Nuncio to India as his personal representative present, read the (Papal Bull) Mandate from the Holy See in Latin translated by Fr Joseph Martis in English and Fr Victor D'Mello in Konkani - which made the credentials of the new bishop clear to all present. Bishop Aloysius D'Souza by questions confirmed the acceptance and willingness of Dr Peter Paul Saldanha, to be ordained as the shepherd of the diocese. The holy mass then progressed, the church rituals were in Konkani - the official language of the diocese. The new bishop prostrating before the altar prayed while the people sang the invocations of the saints, invoking all the saints by name for their care.

Soon after reading of the scriptures, a homily of exhortation to the new Bishop and congregation was given by Rev Dr. Francis Serrao SJ, Bishop of Shimoga, this signaled the rite of consecration and anointing; it started with the Bible held over the candidates head while a song of thanks to the Lord was sung. Then the laying of the hands first by the consecrating Bishops and then followed by all bishops present, around 20 bishops. This was followed by anointing the head with 'Chrism' sacred oil of the church, reserved for such occasions. This was followed by adorning with all the marks of a Bishop of the Universal Catholic Church - the skull cap signifying an anointed holy person, the Miter (or tall head gear) for authority, the Crozier (shepherds staff) for the responsibility to guide his people and finally the ring, to signify the royal identity with Christ the Master. The chief consecrator then leads the candidate to the official Bishops Throne and seats him - this is followed by sign of peace and submission by the priests present, in this case near 500, so only some of the senior priests were called on to observe this significance.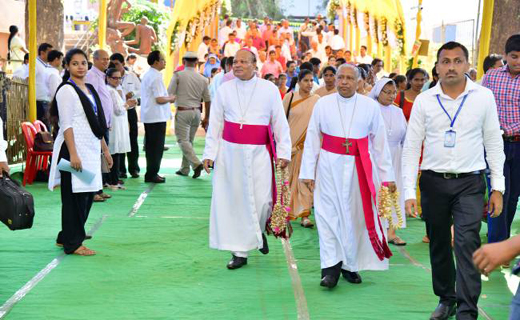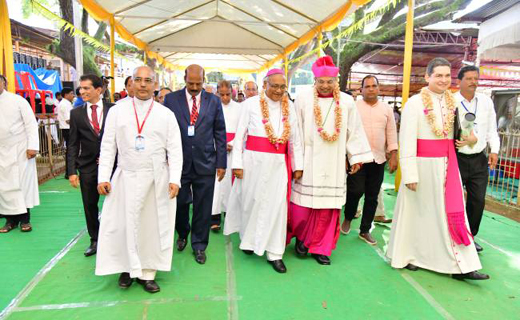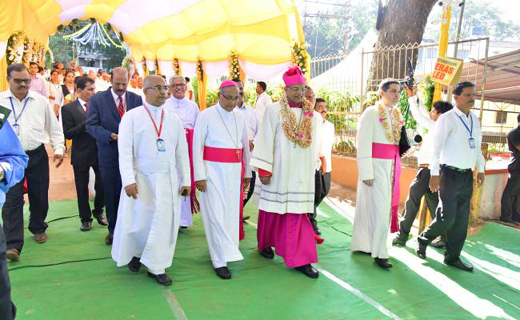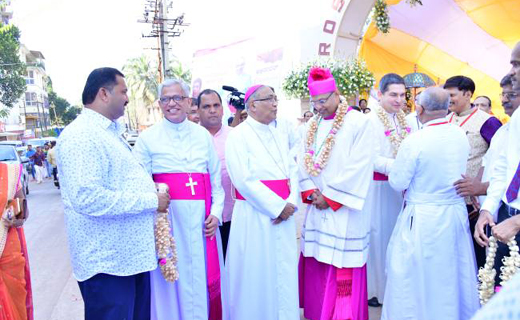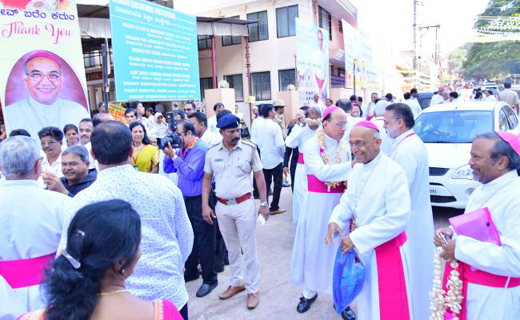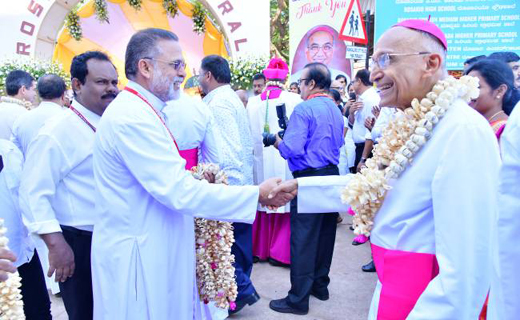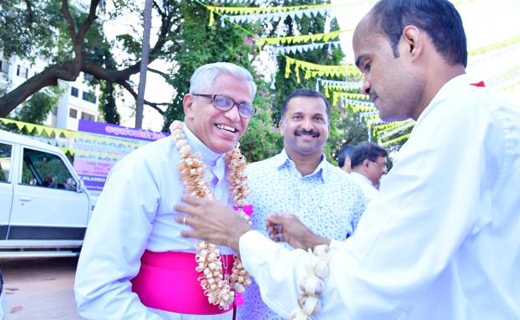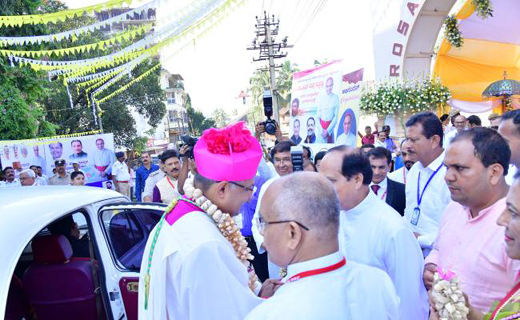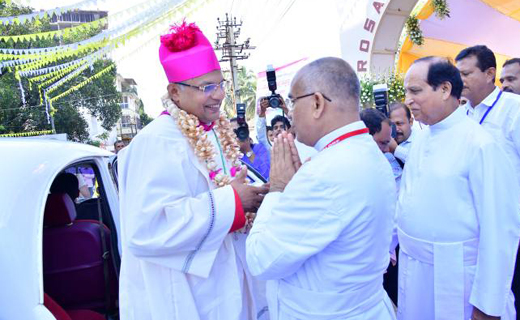 Insignia–the Episcopal ring on the right finger, symbolic of the bishop's marriage to the Church and spiritual parentage of the diocese's faithful, The Miter and Pallium on the head that symbolise the offices' dignity and jurisdiction and crozier (staff) symbolising bishop's pastoral authority and Christ's love and protection for his people as a shepherd to watch over his sheep, were handed over to Bishop Peter. The mass offerings brought by the family members of the Bishop and the lay leaders of the diocese were received by the newly ordained bishop. The Liturgy of the Eucharist was then led by the new bishop.

The programme was followed by the public felicitation programme to the newly installed Bishop Most Rev. Dr. Peter Paul D'Souza. A documentary on his life compiled by Canara Communication Centre was played.

Archbishop Peter Machado of Bengaluru, Archbishop FillepeNeriFerrao of Goa & Daman, Archbishop Thomas D'Souza of Calcutta, Bishop Alex Vadakunthala of Kannur Diocese, Bishop VergheseChakkalakal of Calicut Diocese, Bishop Robert Miranda of Gulbarga Diocese, Bishop Anthony Kariyil of Mandya Diocese, Bishop Derek Fernandes of Karwar Diocese, Bishop Joseph Arumachadath of Bhadravathi Diocese, Bishop EphreimNarikulam of Chanda Diocese, Bishop Francis Serrao of Shivamogga Diocese, Bishop Oswald Lewis of Jaipur Diocese, Bishop Bernard Moras of Bangalore, Bishop Gerald Almeida of Jabalpur Diocese, Bishop RogatKimario of Same Diocese, Tanzania, Bishop Cyprian D'Souza of Anansol Diocese, Bishop Lawrence Mukkuzhy of Belthangady Diocese, Msgr. Javier D Fernandez of Nunciature Delhi, Bishop Pius Thomas D'Souza of Ajmer Diocese, Bishop Joseph Mar Macario of Puttur Diocese, Bishop T Anthony Swamy of Chikkamagalur Diocese, Bishop Henry D'Souza of Bellary Diocese and Bishop Mohan Manoraj, CSI Bishop, KSD were present during the Eucharistic Celebration and public felicitation programme. Also Fr. J B Xavier and Fr. Joe Sebastian representing the Urbanian University, Rome, Elizabeth Williams, Regional Immigration Office, Moshi, Tanzania were part of this historic event.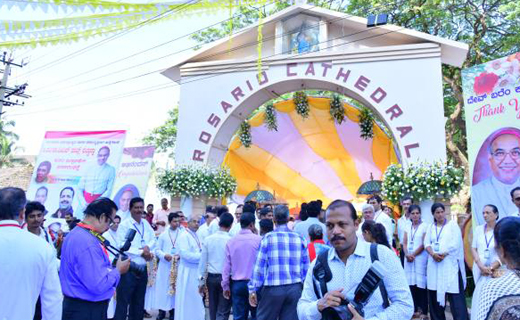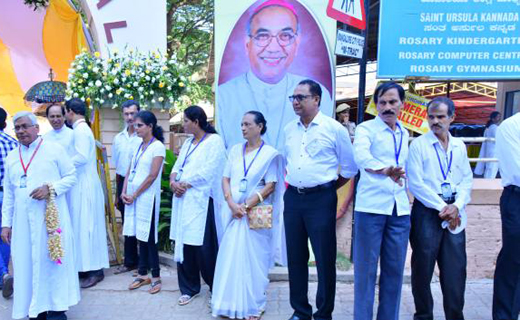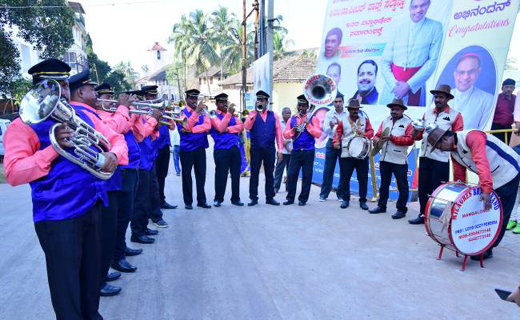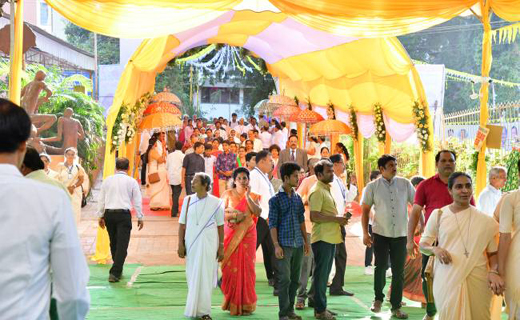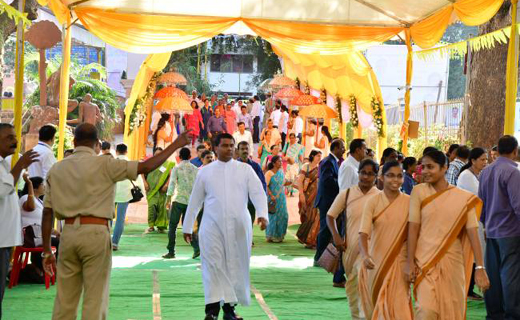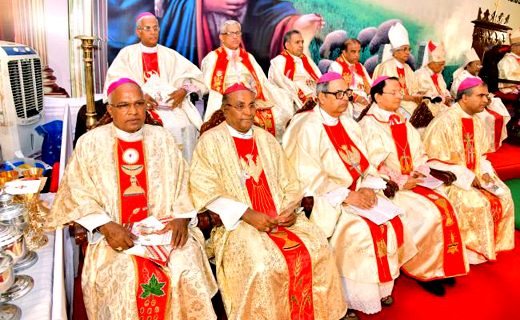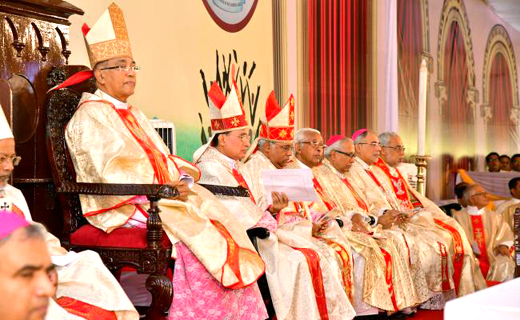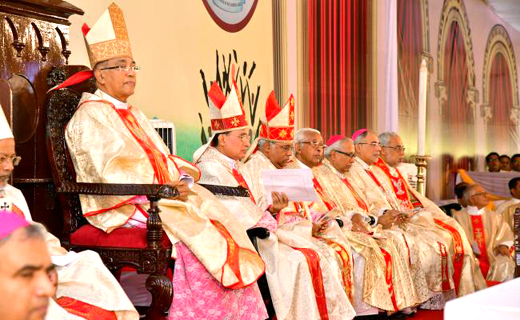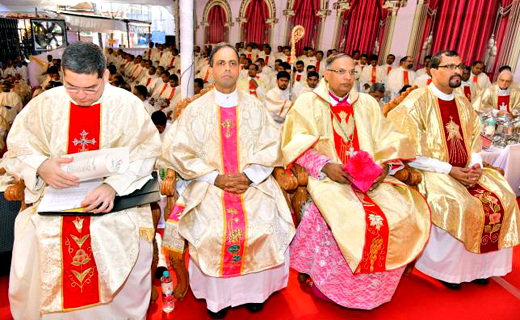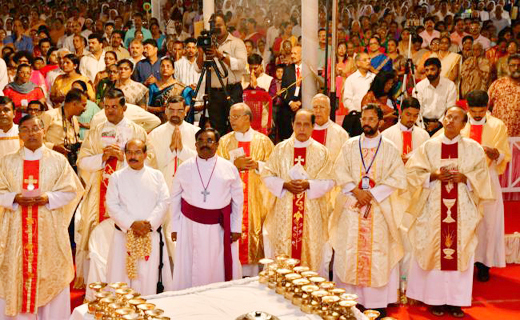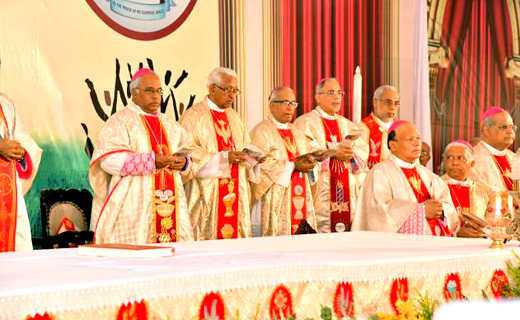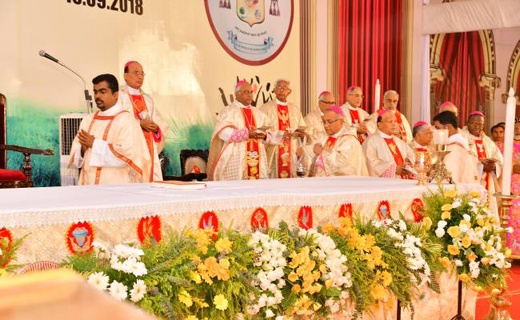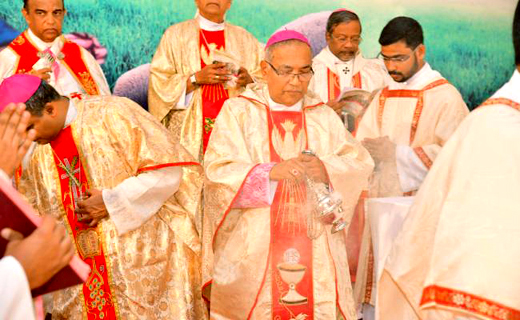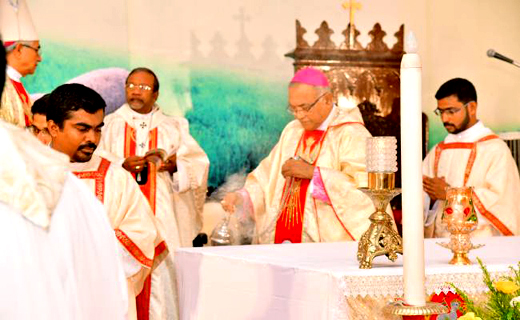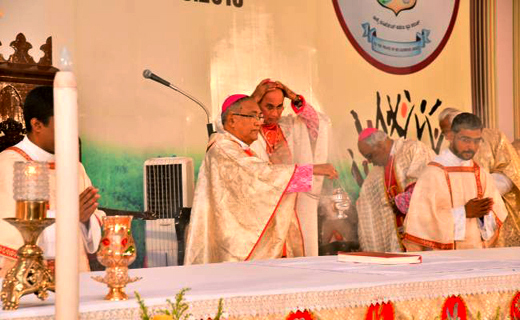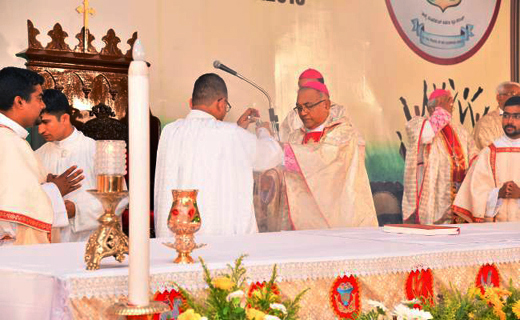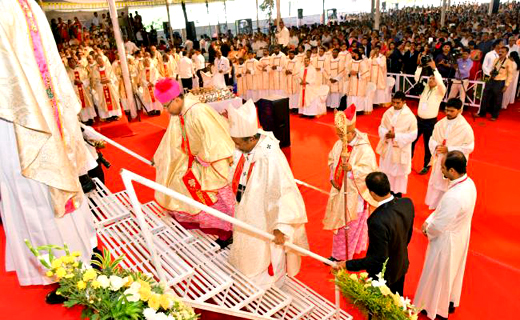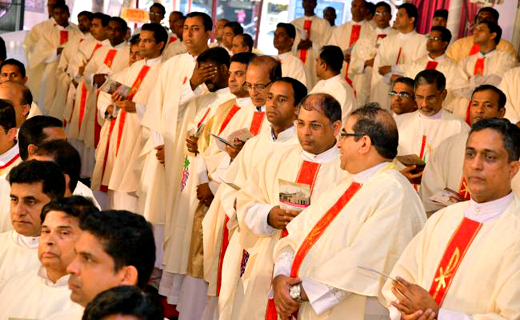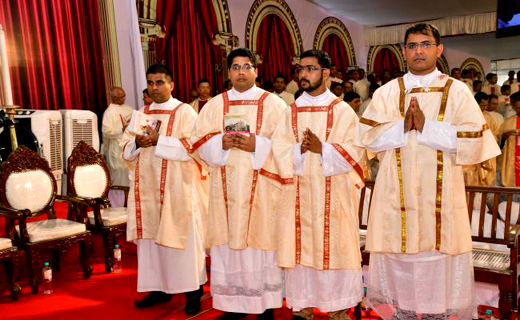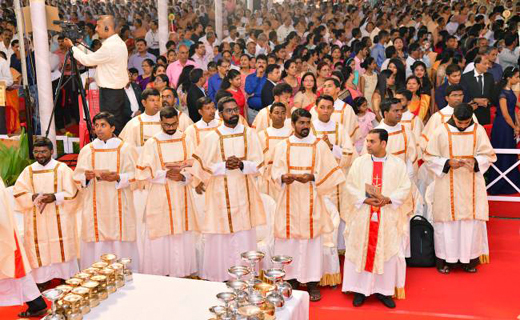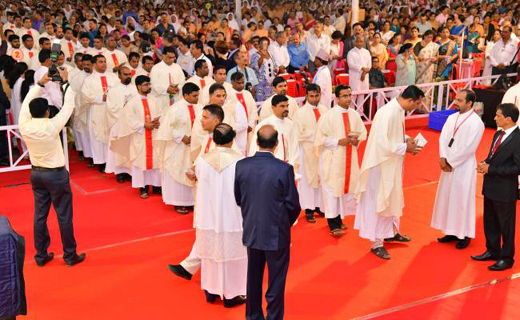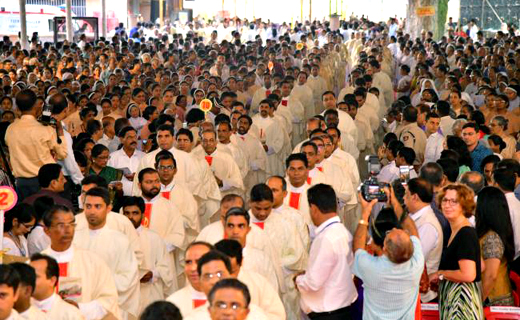 A civic felicitation followed the consecration ceremony at the same venue after the altar was cleared and seats for more than 20 bishops were set and seated. On behalf of civil society U T Khader, district in-charge minister felicitated Dr Peter Paul Saldanha. Wishing the Bishop Khader said " We are here witnessing unbounded rejoicing and positive force today and share our happiness. We have a a visionary Bishop and a modern product of the 21st century of our region. I met him few times and his simplicity and kindness is great. He has all the qualities to lead his community. His experience as a priest being a scholar and professor in Rome is sure to help him be a fit religious leader."


"While leading a community he has the greater responsibility of leading the society also. Our civil society needs his service and leadership. There is no doubt that his involvement in society will be a positive force to all. I wish him fruitful days ahead on behalf of entire civil society." he said.

"At this juncture I thank Bishop Aloysius Paul D'Souza, now retired bishop of Mangaluru Diocese. For the past 22 years, he led the community as a bishop in a most examplary manner. But, he has human limits and now has to hand the baton to successors. He is the role model for us all. He worked hard to maintain communal harmony. Being a soft spoken person he always stressed for peace in the society," he said.

Nalin Kumar, Kateel, MP, Oscar Fernandes, MP, Ivan D Souza, MLC, Vedavyas Kamath, MLA, JR Lobo, Former MLA , Kumar, DC in charge, Bhaskar Moily, Mayor, representatives from Rome, Tanzania, and leaders of various religions were present during the civic felicitation.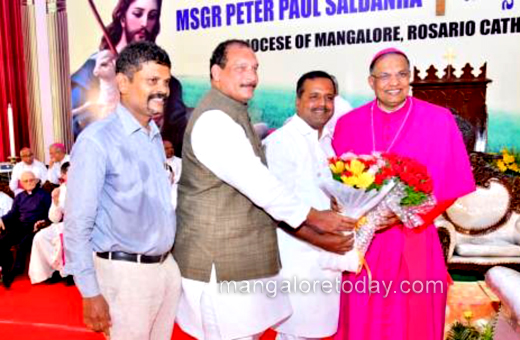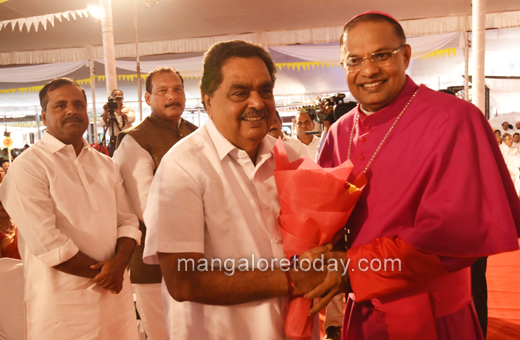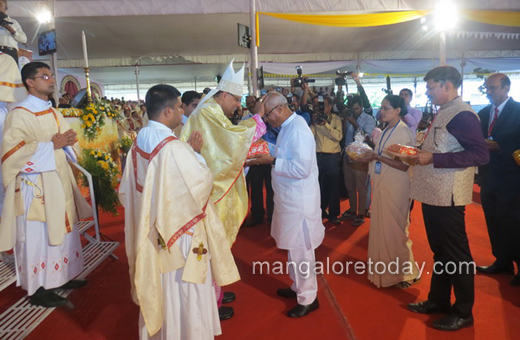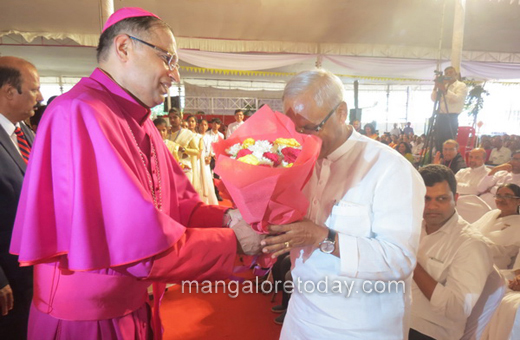 In his much awaited address to the gathering Bishop Peter Paul said, "with a full of happiness and resolve I have to express, God created man in His image. To worship God, first we should love humans and humanity. By this we can easily meet God. Jesus sacrificed himself for the peoples. Bishops and priests are also doing the same work. We should make the Christians, Muslims and Hindu better in their approach towards humanity. We are all the children of God. This nation has given the great message of harmony to the world. But somewhere we have put walls between us. We should surmount the walls and work together to build a new relationship of humanity. I am glad to have many members of my family here today, but hence forth we embrace all of you as a larger family. As the bishop of Mangaluru, I will work for harmony in the society because God has chosen me to spread his divinity through love." His speech in chaste Kannada, Konkani, English, Italian and most of all Tulu fascinated everyone and brought in a special belonging and cheer.

Later, M P Noronha, Secretary, Diocesan Pastoral Parishad, read citation and presented it to Dr Aloysius Paul D Souza, now Bishop emiritus, of Mangaluru. The diocese honoured the outgoing bishop and hailed him for his service.

The citation read by M P Noronha, said, "We are eternally grateful to Most Revered Bishop who was religious head to Catholic brethren in undivided Dakshina Kannada and Kasargod districts. He was responsible for their all-round development of the diocese. He was loved, respected by all. He worked unceasingly for the progress of the community,"

"Dr Aloysius Paul shouldered his position in most responsible and cordial manner and proclaimed the good news of Jesus. He facilitated great strides in education, social and health sectors. Several people have seen the love of Jesus through him. His blessings, sight of compassion, dialogue of love, large heart and direct talk are a reflection to his personality. You have shown resemblance of father's love and mother's endurance to us. We will always remember our dear past bishop."

Rev Dr Aloysius D'Souza in his response said, "Mangalore diocese has got a long awaited new Bishop. God has given us a new shepherd. On behalf of the religious people and laity, I am congratulating him. I served this diocese for long Almighty gave me the responsibility of leading the diocese and by the grace of Him, I have completed my mission. I am satisfied with my service, in His law. There is nothing to highlight in my service, because it is a service for God to humanity. I am thankful to all who walked with me and supported me. Accept my apologies if I have hurt anyone. It is a time for us to strengthen the hands of our new bishop and I support him in all ways possible."

Rev Dr Peter Machado, Archbishop of Bengaluru Diocese was honoured during the occasion, as it was his first official visit here after assuming crage as Archbishop. Fr Dionysus Vas read the citation. He was the president of the felicitation event. Dr Peter Machado hailed Bishop Saldanha for his simplicity and knowledge of cultures of languages. "He not only carries the names of St Peter and St Paul, but also their legacy. He has brought the gifts of these saints from Rome. He will be a very good shepherd." Dr Machado honoured Bishop Saldanha on behalf of people of Karnataka and the Bishops council.

Rev Fr Walter D'Mello deliverd the closing remarks and rendered thanks to all. Fr Vijay Machado was the ceremonial co-ordinator.

Write Comment
|

E-Mail
|
Facebook
|

Twitter
|

Print