Moodabidri murder solved: Four nabbed, five on the run
Mangalore Today News Network
Mangaluru, Oct 18, 2015: In a fresh development, police today announced that they had finally managed to crack the intriguing murder of flower vendor and Bajrang Dal activist Prashant Poojary in Moodbidri within 10 days of the crime taking place.

Announcing this at a specially called press meet at his office today City Police Commissioner S Murugan said so far four key accused have been arrested and five more are the run. He identified the four arrested as Mohammed Hanif (36) from Adyapady, Mohammed Ilyas (27) from Moodbidri, Ibrahim Liyaqat (26) of Bantwal, and Abdul Rashid (39) of Mulky.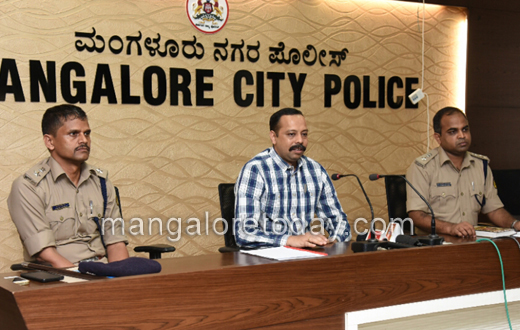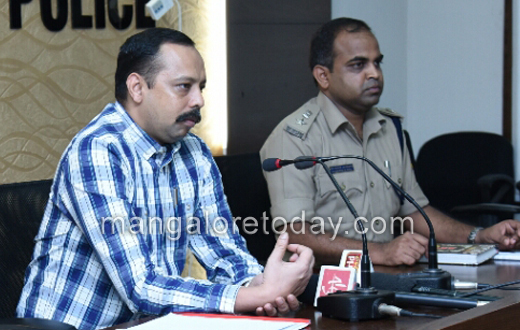 Among the four arrested, only Hanif is directly involved in the fatal attack on the victim and the other three are co-conspirators who helped the main accused indirectly, he said. Explaining the modus operandi of the crime, Murugan said that the murder was perpetrated by a gang of six persons and five of them are still at large. He declined to identify the five absconders or give further details of the case saying it would jeopardize the investigation which is in progress.

Announcing that the arrested persons had confessed to the crime during interrogation, Murugan also informed that the main accused were history sheeters. "Hanif and the five main accused were also involved in a case at Handelu on September 9 and an assault in Permude on October 3," he said. He promised that the five absconders too will fall into the police net soon.

Communal grudge is the main motive for the murder, Murugan said, as Prashant Poojary was actively involved in a pro-Hindu outfit. He however declined to either confirm or deny whether the accused were part of any organization, citing it was a subject under investigation.

Elaborating on the communal angle, Murugan appealed to the public not to dwell on the communal issue. "These are youth who have been mislead and misguided. More than police, it is religious and community leaders who have a greater role to play in properly guiding the youth so that they do not get involved in crime. Communal flame will die down if leaders of different communities promptly condemn communal incidences," he said.

Answering questions by the media Murugan also flatly denied that there was any truth in a WhatSapp message which is doing the rounds accusing a well known builder and other prominent members of Muslim community of orchestrating the crime. "No such information has cropped up during our investigation," he said.

He also denied that Vaman Poojary, an eye witness who committed suicide a few days after the murder, was getting threatening calls from overseas. "We have examined Vaman Poojary's call records and we have not found any calls from overseas. There was also no harassment from the police and we had not taken his statement as he was visibly disturbed due to the muder," Murugan said.

It may be recalled that in a sensational announcement, Nalin Kumar Kateel, the city MP, has said that Vaman Poojary had been getting threatening calls from Pakistan in the days between the murder and the day he hanged himself. Vaman Poojary was another vendor who was present when Prashanth had succumbed to the vicious attack. It is said that he was severely affected due to witnessing the brutal murder and had become depressed.

Answering another question, Murugan said that police had received complaints from three individuals - Jagadish Adhikari, Sharan Pumpwell and Somanath Kotian – about receiving threat calls after Prashant Poojary's murder.

With communal passion hotting up due to delay in solving the crime, the news that police have made good headway in busting the case should come as a welcome relief to the citizens.

Write Comment
|

E-Mail
|
Facebook
|

Twitter
|

Print