Modi to host Pope Francis for India visit
Mangalore Today News Network
New Delhi, July 14, 2017: Pope Francis may come on a tour to India by the end of this year or early next year – almost two decades after New Delhi witnessed such a papal visit.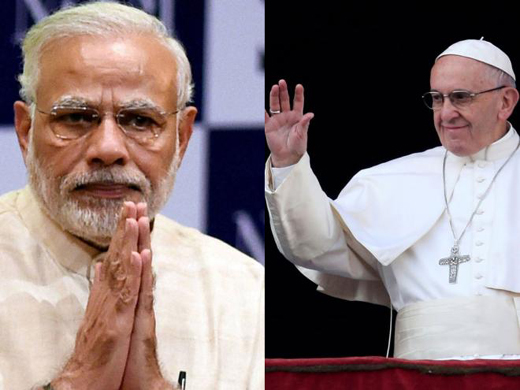 New Delhi and Vatican are in touch to schedule the visit of Pope Francis to India. Efforts are on to find a suitable set of dates towards the end of this year, in spite of Prime Minister Narendra Modi's hectic schedule – visits to foreign nations and for receiving visiting foreign leaders – is coming in the way.

If the visit cannot be scheduled this year, New Delhi and Vatican will look for an alternative set of dates sometime in early 2018.

"We are still hopeful that the visit (by Pope Francis to India) will take place at least early next year, if not earlier," Bishop Theodore Mascarenhas, secretary general of Catholic Bishops' Conference of India, told media.

Pope John Paul II was the last pontiff to visit India. He visited as many as 14 cities across the length and breadth of India during his 10-day tour in February 1986, he also visited Mangaluru and Kerala. He again visited India in November 1999, but his itinerary then was limited to New Delhi only. His successor Pope Benedict XVI gave India a miss during his eight-year-long papacy.

The Christians constitute the third largest religious group in India, with about 28 million population. The first few months of Modi's tenure as Prime Minister saw the Bharatiya Janata Party Government being criticized for incidents of attacks on churches and "Ghar Wapsi campaigns" by Sangh Parivar offshoots to re-convert people allegedly forced or lured to embrace to Christianity.

The BJP Government's move to restrict the flow of foreign funds to some non-profit organisations, including Compassion International and other Christian NGOs, operating in India also drew criticism – not only within the country but also from outside, like the US Government.

Vatican and New Delhi have been discussing a possibility of a visit by Pope Francis – the leader of the worldwide Catholic Church – to India since early 2016. India has the second largest Catholic population in Asia after the Philippines.

The efforts to schedule the visit got momentum after External Affairs Minister Sushma Swaraj called on Pope Francis during her visit to Vatican for canonization ceremony of Mother Teresa in September 2016. The pontiff, himself, hinted about his plan to visit India and Bangladesh while speaking to journalists in October 2016.

What, however, made it impossible to find a set of dates for the visit of Pope Francis – the sovereign of the State of Vatican City – in the first half of 2017 was the busy schedule of Prime Minister, who, along with President of India, had to host him.

Modi was busy not only for campaigning in assembly polls in Uttar Pradesh and four other States but also for foreign visits to Sri Lanka, Russia, Germany, Kazakhstan, Spain, France, Netherlands, Portugal and Israel. The Prime Minister is also likely to visit China and Philippines later this year.

He is also likely to host leaders of Jordan, Japan, Israel, France and Canada during the coming months. Sources, however, told the media that efforts were still on to schedule the papal visit towards the end of the year.

A source aware of the discussion between New Delhi and Vatican said that while Government of India was keen to host Pope Francis, it was also mindful of the fact that a papal visit must be arranged in such a way that the dignity of the pontiff was duly maintained. If a suitable date could not be found this year, the visit would be scheduled sometime in early 2018, he added.

Apart from New Delhi, Pope Francis' itinerary may also include Kolkata, Mumbai and a few other cities, depending on the number of days he would spend in India, said another source.

Write Comment
|

E-Mail
|
Facebook
|

Twitter
|

Print