Modi-led NDA govt set to form next govt, predict exit polls
Mangalore Today News Network
New Delhi, May 19, 2019: After nearly two months of high-pitch campaigning and seven phase of hectic poll schedule, most exit polls have predicated a clear majority to BJP-led NDA with nearly or above 300 seats, out of total 542 Lok Sabha seats. Polls are also predicting a clean sweep by NDA in several key states including Bihar, Uttar Pradesh, Maharashtra and Madhya Pradesh. However, a number of polls also predicted a big losses for the BJP in Uttar Pradesh, where it had won 71 seats in 2014, but the saffron party appeared to make major gains in other states.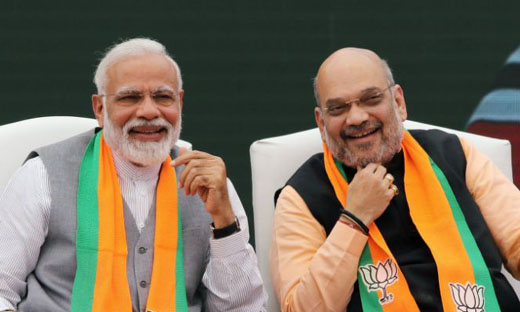 Among the top side of the spectrum, India Today My Axis gave a landslide victory to NDA with 339-365 seats, including a big victory in Uttar Pradesh and Bengal, while NewsX was the only agency that predicted NDA to get 242 seats.

However, there are instances when have been wide off the mark (In 2004, exit polls predicted a NDA win but UPA emerged victorious), but sometimes it also hits the bull's eye (in 2014 Today's Chanakya projected 340 seats for NDA and 291 for the BJP).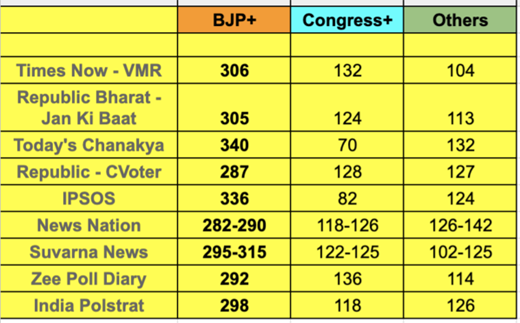 Other exit poll survey like CVoter for Republic and Times Now exit poll have also predicted that NDA will cross the majority mark of 272, with CVoter giving the NDA 287 seats and Times Now forecasting it will bag 306 seats. According to CVoter, the UPA will get 128 seats, while the SP-BSP-RLD alliance will get 40 in Uttar Pradesh. The Times Now survey has given 132 seats to the UPA and 104 to regional players.


Write Comment
|

E-Mail
|
Facebook
|

Twitter
|

Print