Modernisation undermining tribal cultures
Mangalore Today News Network
Kundapur, Feb 17, 2015: Delivering the key-note address at a programme organised to unravel the rich tradition of tribal and folk art culture; Tribal scholar from Kannada University, Hampi, Gangadhar Daivajna said advent of modernisation and lack of interest to safeguard ancient civilisation among Indians has led to diminishing of affluent tribal culture.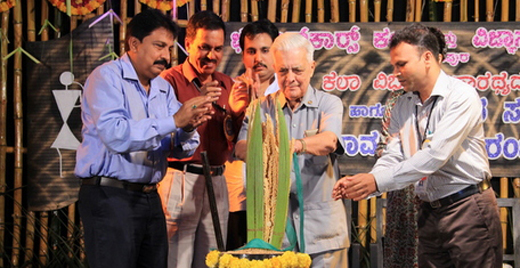 He said tribal tradition and folk culture is the nation's pride. However, situation has aroused for urgent need to conserve the diminishing values towards tribal and folk tradition. Asserting that the study on tribal and folk culture calls for thorough in-depth study, he said tribal study is similar to study of human kind.

Tribals who live in forests, all though they are ignorant and innocent are the treasure of knowledge. The hierarchical skills and knowledge imparted through the generations have made the tribal not inferior to any literate intellectual, in terms of knowledge and experience. Pointing out that infusing western discipline in the study of tribal tradition has complicated the process, he said scholars who go for study of tribal and folk art should adopt Indian disciplines. Lamenting that tribals are also loosing puity of their cultures, he said greedy people in society are making tribal people to come out from the forest and the real culture of tribal is slowly losing ground in emergence of modern civilizations. The indigenous culture in the forest is loosing the value and the forest people are compelled to encounter with the urbane culture. It has become a necessary for the tribal to adapt to the modern life.

Values, legacy : He called upon the people to respect and value the legacy inherited by the tribal. Alleging that modernization and media has made humans slaves, Daivajna said that the people today are loosing their memory power. The tribal who have stupendous memory are able to remember the tradition and culture of countless years of history, he added referring to the tribal artists memorizing Paddana. He said the tribal men lived a tough life, however they inherited the treasure of knowledge, which remains relevant to the modern world in the era of the global village.

Ridiculing the human beings of the present generation for failing to use varieties of food items, the scholar said the tribal use nearly more than 350 varieties of food. The life span of the tribal is also high owing to their nutritious food. Stating that the Adivasis are the people who have introduced the basement for the human survival and culture, the tribal scholar asserted that the intellectuals should embark upon unraveling the skill and knowledge power of the tribal. The educational institutions should take up the study on tribal culture and tradition.

Write Comment
|

E-Mail
|
Facebook
|

Twitter
|

Print