Midnight masala: Sex, lies & audiotape
Mangalore Today News Network
Bangalore, Sep 5, 2014 : A two-hour conversation that took place allegedly between Karthik Gowda and actress Mythriya around first week of June surfaced on Thursday

It appears L'Affaire Karthik Gowda-Mythriya is getting murkier with each passing day. Barely 48 hours after a Tollywood film director claimed that he had secretly married Mythriya 10 years ago, sources close to the small-time model and actress retaliated by releasing a CD to the media of a two-hour midnight phone conversation that purportedly took place between Mythriya and Karthik.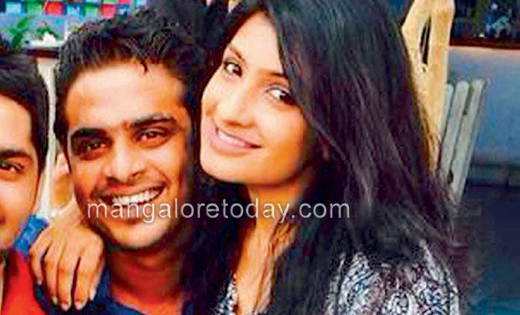 The phone call seems to have taken place in the first week of June, after Karthik's father and former Karnataka chief minister, D V Sadananda Gowda, took oath as a minister in the Modi government at the Centre. The phone conversation includes their antics in the bedroom, plans of marriage, children, and how to take care of each other's families, among other mundane topics.

In a television interview given after the controversy made headlines, Mythriya had announced that she had enough and more 'incriminating' evidence to prove that Karthik had had a serious affair with her and 'married' her in a house in Mangalore.

The actress had also made references to records of prolonged phone conversations between the two in her possession. When asked why she recorded them secretly and had any vested interests to blackmail Karthik, she had then replied, "There is an application on my phone through which all phone conversations get recorded automatically. There is no vested interest; it was pure love between us."

Despite several efforts made by BM to reach Mythriya to ascertain the authenticity of the conversation, Mythriya and her advocate remained unreachable. Meanwhile, when contacted, Union Railway Minister D V Sadananda Gowda refused to comment on the phone conversation between his son and Mythriya. He just said, "No comments."

In the audiotape, when talks of marriage initially surface, the male voice appears hesitant, saying he has to convince his parents first. The actress tries to woo him saying all her friends' parents love her more than her friends themselves.

The conversation, however, is littered with frivolous, loose talk - with interjections from both parties proclaiming their 'undying love' for each other - amid plans revolving around the couple's future and their respective families.

When it comes to money, the voice alleged to be the minister's son claims he will spare no expense to get Mythriya's younger sister married off first - to help lessen her 'responsibilities'. Boasting that he can spend up to Rs 25-30 lakh on her sister's wedding, 'Karthik' tells Mythriya that they will need at least Rs 2-3 crores for theirs. The talk slowly reverts to starting a family, and the couple starts getting intimate over the phone.

The conversation gets intimate, and then begins the process of 'making a baby' without further ado. Karthik offers to 'visit' Mythriya through the phone and 'help' her sleep; and more dirty talk ensues. The two-hour call then comes to an end with Mythriya promising to call back in a few minutes.

EXCERPTS

Karthik: Where are you? Are you at home? Mythriya: Yes, yes. K: Can you come near the house? M: But at your house? It won't look good. I will come to this house after 'crossing the threshold' formally. Let's save this house for that custom. K: (Laughs)..... K: The first day...the first time we met was at Skyye Bar, right? M: No, I first met you at Coffee Day. K: Coffee Day, yes, Coffee Day. The second day was at Skyye. I am the best and craziest guy who is doing business on his own. I can live on my own; do you think there is a better guy? This is the first, second time, I have fallen in love so crazily You have tugged at my heartstrings. What can I do; it's not even your fault. M: It isn't my fault. I love you Karthik, I seriously love you. K: Okay, I love you truly, with all my life. Say it, monkey! M: I'm getting very scared. K: Why? M: Don't mess with me. Enough. I have suffered a lot in my life. I will also do anything for your dad and mom, Karthik. How much you love, the same love I will give them. Even more than that I can love them; you know, I have so much respect for them. K: I am giving you emotions directly, but I could have done it indirectly like any other politician's son or a businessman's son would. That's how they behave, right? They change all of a sudden. They keep changing (girls) every day.. today.. tomorrow. If I were like that too, why would I have rejected three girls till now? M: WHAT? K: I had three proposals; why should I have rejected them? Am I mad? The very next day after my father became minister, I received a proposal. Then, the next day, I got two more proposals. Why should I have let go of them? M: So why did you reject them? K: Neither my heart or my mind wanted it. None of those girls struck my mind; is that my mistake? My mind was locked on you. M: What did you do? K: Please listen to what I am saying. Please listen to me; we will get married next year. Till then, can you manage? Or do you think we should get married or engaged this year? M: Hmm. K: Once married, think about your career... what will happen to your doing films? M: I have said I will quit everything. K: I know, that's what I'm saying. Listen, will you listen to me? M: I have a few responsibilities okay. I am not in a position to get married. I have to get my younger sister married first. My relatives are insisting that I have to marry first as I am elder, and then get her married. K: If you let me, I can marry off five, six, or ten people. It doesn't matter. But we have sacrificed so much in life. I have seen pain and joy. I liked and bought a Skoda car. The loan will get closed next month. Who will believe that I was paying the loan? Even you won't believe. M: Hmm. K: We don't know how to make illegal money. M: Hmm. K: I will fund the education if you want. M: Okay, give me money. I want to do an MA. K: (Laughs).... Stupid. Do you know what I am telling you?. I have to tell my parents first. My parents have done a lot to me and even I must do the same to them. M: I will look after them better than you. I promise you. K: Even if you hurt them for a minute, then you are out. M: You are also out.. Didn't you have hurt them all these years by smoking? Oye... what should I beat you with? K: That is the difference between me and you.... Is it a big issue if there is that much difference. M: You have only hurt your dad and mom till date. I will never do like that to them... They will like me da... K: Do you mean you will hurt them half way through. M: You count on it. They will like me more than you. K: Hmmm and in the half way through. M: They will be having problem with you.... and they will never find single problem with me. K: Hmm. M: If they have any problem with them it is from your side only. There is nothing from my side. They are liking me more than you. K: Is it? M: Again, I look after them better than you. K: In my life, I have done everything to make my parents' life comfortable, everything is set. M: Hmm. K: Even if I die today, my parents can live happily by just sitting at home. Whatever I am capable of, I have done everything. I cannot do what he is today. But whatever happens through me I have done it already. I get monthly salary. Besides, I get regular monthly income from all sides. My parents can just sit at home and relish Biriyani, fish-curry rice or anything they wish. They need not struggle. I am travelling so much to make their life comfortable. M: Fine. Don't travel too much. Let's get married...it's time now to get hitched. K: My parents...My father wants a baby within one year...after marriage. M: Okay. I have already told you that we will name the child Kaushik. K: No, no. No one can change the name of my brother. We should name the child after my brother. M: So we are not naming our child Kaushik? K: No. No need. My brother's name will go down. M: Why will your brother's name go down? Your brother's name will remain through our son. K: Hmm no.. that is where we make a mistake. It will be a mistake. The child should know my brother's name. He will have his own name. He will think that it is his own name and nobody else's. M: No way. He will know that it is his uncle's name. He will realise that since his uncle was loved so much by everyone, he was named after him. He will be knowing it. We will be there to tell him everything. K: Many people will not like it. M: But I like it. K: I want my brother's name to remain only his. M: Brother's name. brother's name K: Otherwise, add something to Kaushik... Kaushik and... M: Let us think of that later. We will think and add something to the name. K: If it is a girl? M: We will not have a girl. I want only a boy. K: Yes. We should have a boy first... A girl after that is okay. Because a first-born girl will be timid. M: You should call me daily from tomorrow. You should talk to me...tell me where you go...what you do...I cannot be like that Karthik. I believe you so much...more than... K: Hmm M: What else? K: Tell me... my wife should tell.. my wife should tell.. that my wife should tell me. M: Who is your wife dear? I desire to see you immediately. K: What? Tell me again properly. M: I feel like seeing you now. K: It is enough if Mythri Karthik wishes. M: Mythri Karthi.. what? K: You are Mythri Karthik M: How will you manage without me for so many days. K: I am surviving. M: I seriously cannot live without you, Karthik. K: What is your name? M: Whose? K: Yours? M: Mythriya D Karthik. K: Who is T? M: Not T, it is D... Mythriya D Karthik. K: No. D Mythriya Karthik. M: What does D stand for? K: It is my family name...father's name. M: It cannot be a prefix to my name. For your child, yes. K: No, it will be added to your name too. M: I will get your name. K: Oh! My mother's name too has it. M: Oh ok... what else to do now...are you going to sleep? K: No. M: Then? K: I will talk to you. M: If I speak to you so much, I will desire to see you immediately. K: If you come now, I will hug you. M: I want to hug you tightly. K: Kissing air. M: What does kissing air mean? K: When you hug me, I will kiss you. Kiss your hand or air? M: Not air. To you only. K: To me? Where? M: On your lips? K: Then it will not be a kiss. M: It will be a smooch. K: Yes, exactly. Then I will do something else. Don't want. M: It is okay. Yes. K: Without tying the mangal sutra. Your sister, elder or younger? Is at home right? M: Why, will you come to my home? K: Then should I come through phone? K: Should I come through phone? M: No need to come anywhere...sleep. K: After marriage, I will see your faces next to me, right? M: Hmm. K: Yours. My wife's. Can I see my children's? M: Yours and your wife's. Where will your children come from? K: Coming next is you, my wife. My children are the future.. Then M: You have one more responsibility along with me. K: What? M: My family. K: Do I have to seet that? Hmm. If my wife, you, want jewels, I will send you with even Rs 5 lakh. If your mom...dad...want this or that, need so many lakh...I will have to look into that. If they keep asking everytime. If you want anything, I can give you everytime. K: If you ask I can tell you.... Oye Shut up, enough is enough I have been giving it to your parents. M: You give it to me; I will only give it to them. K: I should only give it straight to your heart. M: Then you give to them only, don't give anything to me. K: It should come from my heart. M: But you have to take care of them Karthick because in our house my parents doesn't have a boy...... I have only taken the responsibility.... whole responsibility..... My parents must never feel sad that they did not have a son to continue their family K: Okay. I will give a farm to you to look after. Whatever revenue comes out of it, it belongs to your parents. Okay? I will hand over one orchard to your parents. M: Where is the farm located? K: There is a farm... mine. M: In Bangalore? K: Not in Bangalore. M: Then is it in Mangalore? K: No... No... M: Fine, then buy a farm in Bangalore only. K: Will you give me money? M: I will not give...... Please make it. K: I have to purchase a shopping mall here. M: I want it.... It's been my dream to have a farm in Bangalore. K: Farms in Bangalore are very faaar dear... M: Fine.... You buy this side.... I mean ...towards Chikballapur or have you seen Dinesh Gundu Rao's farm? K: You will not get... That's a big thing... How do you know? K: How do you know? ... How do you know? M: You mean Dinesh Gundu Rao's? K: Haan...Yup. M: I had been to his farm when his brother had died.... for cremation. K: You had gone to attend cremation or to see the farm? M: After death, they cremate the body, don't they? They had cremated their brother's body at the farm. So I went to his estate. Then I was attracted by it and decided that I should buy one. K: You had gone there to see the estate? M: No dear... I don't know him. I am not personally close to him. Just for the purpose of political help I have been in touch with him.. that's all.... I don't call him on phone. He knows me if he sees me in person. Otherwis,e do not talk all over the phone... he was staying here only in RT Nagar when his brother had died K: I do not know. M: Entire RT Nagar people knew it that his younger brother was no more... So everybody had gone there and I had also joined them. Later we went to the farm. Our entire team...the politics team ... District Congress Committee. They took me with them and I went. K: Okay...I have mine elsewhere. M: But yours is in Mangalore, isn't it? K: Mangalore or some other place... But I will not tell you where? M: But.... I want it to be in Bangalore only, dear. K: I have three farms. M: But purchase a farm here ... it will be fabulous. Because I grew up here since my childhood and it is my dream. K: Who will look after it then? Who will look after writer, Accounts.... etc, etc... What all can be done with the farm. M: We can develop it. My parents like farm K: Ok, Ok. I will buy you a farm only. But what will they do in the farm? M: They do not do anything... I don't want them to do anything. K: I will only appoint an accountant and grow paddy etc, etc. M: I want an estate only dear. K: Ya..I told you..weather is not good to grow coffee, I will buy an estate in some other place. M: Okay... done. M: Shall we get married first? Or ...marry off my sister? K: Sister. M: Sister? Why? K: You like it to be that way only. M: Like what? K: Your sister's wedding, no? M: Yes..That's what I like. K: That's why I told you... I will do whatever you want. M: Whatever means? K: I will bear the expenses, I will take the responsibility...Dress, gold, I will buy everything. M: It will cost a lot... above Rs 25 to 30 lakh. K: Rs 30 lakh? Okay, okay, we will make it Rs 50 lakh. When we get married, it will cost nothing less than Rs 2 to 3 crore. I have to throw a grand party for my friends in Sulliya first.... then host a party to friends, families in Mangalore even in Bangalore too reception in my native place. The day after the wedding, we have to host a lunch at my native place. K: I will have to pay for every time they come and go. M: You are a lavish fellow. Pay. K: If I were doing this on my own, I would not have had any option. Why am I saving? When will you meet me? M: Right now. K: After six months we will be family. M: Hmm. K: In six months...in nine months we will be a family already. M: Let it be so. K: Oh, are you ready? M: I am ready, dear. K: You said your sister will have to get married first. M: Hmm..Yes. M: It will be nice to see her calling you brother-in-law and pull your leg. K: Do you remember you asked me to marry your sister. M: Shut up. I did not say that... It was you who said my sister was good looking. So I was teasing you... you teased me. M: You are there, that is enough. Don't want all that. K: I am there. I will give.... M: ha..ha.. K: Don't want? K: Want. K: Then you will not sleep **** M: I will do that, guarantee. K: Aah. M: I will do that, guarantee. K: Hug. M: Muah. K: Muah. M: Hmm. K: I **** M: **** K: **** M: Hmm. K: Netherlands vs Argentina. M: Give me time, I will call you back. K: Hmm. M: Give me two minutes, will call you back. Will come back. K: I will wait for you to come back ********** M: ****, but you are still talking talking. K: Ok, you go, call me, will be waiting. M: Ok. Will you sleep late? K: Aye no. I want to sleep. Have to wake up for work. M: Hmm. Will meet tomorrow, then. K: Tomorrow morning aww ****. I have a meeting at 12. Don't know whether it will take place. Might get cancelled also. M: What time? K: By 2 pm. M: Sure? K: Only if the meeting gets cancelled. M: You have to tell me because I have to take my sister to this thing. K: So I will tell you in the morning. M: Ha? K: I will tell you at 12. M: Ok. K: Ok? M: Ya. K: Ok you go, come after 1.30 pm, will wait. M: Phone. K: Carry the mobile phone M: No K: ***** come with me M: Ok K: ***** M: ******* K: ******** M: I love you K: Take the cell phone and go. M: Will not go. I can't live without you. Please don't hurt me. K: No, I won't. M: Hmm K: Hmm M: Will not disconnect the call. K: Ok **** M: No. K: ******* M: ****** V You said nothing. K: So shall I marry her (Mythreya's sister) then? Shall I marry both of you? M: Buy one take one free. K: Ok. Buy one get one free. M: Aren't you ashamed of asking me? She is like daughter. K: No No No No M: Yes Yes Yes K: No No No No M: Don't have any other intentions. K: No I won't take anything. M: I treated her like my daughter, you also should. K: Ya.. like you, I will do that. Then why is she calling me brother-in-law? Ask her to call me dad. M: She will call you BIL only. Ok, will ask her to call you dad from tomorrow. K: You will tell the same even if we meet at Coffee Day. M: Will you not stop now? K: No. M: Will you finish talking everything today only? K: Yeah Loafer. M: Loafer? K: My love, my dove, my ho ney, my honey puffs, hello. M: Hmm. K: Did you flip? M: Hmm. M: Flat? K: Flat...full flat...I have fallen off. K: Do you want water? M: Give me water and carry me now. K: So you are...tell me? M: Yes, Mr Karthik. So what? K: Remember. M: What? K: Hmm...all night. M: Did not understand. K: Shall I tell in a single word? M: Oh my baby, my hubby, I am not like that. K: All this acting, keep it for your films. M: Ha ha ha. K: Not with me. M: I am serious, I meant it. I don't talk unnecessarily. K: Hmm. M: Hmm. K: I now understand how difficult it is if you become pregnant. M: Hmm. K: Poor soul. M: Very difficult, is it? K: You will not sleep as the baby will kick you. M: Aiyoo. K: Hmm. M: If the baby kicks me, I will kick your back. K: You cannot lift your legs. M: Ha ha ha...I will tell the baby not to kick me, but kick his father. K: Hmm..let me see. M: Will you kick or will you get kicked by the baby? K: Me getting kicked? No chance. M: All fathers say the same and later get kicked. K: Ha ha ha. M: Ha ha. K: I have been scolded by my parents but not been beaten. M: Your son will come and kick. K: I will say get lost. M: To whom? K: To son. M: Then I will hit you. K: I will say no to you. Will you also kick me? M: I won't kick you. K: Hmm. M: I will tell my baby when he is in the womb that I love your father a lot. You should also love him and not kick him. K: I will chop his hands and legs. M: Don't do like that...he is a small child. M: My son should tell his father's name as Karthik Gowda. Mother Mythriya D S Karthik Gowda. K: D Mythriya Gowda. K: If he doesn't know what is D, don't teach him D for donkey. M: No..I will teach him D for Devagunda. K: Devaragunda. M: Ok, enough of talking. Come let's make it happen. K: Together? M: Yes. K: Shall we keep pillow in the middle? M: Ahh? No K: Then? M: No pillow. K: Your dress will not be there the next morning when you wake up. M: Ha.. no no, it will be there. K: Who will know that I am there? M: Dress will be there even if you are with me. K: It won't be there if I am with you. M: Ha..it's ok if dress is not there. K: Ha? **** no M: Hmm. K: Ha. M: Ok. K: ** it won't be there*** it won't be there.

'WHAT COLOUR ARE YOUR ******?'

K:Do you remember both of us making love ?What if I had come now? M:Come. K:And if I had done the same thing..yeah? M:Yeah..hmm. K:How would it have been? If I had come now M: Now I want to see you K:My pant is w**.. are you ***? xxxx M: Must be.. K: What's your dress today? M:I'm wearing a pink top and tracks. K:What colour are your ******? M:It is pink and skin-coloured. K:Light pink or dark pink? M:No light pink, it's dark pink. K:Which one? Tell me correctly. M:What? K:Which? M:I won't tell. It's my secret. K: If I pull the tip, it's enough. M: Do you think it's so easy? K:I will tear it. M:You think I will be sitting idle? It's my *****; I will only take it off. K:When are we making love? M: Hmm, we'll meet tomorrow. Goodnight my love. K: Say 'sweetheart'. M:You want me to call you sweetheart? K:Yes baby, call me tomorrow. M:Okay. K: I love you. M: I love you lots and lots. (Muah) Bye. K: Goodnight (muah). M: Love you (muah).
Courtesy: Bangaloremirror.com

Write Comment
|

E-Mail
|
Facebook
|

Twitter
|

Print