Mega cultural extravaganza 'AbCd-2016' at Panambur Beach on Jan 16 & 17
www.mangaloretoday.com
Mangaluru, Jan 14, 2016: Madhuban Events will be holding a cultural extravaganza, a mesmerizing event called "AbCd-2016' aNy BoDy cAn dO! Just entertainment ke liye – Anyone can perform, at the same venue from 6.30pm onwards on both the days. There will be a Kite Festival is organised by Team Mangalore in association with Rotary International District 3180 -Zone IV as part of their cultural exchange program.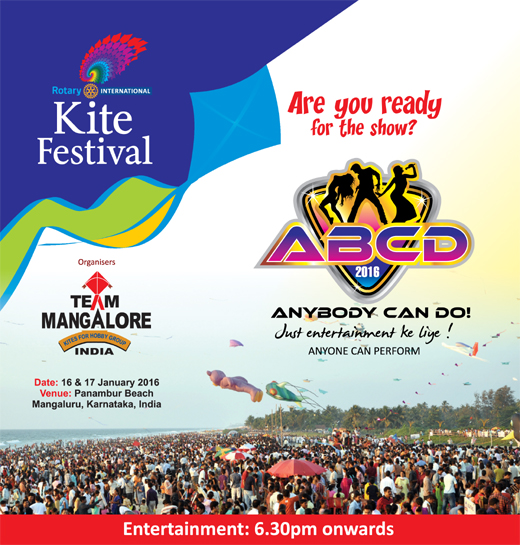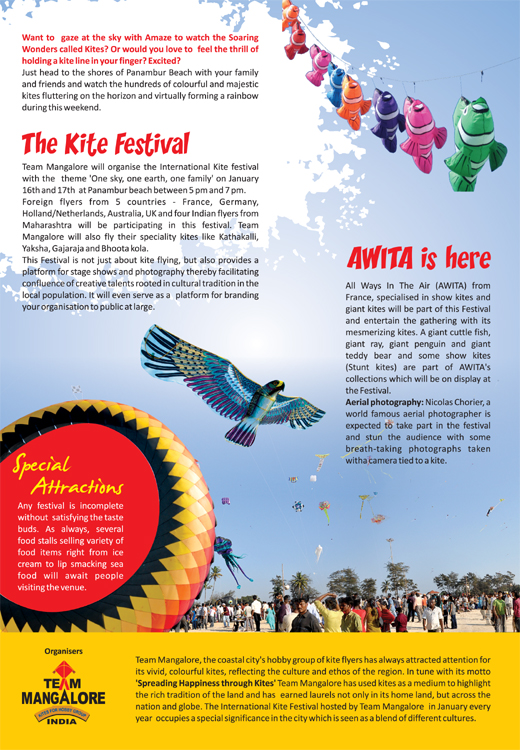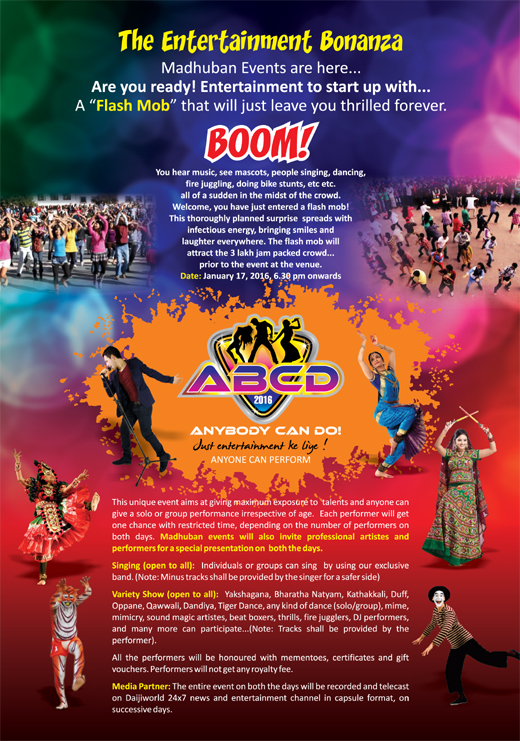 The Unique Event - AbCd-2016 is open for all and aims at giving maximum exposure to talents. Anyone can give a solo or group performance irrespective of age. Each performer will get one chance with restricted time, depending on the number of performers on both days. Madhuban events will also invite professional artistes and performers for a special presentation on both the days.

Singing (open to all): Individuals or groups can sing on stage, using the available band. (Note: Minus tracks shall be provided by the singer)

Variety Show (open to all): Participants can present Yakshagana, Bharatha Natyam, Kathakkali, Duff, Oppane, Qawwali, Dandiya, Tiger Dance or any kind of dance(solo/group). Mime, mimicry, sound magic artistes, beat boxers, thrills, fire jugglers, DJ performers, and many more are also welcome to participate. (Note: Tracks shall be provided by the performer).

All the performers will be honoured with mementos, certificates. Performers will not get any royalty fee.

To attract the artiste and performers and to give more exposure for their talents, this entire event on both the days will be recorded and telecast on Daijiworld 24x7 news and entertainment channel in capsule format on successive days.

For enquiries & registration the following numbers can be contacted: +91 96115 86293 / +91 96115 86302 / +91 98442 66053

Flash Mob: On January 17, Sunday, the stunner event will commence with a 'Flash Mob' at 6.00 pm wherein a group suddenly emerges from the crowd and begins to sing, dance, do fire juggling, tiger dance, balloon scalping, live wire magic show, see mascots or just anything. It would be a rightful mixture of performances and much more in the midst of the thick crowd at Panambur beach. The flash mob is expected to be an instant hit.


The Kite Festival at Panambur Beach on January, 16 & 17 at 2.30pm onwards
Team Mangalore, a hobby group of kite flyers of Mangaluru which has won international acclaim for its vivid, colourful and giant kites reflecting the culture and ethos of the region will host the International Kite festival in association with Rotary International District 3180 Zone IV at Panambur Beach between 5 pm and 7 pm. The theme of the event is 'One sky, one earth, one family.'

This fascinating event will attract about 3 Lakh Kite flying enthusiasts/spectators. The proposed most spectacular festival will play host to about 14 International kite flying clubs and 3 National Kite flying clubs involving 30 participants. Foreign flyers from 13 countries namely France, Germany, Holland/Netherlands, Australia,UK,Turkey,Kuwait, Italy, Thailand, Nigeria, Cambodia, Singapore and Ukraine will be participating in this festival. 3 National Teams from Dhahanu, Mumbai and Hyderabad also will be participating. Team Mangalore will also fly their speciality kites like Kathakali, Yaksha, Gajaraja ,Bhoota kola, Garuda, Pushpaka Vimana and new Creation Vibheeshana. A theme kite "SAVE NETRAVATI"will also fly high in this event. Night Kite Flying will be on Saturday from 7PM to 8PM.

This Festival is not just about kite flying, but also provides a platform for stage shows and photography thereby facilitating confluence of creative talents rooted in cultural tradition in the local population.


Write Comment
|

E-Mail
|
Facebook
|

Twitter
|

Print